Dad Spends 30 Hours Getting Tattooed To Make Son Less Insecure About Birthmark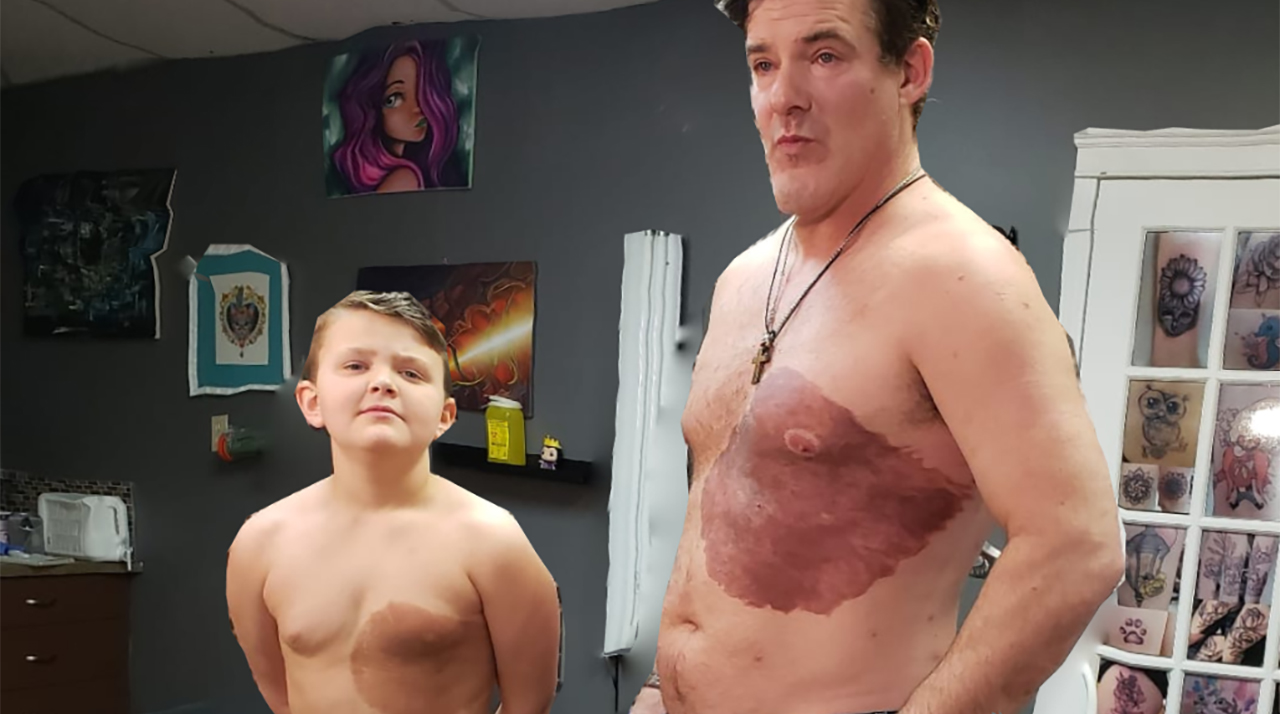 We all have things that make us stand out. But when you're a kid, feeling different can be a source of stress and even bullying. As parents, we can urge our kids to embrace their own differences and appreciate unusual traits in others – but sometimes, certain situations demand that we do more than simply talk the talk. For Derek Prue Sr., it meant showing his son that he wasn't alone by embracing the very thing that made him feel different.
Derek Prue Sr.'s 8-year-old son was born with a large birthmark on his torso, one that often left him feeling insecure. When the family goes swimming, 8-year-old Derek refuses to remove his shirt. He wasn't often vocal about his insecurity, but he did his best to hide the birthmark from others.
Seeing his son struggle was challenging for Prue, so without telling the 8-year-old, he took on an enormous project to ensure his son would never feel alone again. With the help of Tony Gibbert, owner of the Juicy Quill tattoo studio, Prue began working on his own identical (post)birthmark.
Neither Gibbert nor Prue knew exactly how long the project would take, which was probably for the best. In total, Prue's matching birthmark tattoo took a whopping 30 hours – 30 hours of holding still, of constant pain (or at best, extreme discomfort), all to support his son in the best way he knew how.
During a pool outing with his family, Derek Prue Sr. unveiled his new ink. His son was both startled and delighted, seeing the very thing that caused him distress replicated on his biggest cheerleader.
"I think it's amazing to be able to comfort your son like that," tattoo artist Tony Gibbert told CBC. "It's more than just your kid seeing your name, or something, you get to actually, like, really change the way he feels about himself."
After the pain and monotony of his 30-hour ordeal, Derek Prue Sr. couldn't be happier with the results. He and his 8-year-old son will match forever – through childhood, adolescence, and beyond, the pair will look like two members of an exclusive club with one heck of an orientation process.
As for the pool, 8-year-old Derek feels ready to jump in without the extra layer – with one stipulation.
Derek explains, "Whenever Daddy's there I can take the shirt off."