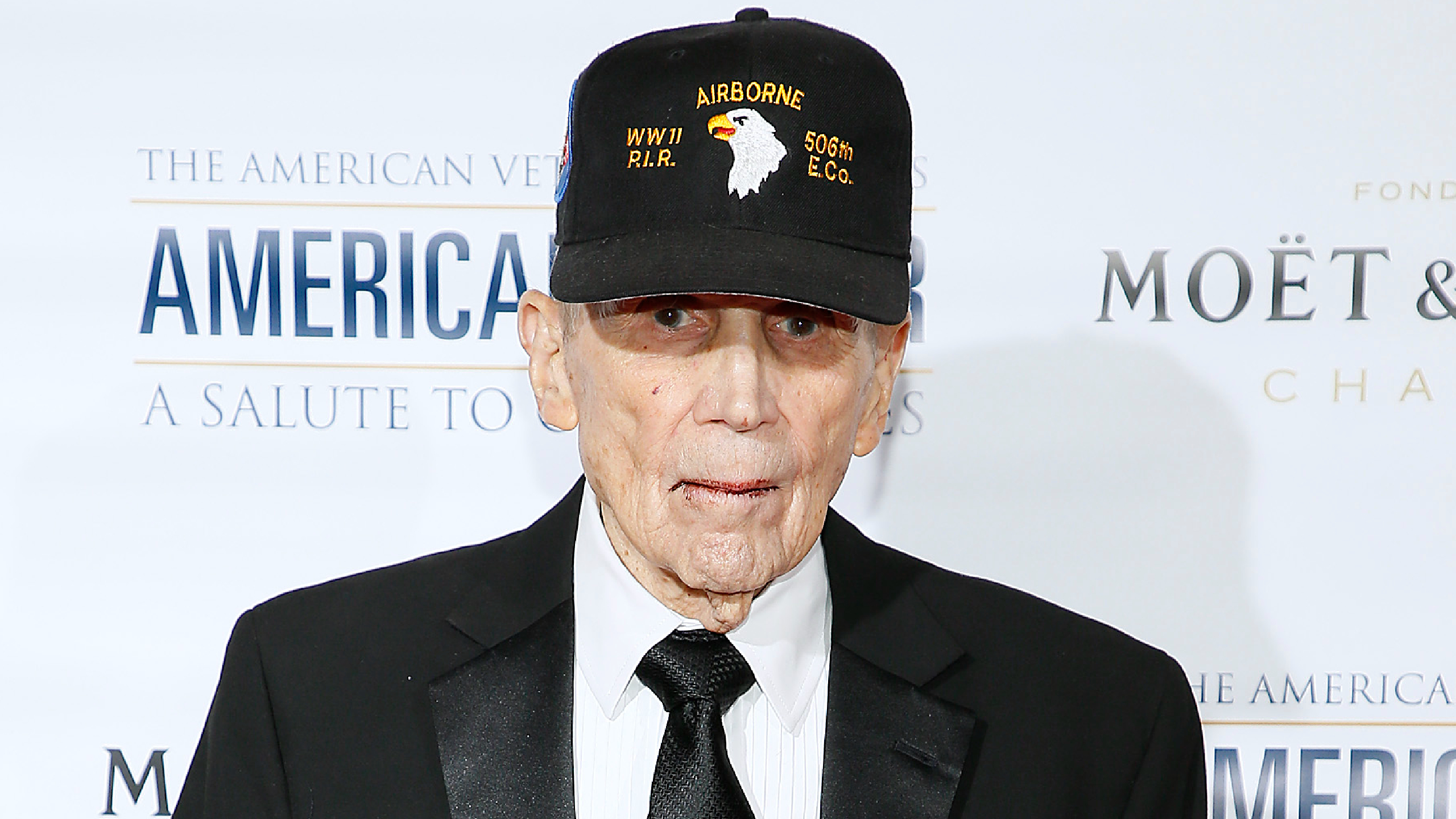 Credit: Getty Images/Paul Morigi
One of the most legendary groups of soldiers from WWII lost its last living member, as Col. Edward Shames passed away this month at the age of 99. He was a member of the World War II parachute infantry regiment of the Army known as Easy Company. He's more well known as part of the 101st Airborne Division known (now) as the 'Band of Brothers.'
Their story was the subject of the legendary WWII book by Stephen E. Ambrose, the master of war stories. WWII in particular is a cultural touchstone for dads (ok, grand-dads at this point), and 'Band of Brothers' stood out among its peers in terms of acclaimed stories. It was later turned into a miniseries for HBO.
This feels like the end of something.

Edward Shames, the final living member of the Band of Brother, Easy Company, 506th, has left us. He died peacefully at home at 99.

Ed jumped into Normandy, fought in some of WWII's most critical moments, was memorialized on the HBO show. pic.twitter.com/4o57njMJ5k

— XVIII Airborne Corps (@18airbornecorps) December 4, 2021
According to Shames' obituary, he was involved in some of the most important battles of the war. His first combat jump was at Normandy on D-Day and the officer had a reputation as a "stubborn and very outspoken soldier" who held his fellow soldiers to a high standard.
He was the first member of the 101st to enter the Dachau concentration camp after its liberation and it was Shames and his men who entered Hitler's bunker after Germany's surrender. Years later, he toasted his son's Bar Mitzvah with cognac he personally took from Hitler's bunker, which is an ALL TIME legendary dad move.
Help take down the Germans, steal Hitler's personal booze, use it for a toast at your son's Bar Mitzvah. Good luck topping that.
Also according to his obit, he was married for 73 years (an equally impressive feat) and served in the Army Reserves later in his career.
RIP to one truly badass dad.