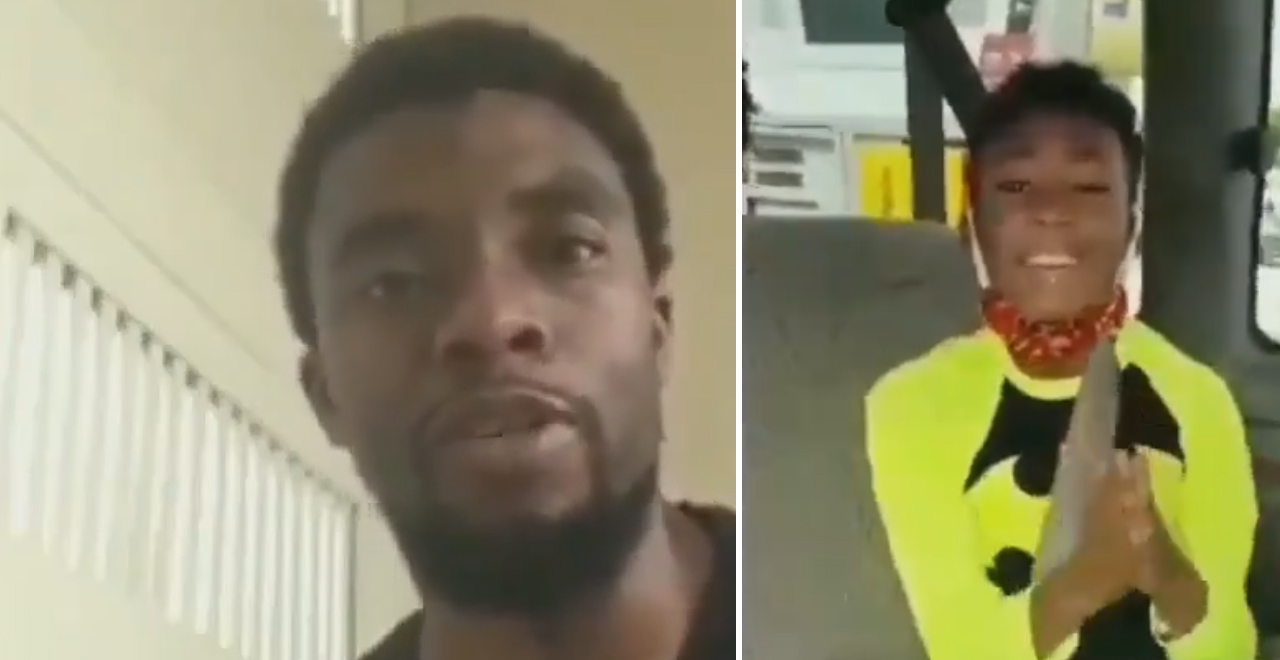 Credit: Twitter/_Bro_Hamm_
On Friday, the world lost one of the good ones. At just 43 years old, on-screen and real-life hero Chadwick Boseman passed away after a 4-year-long battle with colon cancer. The news came as a devastating shock, with Boseman somehow managing to keep his illness a secret – even more incredible, Boseman continued to work and give back to his fans while simultaneously fighting a battle more terrifying and strenuous than anything found in a Marvel movie.
In a recently-resurfaced video from the 2018 press tour of Black Panther, an emotional Boseman discussed his communication with two young fans battling terminal cancer. According to the boys' parents, they wanted so badly to see the movie that would show them that anything was possible, that heroes really did exist. Fighting a battle that no person – let alone a child – should experience, the boys were just "trying to hold on till this movie comes."
Tragically, the two boys never did get to see their hero on the big screen. Watching the interview now, seeing Boseman's immense pain and grief over two children he never met is gut-wrenching – even more so after realizing that the actor likely felt a kinship with his young fans, knowing they were all fighting the same fight.
After the resurgence of Boseman's 2018 interview, an unexpected voice joined the chorus of those mourning the talented young actor. Brian Hammond, the father of one of the boys Boseman mentioned in the interview, took to Twitter to share just how much the Black Panther star meant to his son, Taylor.
"Chadwick was talking about my son when he broke down and cried," Brian wrote. "He was heartbroken that Taylor didn't get to see the finished product. When all of the world's eyes were on him, his heart & mind was on our angel."
Now, years after the loss of his son, Brian shared a video that had meant the world to Taylor – a video that allowed him to forget about illness and fear, and for a minute, be nothing more than an ecstatic kid with a personalized message from his hero.
This is the first message Chadwick Boseman sent to my son in 2017. He had already been diagnosed with colon cancer, unknown to anyone. Amazing. 🙏🏾💜✊🏾😭 pic.twitter.com/2Tb4V2O8bN

— Brian Hammond (@_Bro_Hamm_) August 29, 2020
The never-before-seen clip shows Chadwick Boseman talking directly to Taylor, giving him a message of support. "Just wanted to give you some love, and some positive energy," the Black Panther star says. "A dear friend of mine was telling me how courageous, and how strong you are."
The clip then cuts to Taylor, beside himself with excitement. "Thank you T'Challa, AKA Black Panther," Taylor squeals, adorably echoing Boseman's own introduction. "I'm so excited that you said 'lots of love to my family' – thank you so much!"
Though the entire exchange is under a minute long, it tells a deep and heartbreaking story. A man living out multiple dreams at once – the dream of becoming a successful actor, and the dream of embodying a hero that Black youth could identify with. At the same time, we see a man who is fighting for his life, giving a message of hope and courage to a little boy doing the same.
The positivity that Boseman brought into the world extended far beyond one little boy who needed a hero – Taylor's palpable joy is something that Black youth will feel for decades to come. Any time they watch Black Panther, when they see a superhero they can relate to, they'll remember that they too can do and be anything. And that empowerment, the pride in who they are, that is Chadwick Boseman's legacy. And it's not going anywhere.