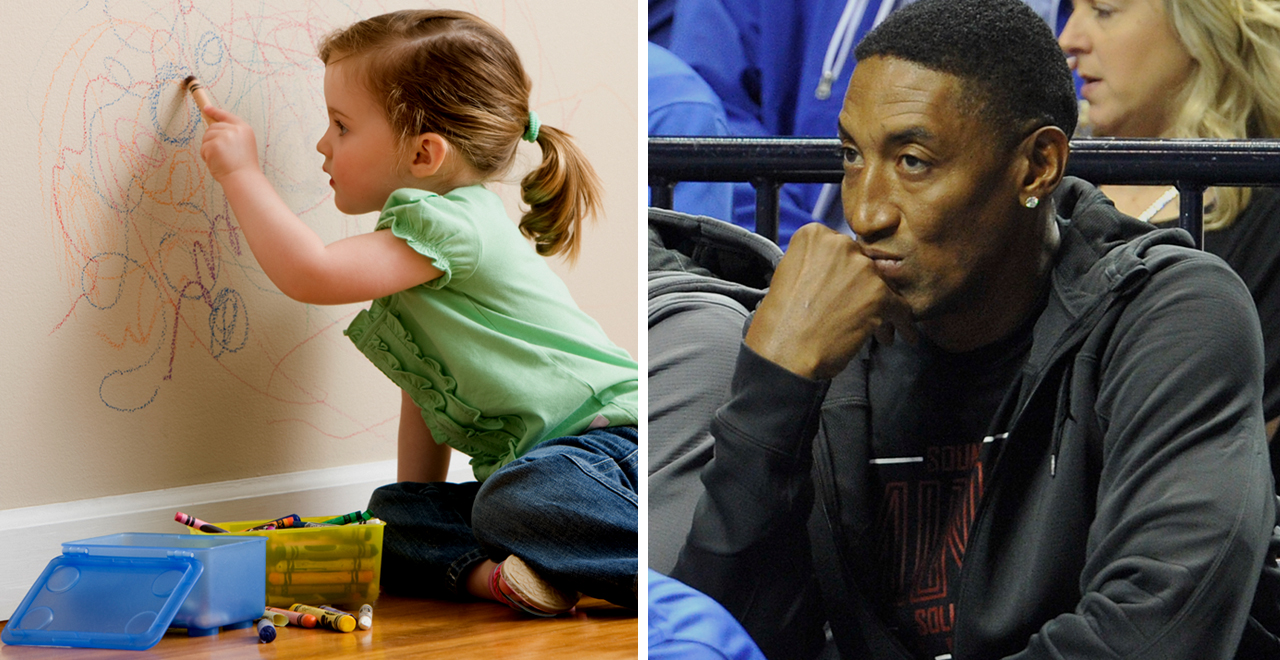 Credit: Getty/Jose Luis Pelaez Inc/Getty Images Sport
I'm not afraid to admit it: sometimes I wish I could sue my kids. And I definitely wish I could sue some other people's kids. Maybe the third grader who bullied my son. Maybe my niece, who spit up on my favorite concert t-shirt. Maybe even my own baby who won't let me sleep through the night!
But I never would. Because that's just crazy.
In related news, Chicago Bulls legend Scottie Pippen is suing a 5-year-old.
To be fair, he's merely adding her to an existing suit, but she definitely seems like the target! According to NBC News, Michael Joran's sidekick (relax, I know how good he was) filed the original suit last year.
The little girl in question is the daughter of comedian Lindsay Glazer and her husband Jacob Woloshin, who had moved into Pippin's Fort Lauderdale home after theirs had been damaged in a hurricane. They were paying $30,000 a month in rent, but that didn't cover the damage their daughter did to "certain elements of the property" with crayons and markers. The lawsuit names the little girl and alleges that her parents have"responsibility for her conduct."
The NBA Hall of Famer was selling his home but allowed the family to stay there so long as it remained in "top show condition." But he's suing them for more than $109,000 in damages done by their daughter, as well as their animals, a cat, and dog that were apparently allowed to "urinate throughout the home, thereby causing permanent stains and unsanitary conditions."
Glazer is not taking these allegations lying down, responding, "Who would have ever thought that Dennis Rodman would be strengthening relations with North Korea, and Scottie 'no tippin' Pippen would be the crazy one suing little girls?" she said.
I don't have any pets, but I do have a toddler, and I am quite certain he costs me at least $100,000 in damages and mental anguish. So I feel for Pippen. But suing a child isn't the best look.