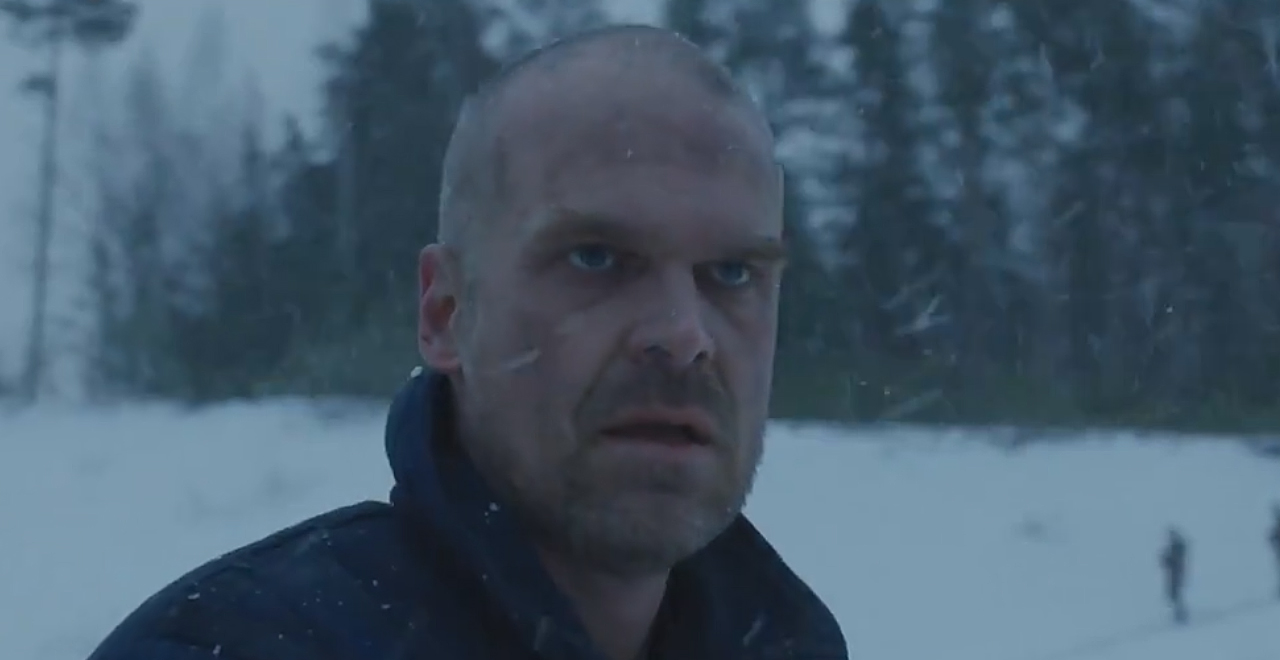 Credit: Twitter/Netflix
Surprise! Although your mileage may vary on this one.
If you're a pop culture cynic like me, you never believed the hype in the first place. If you're not, if you're a pure-hearted romantic, then this should make your heart skip a few beats. Either way, it's still a fun Valentine's Day treat.
Netflix released a new teaser for season 4, and there's one heck of a spoiler in it. Unless you already sort of figured this would be the deal, in which case, it's a little ho-hum.
From Russia with love… pic.twitter.com/ZWEMgy63Et

— Stranger Things (@Stranger_Things) February 14, 2020
That's right, in a reveal that I suppose probably shocked some people but seemed like a foregone conclusion to the rest of us, it turns out that the beloved Chief Hopper didn't actually die at the end of season 3 after all!
The teaser is wordless aside from some foreboding Russian music and showcases a snow-drenched prison situation, wherein prisoners are working outside in the cold, building railroad tracks? The camera shows us the guards, the guard dogs, and a bunch of faceless prisoners until it closes in on one prisoner who turns to the camera and takes off his cap to reveal… Jim Hopper! With a shaved head! But otherwise no worse for the wear.
Yes, it seems that skeptical viewers who posited that Hopper was the American referenced in the season 3 finale's post-credits scene were right all along. He didn't martyr himself to save Hawkins and Joyce and Eleven and the rest of the gang, he instead survived and somehow ended up in Siberia or its equivalent.
The show has already teased locations outside of Indiana and the United States, with some speculation centering on the U.K., but we now have confirmation that at least some of season 4 will take place in Russia. And will feature David Harbour as his fan-favorite character.
This definitely takes some of the oomph from the heartrending scene at the end of last season when Eleven read Hopper's note to her, but Netflix is clearly banking on the fact that viewers will be so happy to have Hopper back they won't care that the dramatic stakes have been lowered.
He's certainly a welcome sight. Hopefully, he won't spend the entire season isolated from the rest of the cast.
What do you think of this reveal?