Cleveland Browns Kick Returner Goes From Homeless to Hero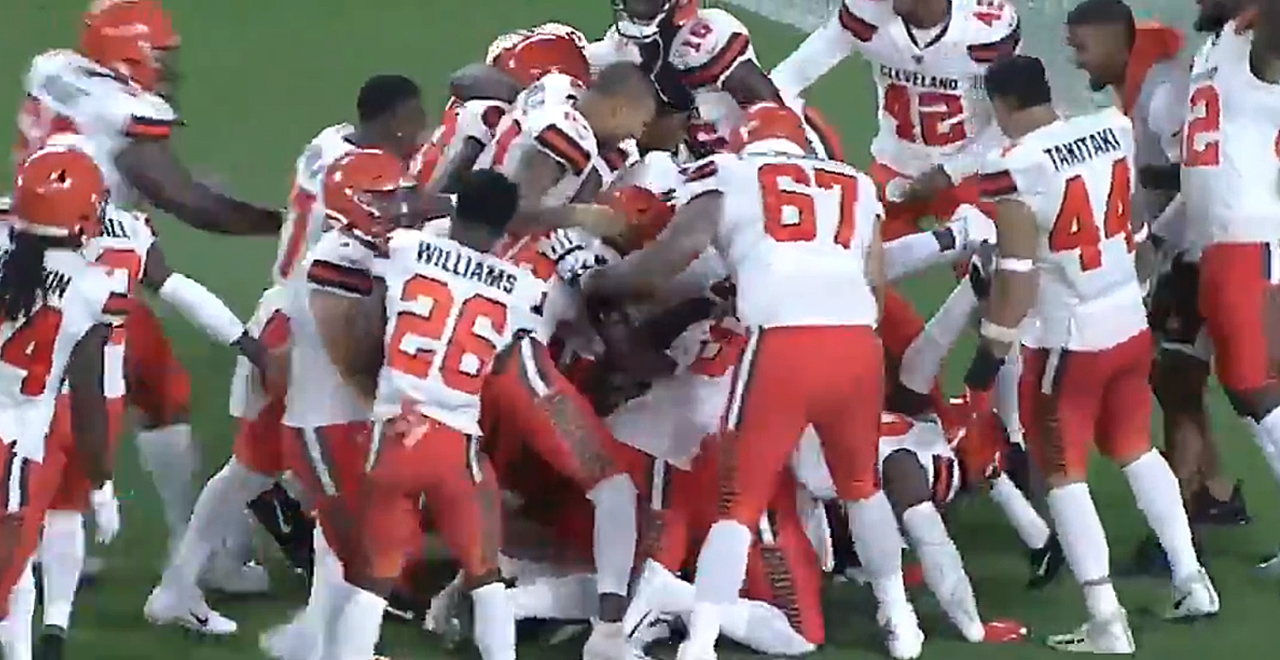 Preseason football has never been more forgettable. More than ever, starters are left on the bench and college also-rans get their shot to make the final roster spots. The scores are ridiculous (like the Giants breaking 30 points) and the outcomes meaningless. But one moment in the Cleveland Browns preseason game has captivated the sports world.
It's one of the coolest stories in football. Kick returner Damon Sheehy-Guiseppi has been out of competitive football for years. He managed to lie his way into a workout with the Browns, where his 40-yard-dash time convinced scouts to give him an actual tryout. The only problem? Sheehy-Guiseppi spent his last dollar getting to the workout, and the actual tryout was a week away.
He wasn't willing to let go of his dream, so he alternated between sleeping outside (!) and sleeping at a 24-hour fitness center. He wandered neighborhoods, eating one meal a day at whatever sidestreet cookouts he could find. When he finally got his shot, he earned a preseason contract with the Browns. This at least got him three meals a day and a place to sleep while chasing his dream.
On Thursday, he got to return his first kick. And took it straight to the end-zone.
WHAT A MOMENT

Damon Sheehy-Guiseppi returns a punt 86 yards for a TD — and the whole bench clears to celebrate pic.twitter.com/anLZ3EEgAT

— Cleveland Browns (@Browns) August 9, 2019
Seriously, go read his entire story, it's incredible.
Cleveland isn't supposed to be likable. It's the Browns. They are a perennial joke. But now they have not only the heartwarming story of the week in sports, but they have an actually compelling roster. A star wideout in OBJ, a very good young running back, a true franchise quarterback for the first time in forever. And speaking of that quarterback, even being at a baseball game didn't stop him from delivering an elite performance.
Baker Mayfield is the one true King of Cleveland @LacesOutShow (via @sammywilk) pic.twitter.com/Bbxz7t1ohI

— Barstool Sports (@barstoolsports) August 4, 2019
Baker wasn't the only standout at a baseball game this week, as this dad went viral for his incredible one-handed catch while holding his baby.
This dad single-handedly made our night. pic.twitter.com/rtNgxQvzvS

— Cut4 (@Cut4) August 8, 2019
Houston Texans star JJ Watt broke some kid's bike. The Houston Texans had a joint practice with the Packers, and Watt got to take part in a longstanding Green Bay tradition of riding a fan's bike the short distance to the practice field. The Wisconsin native was overjoyed to take part in the fun preseason ritual…until the bike, he picked broke on his ride.
Poor bike never stood a chance.

We got my man Biraj all set up to get a new one though, no worries!! https://t.co/xUZnD1z8HN

— JJ Watt (@JJWatt) August 6, 2019
Watt has already hooked the boy up with a brand new bike. And if you're a star, this is the type of preseason news you want to make. Anything that's not an injury or a bizarre, helmet-related holdout (we're looking at you, Antonio Brown).
One of the craziest moments of the week happened in golf. One PGA pro narrowly missed his putt, until a huge gust of wind blew it back into the hole. I can't tell you how many times I've prayed for this exact moment to happen during a round of golf and I'm overjoyed someone finally got to experience this miracle.
Not your average birdie.

The wind just blew @TROYMERRITT_PGA's ball back into the hole. pic.twitter.com/cugQsDUP0w

— PGA TOUR (@PGATOUR) August 9, 2019