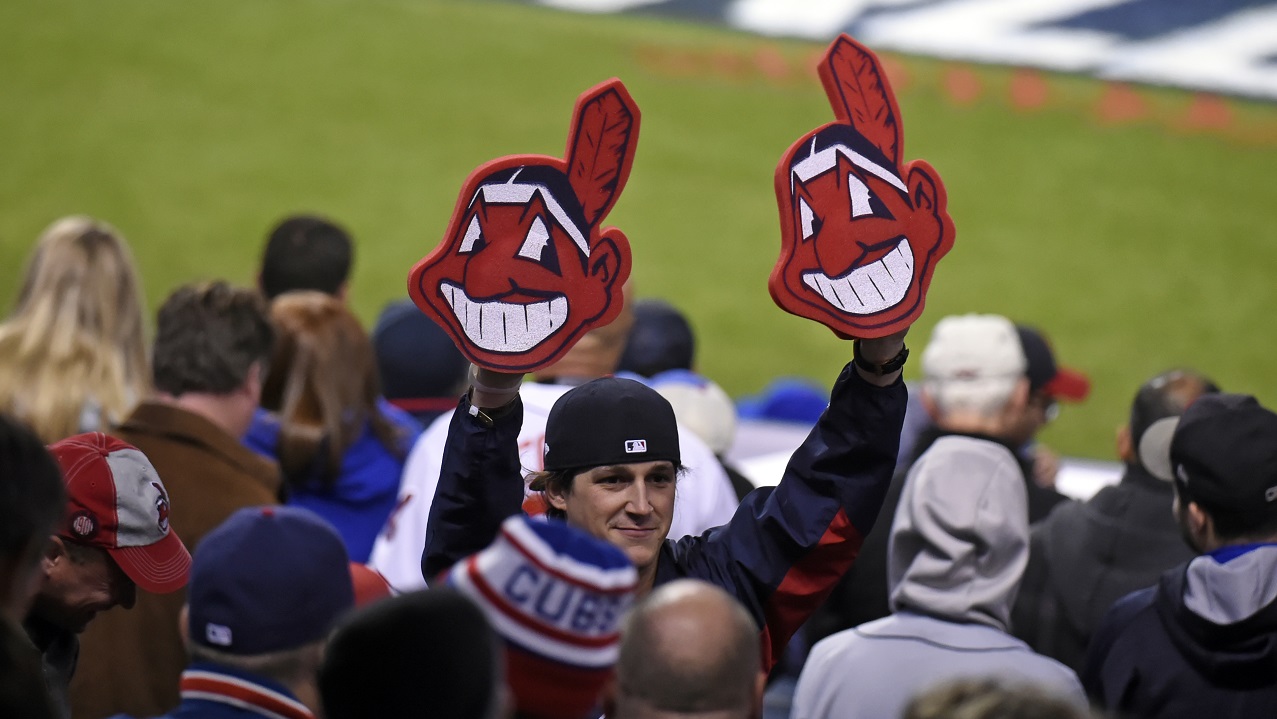 Credit: Getty Images/LG Patterson
The Cleveland Indians are finally retiring their controversial logo
It only took more than a decade of complaints, but the Cleveland Indians are finally doing the right thing and getting rid of the offensive "Chief Wahoo" logo that many view as a racist caricature of Native Americans.
Unfortunately, the logo won't officially be retired until the 2019 season.
The logo has been around since 1947 but has been under increasing scrutiny over the past decade or so, as people questioned the need for such a stereotypical and offensive portrayal of native Americans. The argument against removing the mascot is typically about Chief Wahoo's long history with the team, and the attachment that Indians fans have to it.
Despite those arguments, after discussions between Indians' owner Paul Dolan and Major League Baseball Commissioner Rob Manfred, it was announced today that the logo would be removed after the 2018 season. In order to keep trademark control of Chief Wahoo, it must have a retail presence, so the team will continue to sell merchandise with the logo, but only in Northeast Ohio.
"Major League Baseball is committed to building a culture of diversity and inclusion throughout the game," Commissioner Manfred said in a statement. "Over the past year, we encouraged dialogue with the Indians organization about the club's use of the Chief Wahoo logo. During our constructive conversations, Paul Dolan made clear that there are fans who have a longstanding attachment to the logo and its place in the history of the team.
"Nonetheless, the club ultimately agreed with my position that the logo is no longer appropriate for on-field use in Major League Baseball, and I appreciate Mr. Dolan's acknowledgement that removing it from the on-field uniform by the start of the 2019 season is the right course."
The team has slowly been reducing Chief Wahoo's presence over recent years, removing signs featuring the logo and introducing a "C" for baseball caps. Outcry over the image reached a crescendo when Cleveland made the World Series in 2016 and Manfred expressed his desire to eliminate it. It seems he's finally gotten his wish.
Finally, Native Americans can stop protesting outside of Jacobs Field before every season. Now they can take the fight down to D.C.
Not everyone is impressed with the speed with which this is happening:
I love how this Indians thing isn't happening for a full calendar year, like taking a patch off of some baseball uniforms is a nuclear disarmament treaty

— Katherine Miller (@katherinemiller) January 29, 2018
https://twitter.com/BostonsCowboy/status/958033799983652868
Or the fact that it won't be completely gone:
Indians will maintain trademark and retail rights to Chief Wahoo. In other words, they're still going to make money off him.

— paul hoynes (@hoynsie) January 29, 2018
I'll be interested to see how little Chief Wahoo is used by the Indians outside of taking it off the caps and uniforms. I mean, everything goes back to marketing, right?

— Ray Ratto (@RattoIndy) January 29, 2018
But some are just glad the debate is over, even if they don't love the replacement:
No need to debate the Chief Wahoo logo any further, the decisions made made, time to move on… but @Indians, can we PLEASE get something better than that godawful generic Block C.

— Ryan McCrystal (@TribeFanMcC) January 29, 2018