Coach's 6-Year-Old Daughter Calls Out Coverages During Football Game [WATCH]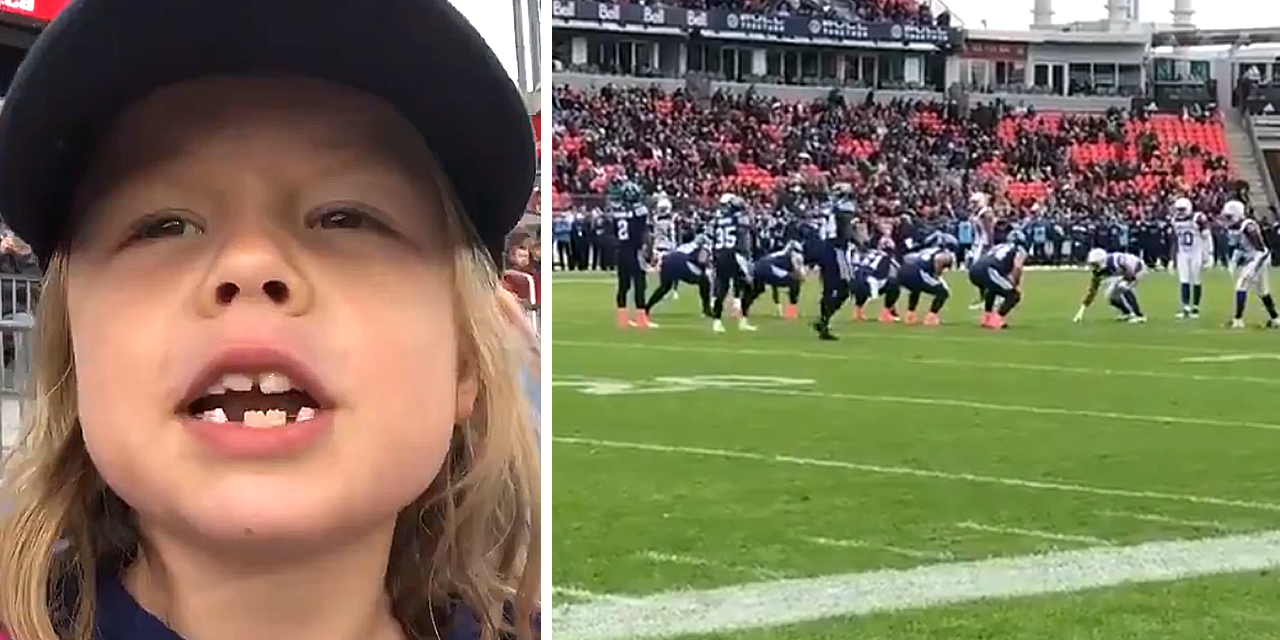 In the Denzel Washington football movie Remember The Titans, the coach he deposes when the schools are integrated has a young daughter played by Hayden Panatierre. She is being raised by her single dad and thanks to their close relationship, she is as into football as he is. In the movie, she steals scenes by precociously criticizing the players and play-calling, and the whole things seems like a cute Hollywood fabrication.
But apparently it happens. At least in Canada.
In a video that's making the rounds on Twitter, an adorable little blonde girl is seen watching a football game between the Toronto Argonauts and Montreal Alouttes. The six-year-old is shouting out the coverages on the field as her dad, an offensive coordinator for Lorne Park high school in Mississauga, Ontario, asks her what she sees.
Lorne Park Offensive Coordinator, Coach Grant's six-year-old daughter calling out formations and coverages at the @TorontoArgos vs @MTLAlouettes game. Apparently this is what happens when your dad is a football coach. pic.twitter.com/uY84JZUJiq

— Lorne Park Football (@LP_Football) October 24, 2018
This little girl shows more understanding of defensive coverages than most Monday morning quarterbacks, calling out shifts, identifying defensive sets, recognizing when the cornerbacks are pressing. At one point she even appears to scold a referee for throwing a flag!
The video has been retweeted almost 800 times and picked up by a variety of outlets  – local news, NFL Gameday – no doubt impressed by the little girl's football smarts. A fellow coach responded to the video with kudos for the little girl's father, indicating that he'd love to see the father/daughter coach a game together someday.
Kudos Coach Grant. From a DC to an OC, well done Sir. As a Grandpa with spunky darlings who are interested and invested in this awesome game…Thanks for the inspiring material. Hope to see the two of you working the sidelines as Coaches together! Brilliant!

— Perry Serre @ StudioPerSe.ca (@studioperse) October 24, 2018
Short of that, there's always Hollywood:
This is going to be a @Disney movie

— robert ivan (@metaprinter) October 26, 2018