Couple Discovers That Husband Photobombed Wife As Teenager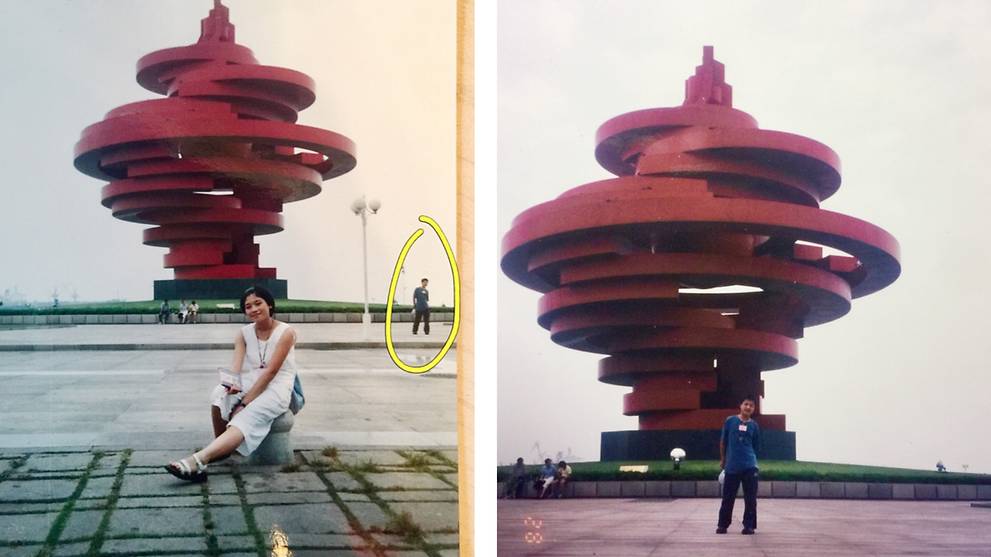 Fate works in mysterious ways
Some people believe that if you're meant to be with someone, you'll cross paths with them a few times in your life. As if fate is nudging you, tapping you on the shoulder and saying, "Hey! Take the hint!"
Maybe you're not superstitious, maybe you don't believe in fate or destiny or soulmates. Well, one Chinese couple has a crazy story that just may change your mind.
Mr. Ye and Mrs. Xue met in 2011 and have since been married and had two twin girls, but it turns out they'd actually crossed paths long before they fell in love. Mr. Ye was browsing his wife's childhood photos in a fun effort to compare whom their daughters most resembled, when he stumbled upon a picture of his future bride visiting a Chinese landmark.
Way back in July 2000, some 11 years before they met and began their courtship, the pair had separately visited the May Fourth Square in the seaside city of Qingdao on the exact same day, and they have the pictures to prove it.
Married couple in China discover they appeared in same photograph as teenagers: Report https://t.co/n0OLNxKbUi pic.twitter.com/vrSlECRRmP

— Channel NewsAsia (@ChannelNewsAsia) March 11, 2018
There, in the background of Mrs. Xue's pose in front of the landmark, is Mr. Ye, inadvertently photobombing his future wife. And Mr. Ye has a photo of the same moment, from a different perspective. The photos have gone viral on Twitter, with over 190,000 likes and 66,000 retweets.
Needless to say, the couple was surprised.
"When I saw the photo, I was taken by surprised and I got goosebumps all over my body … that was my pose for taking photos,' Mr. Ye told Sina News, who soon went searching through his own photo albums for corroboration. Obviously, he found it.
"I also took a photo, it was the same posture (as captured in Ms. Xue's photo), just from a different angle," Mr. Ye said.
That's quite a fun coincidence for the couple. No word yet on who their kids look more like.