Couple From Viral Stock Photo Meme Has Tortured Backstory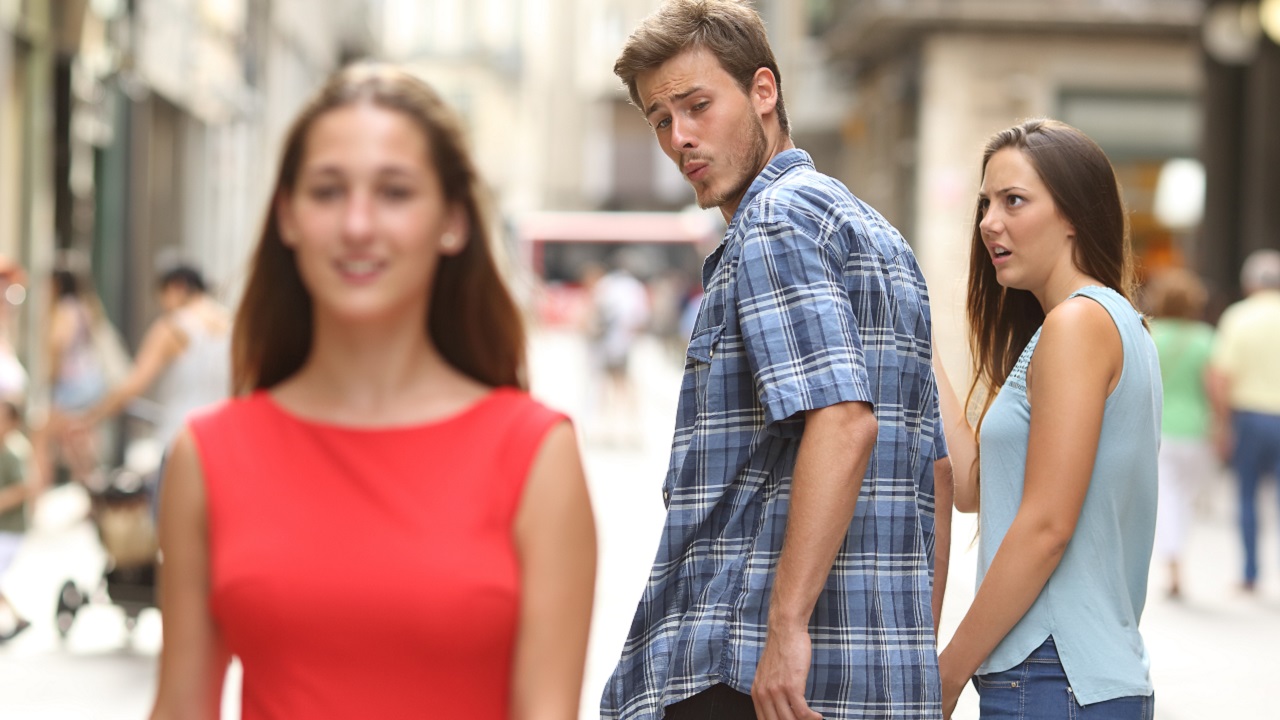 The "distracted boyfriend" meme was just the tip of the iceberg!
A few weeks ago – or maybe months, maybe even years? (social media makes the passage of time meaningless) – a meme based around an amusing stock photo caught fire online.
In the photo, a young couple is holding hands and walking down the street. As they pass a young woman dressed in red, the man in the couple turns his head to watch her go, widening his eyes and pursing his lips in the universal symbol of "ooh wee, I gotta get me some of that!" As you can imagine, the girl whose hand he's holding is less than pleased by her boyfriend's lecherous and disrespectful response to the red-dressed woman.
Twitter got a hold of the meme and superimposed different words on each member of the trifecta to reflect all manner of recent happenings, from politics to pop culture and more. Now, an enterprising tweeter with the handle @ajabernathy has delved into the stock photo archives and, upon finding a collection of more than FORTY PAGES of photos featuring the couple, he's dredged up an entire saga about the star-crossed pair's evolving relationship.
Abernathy's take finds the woman in the photo struggling with more than her boyfriend's wandering eye.
[tweet 932689256409124864 hide_thread='true']
In fact, by the look of it, she's not struggling with that at all.
[tweet 932689583279607809 hide_thread='true']
Things are progressing rapidly, and knowing what he knows, Abernathy is not taking it well. None of us are, tbh.
[tweet 932689890994720768 hide_thread='true']
[tweet 932690093176971264 hide_thread='true']
Judging by where things go from there, we had good reason to worry.
[tweet 932690238694141953 hide_thread='true']
"He gone."
[tweet 932690906834198528 hide_thread='true']
And it seems she has discovered where he gone to.
[tweet 932691048500953088 hide_thread='true']
[tweet 932695945309024256 hide_thread='true']
What will she do? Abernathy has a strong opinion…
[tweet 932691161805983744 hide_thread='true']
It's clear "distracted boyfriend" hasn't learned his lesson. He's only getting more brazen!
[tweet 932693207942561792 hide_thread='true']
[tweet 932694368766644224 hide_thread='true']
Things aren't looking great for this couple.
[tweet 932696130441408513 hide_thread='true']
[tweet 932695303173607425 hide_thread='true']
Finally, she's reached the end of her rope.
[tweet 932696618884845569 hide_thread='true']
I can't sugarcoat this: it will be a long road, stock-photo woman, especially with a baby in tow, but it's for the best.
[tweet 932695736025845764 hide_thread='true']
You'll get through this.
(If you want more information, Abernathy continued to play the sleuth, and found backstory on the actual models in the collection.)