Crayola Unveils Colorful Mask Pack for Kids and Teachers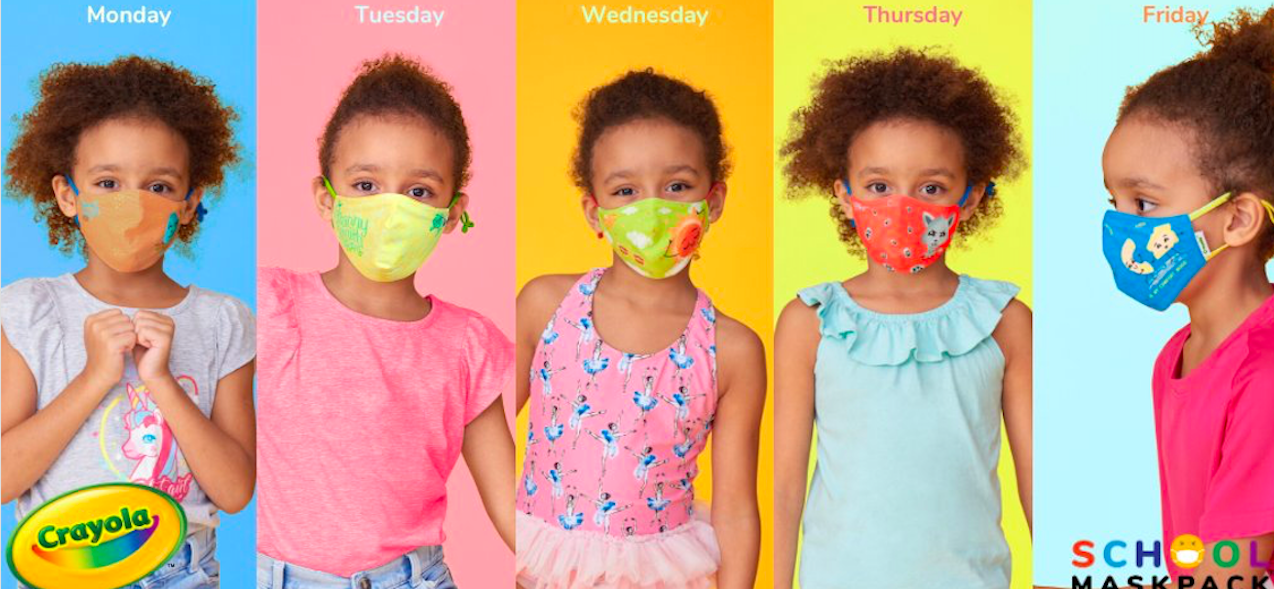 Parents are facing an incredibly difficult choice as schools prepare to open this fall. While districts in some cities have already announced plans to return with a remote format, many are attempting to have at least some in-person instruction, with a surprising number resuming their full schedule. Most schools are also allowing an online option for families who don't feel safe sending their kids back.
It's an incredibly difficult decision, different for every family in every city, and it's a choice each family makes for their own reasons. For those sending their kids back to school this fall, there will be a new item on most back-to-school shopping lists: face masks.
As the science has proven the dramatic effect universal masking can have on limiting the spread of COVID-19, mask mandates are becoming the norm in many cities and school districts are following suit in requiring masks for teachers and strongly suggesting them (if not requiring them) for students.
This adds an extra layer of difficulty for parents, especially as many may have had their kids at home for much of the past four months. There's a big difference between having your 8-year-old wear a mask for a weekly trip to the grocery store and wearing one every day for six hours.
Crayola is trying to make things easier on parents, with the release of a new set of masks for kids and teachers that are supposed to be safe, yet breathable. The colorful masks come in packs of five, as the School Maskpack provides a new mask for each school day.
Now that's what we call a "school" of masks for back to school! Our @Crayola mask packs come with 5 reusable cloth face masks, so you have a clean one for each school day. Pre-order: https://t.co/TlBgMklrDh. #Crayola #CrayolaKids #SchoolMaskPack #Kidsmasks pic.twitter.com/jz7kUNV1Us

— SchoolMaskPack™ (@schoolmaskpack) July 15, 2020
A special laundry bag is included in the packs so parents can wash the five masks at the end of the week. The masks are adjustable so the fit isn't an issue (as any parent knows, an ill-fitting mask just means your kid has their hands in their face CONSTANTLY). They also have options with name tags on them, helpful for teachers trying to make the masks seem a little less intimidating to younger students.
Meet our newest 5-day mask system @Crayola design! Each mask pack comes with 5 unique masks and a mesh laundry bag to collect the masks back from your child to toss in the wash at the end of the week. Pre-order: https://t.co/TlBgMklrDh #Crayola #CrayolaKids #SchoolMaskPack pic.twitter.com/XGKYeNAPlE

— SchoolMaskPack™ (@schoolmaskpack) June 25, 2020

Wearing masks are going to be a routine part of everyday life for the foreseeable future, especially as more stores require them for shoppers nationwide.
Crayola's masks are already a bestseller and are an easy way for parents to keep track of the newest classroom essential for kids. Parents can order them on Amazon and get them in early August, ahead of their kids returning to school.