Museums Everywhere Tweet the Creepiest Items in Their Collections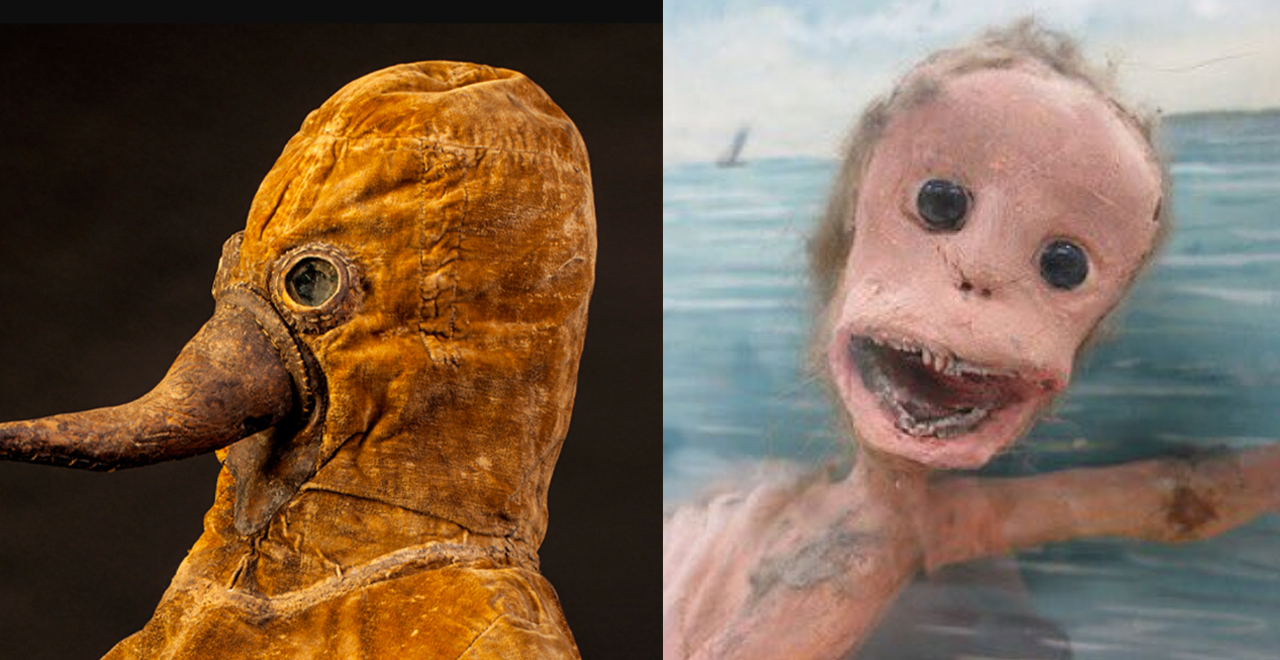 While museums are shuttered, many are continue to engage with the bored and curious masses by way of social media. Even a cowboy museum strengthened its Twitter presence in recent weeks.
But recently, an all-out melee of multilayered cultural histories broke out when the Yorkshire Museum in England challenged curators to share the weirdest, creepiest, most fucked up thing they have on display, using the hashtag #CURATORBATTLE.
MUSEUMS ASSEMBLE! It's time for #CURATORBATTLE! 💥

Today's theme, chosen by you, is #CreepiestObject!

We're kicking things off with this 3rd/4th century hair bun from the burial of a #Roman lady, still with the jet pins in place…

CAN YOU BEAT IT? 💥 pic.twitter.com/ntPiXDuM6v

— Yorkshire Museum (@YorkshireMuseum) April 17, 2020
LLLET'S GET READY TO CURAAAAATE
In this corner, all the way from Scotland we've got a painted whale's eardrum.
This is one of my favourite objects from @HistEnvScot Collections – a painted whale eardrum. Fascinating and highly disturbing! #CreepiestObject #Curatorbattle

More info 👇https://t.co/SIyqgmP2IG pic.twitter.com/HWCkyP3Qex

— Clara Molina Sanchez (@CMolinaSanchez) April 17, 2020
Next up, from the Egham Museum in England, it's a terrifying broken doll head.
Imagine rummaging through an archive and unwrapping this 👇

MC 490A: Broken Dolls head in many parts with fair hair c.1920

Found on the grounds of @StJudesHead. Let's hope they treat the pupils better 😂#CuratorBattle #CreepiestObject pic.twitter.com/J5aVRNuSo6

— Egham Museum (@EghamMuseum) April 17, 2020
Then there's this… uh… towel holder. Okay.
Can we play!?

We don't have a collection but our Digital Manager spotted this in the Tyrolean Folk Art Museum in Innsbruck.

Its a "decorative" towel holder for your bathroom…☠️☠️☠️#CuratorBattle #CreepiestObject pic.twitter.com/bT0AGX0lKL

— MuseumsGalleriesScot (@MuseumsGalScot) April 17, 2020
Uhh. Over here we have a plague mask right out of a Guillermo del Toro nightmare.
Thanks for thinking of us @HottyCouture and wow, will we be having nightmares tonight with all these #CreepiestObject|s ! Here is the one we just can't hide from you, one of our many creepy gems – our Plague Mask (1650/1750)! #curatorbattle pic.twitter.com/JrMjqAJSIM

— Deutsches Historisches Museum (@DHMBerlin) April 17, 2020
Then you got… action figures… made out of… crab claws? Huh?
STEP ASIDE ALL.

These are hand-made models of figures playing cards and of gold miners hauling gold nuggets to the surface. BUT the figures are made from crab's legs and claws… Typical Victorians, they loved weird/creepy stuff. #CreepiestObject pic.twitter.com/A5NHiPGnVh

— York Castle Museum (@YorkCastle) April 17, 2020
Thanks but no thanks. Hard pass on whatever this is.
@RedHeadedAli how can we ignore such a call to arms?

This particular item has caused a few nightmares for our followers this week.

Our #CreepiestObject is…this pincushion! Complete with tiny children's heads. You're welcome, Twitter.#CURATORBATTLE pic.twitter.com/0YdmCE5dYD

— Norwich Castle (@NorwichCastle) April 17, 2020
Oh no. Nope. Not in this lifetime, little man.
Our #CreepiestObject has to be this 'mermaid'… 😱💀🧜‍♀️ #CURATORBATTLE #TroublingTaxidermy pic.twitter.com/GMSosyuqIX

— Natural Sciences NMS (@NatSciNMS) April 17, 2020
Oh.
Bringin' our A-game for this #CURATORBATTLE! What is it? Just a CURSED CHILDREN'S TOY that we found inside the walls of a 155-year-old mansion. We call it "Wheelie" – and it MOVES ON ITS OWN: Staff put it in one place and find it in another spot later on…. #Creepiestobject pic.twitter.com/FQzMzacr8a

— PEI Museum (@PEIMuseum) April 17, 2020
My.
We're convinced the people on the horse don't know the clown is there … #CuratorBattle #CreepiestObject pic.twitter.com/iX2yEw9UyK

— GR Public Museum (@GRMuseum) April 20, 2020
God.
I give you our taxidermy wild cat! A favourite of the museum team due to its bad taxidermy and creepy 'electrified' look on its face! #CreepiestObject pic.twitter.com/L6BpxVgkhT

— Maidstone Museum (@MaidstoneMuseum) April 17, 2020
SHRIMP MOTORCYCLE.
How about this shrimpcycle spotted in Taiwan? #CURATORBATTLE #CreepiestObject pic.twitter.com/CwKiVURvum

— Cam McWilliam (@CamMcWilliam) April 22, 2020