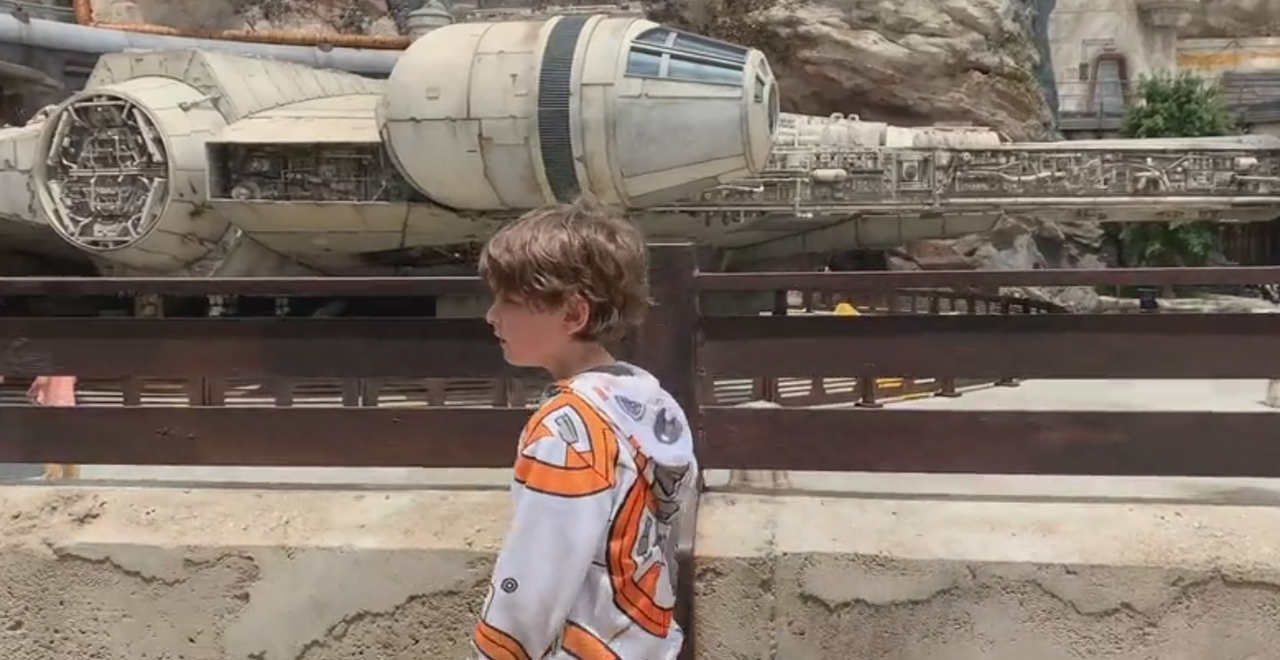 Credit: Vimeo/Christopher Robert Norton
Most dads, when it comes to bonding with their kids over the pop culture they love, settle for playing them the albums and showing them the movies. I couldn't wait to introduce my kids to the Beatles and to show them the Star Wars movies, and I thought I was the world's greatest dad when I told friends my 5-year-old knew the Fab Four and all about Emperor Palpatine.
And then I learned of this dad from the bay area who completely put me to shame. Not only did he get his son into Star Wars, but he also put his son in Star Wars.
Christopher Norton was escorting his 6-year-old son Emerson into the new Galaxy's Edge park at Disneyland when the little boy asked his dad an unexpected question: "Dad, can we make a movie?"
"Who am I to say no to that?" the dad posted on Twitter. And say no he did not. Instead, the pair got to shooting, using Norton's iPhone Xs as a camera and Galaxy's Edge as the perfect backdrop.
The resulting 6-minute movie, "Star Wars: Emerson Begins," features young Emerson in a variety of roles, from relaxing Jedi to evil First Order soldier, but primarily features the young boy as BB-8, dressed in a BB-* hoodie, going on a mission (sent from Rey). It even includes the franchise's signature opening crawl.
"As a parent, it's a tricky balance between enjoying the moment and trying to capture it," Norton told SFGate. "It was fun to watch his mind work and help him put the story together."
Norton posted the movie on Vimeo and shared it on Twitter, where Mark Hamill himself liked it, much to Emerson's delight.
Me, "Dude! Luke Skywalker liked your movie!"

5yo, "That's so cool… wait, the real one?!"

Me, "Look…"

5yo, "I love you dad."

Me, holding my kid, happy crying b/c @HamillHimself pic.twitter.com/FGYC9ag5Dk

— Christopher Norton (@copaflyer) June 14, 2019
"The real Luke Skywalker liked my Star Wars movie?!" the boy exclaimed, before asking, "Does that mean it's a real Star Wars movie?"
Of course it does. And it's better than the prequels.
Watch it: