Dad and Brother Help Groom out of Wheelchair for Wedding Dance [WATCH]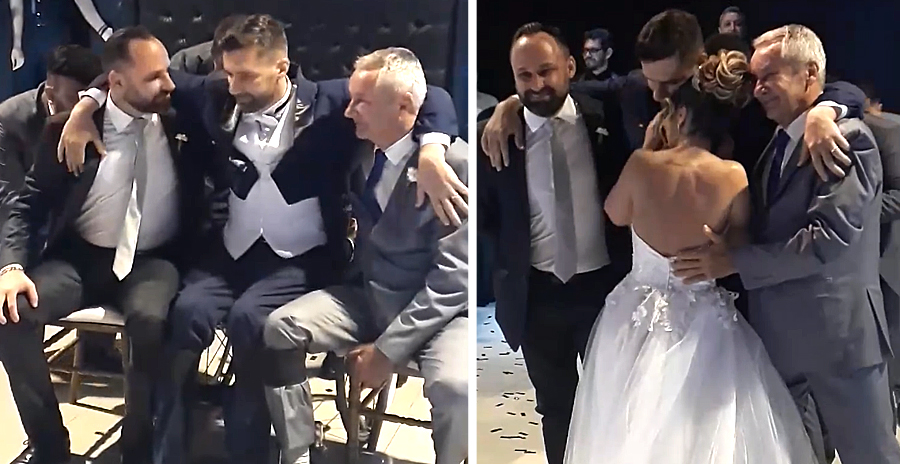 It doesn't matter how old you are, where you're from, who you're marrying, or even if it's your first or fifth marriage: your wedding day is special. It's a landmark day, it's a life milestone, and it's one hell of a good party. Anyone who chooses to have a wedding should have every opportunity to enjoy it. God knows that arranging and planning one is a hellish months-long stress fest that definitely requires one hell of a celebration, if only for getting through it unscathed.
For many couples, one of the most beautiful, and nerve-wracking, portions of the wedding is the first dance. My wife and I agonized for months over which song to choose and then took dancing classes to make sure we (mostly I) didn't end up looking like fools on the dance floor.
Dance classes weren't really an option for groom Hugo Rohling, who is paralyzed from the waist down and uses a wheelchair to get around. But that didn't stop him from partaking in the tradition with his new wife on their wedding day.
In a Facebook video that has gone viral for good reason, Marcelo is seen dancing with his lovely bride, she in her beautiful, flowing wedding dress and he in his wheelchair. The pair gracefully maneuver around the dance floor and she gets in his lap for a kiss.
And then his father and brother come out for a surprise.
Chairs are seated on either side of Marcelo and each of his legs are strapped to theirs. He puts his arm around each of their shoulders and they all stand up in unison as the crowd cheers. Hugo's bride walks over and embraces her husband at his full height, and the trio sways together to the music. Despite his brother and father flanking him, it surely seemed to the couple that they were the only two in the room at that moment.
The caption, from guest Marcelo Henrique Silva, reads: "I had the pleasure of participating in this incredible wedding of my friends Cinthia Zanuni II and Hugo Rohling in Cuiabá, and I'm going to share this video of what Love is really capable of."
A lot of people have witnessed just that, thanks to Marcelo's video, which has been shared over 400,000 times and has more than 16 million views.