Dad Creates Epic Halloween Costumes for Son With Cerebral Palsy [VIDEO]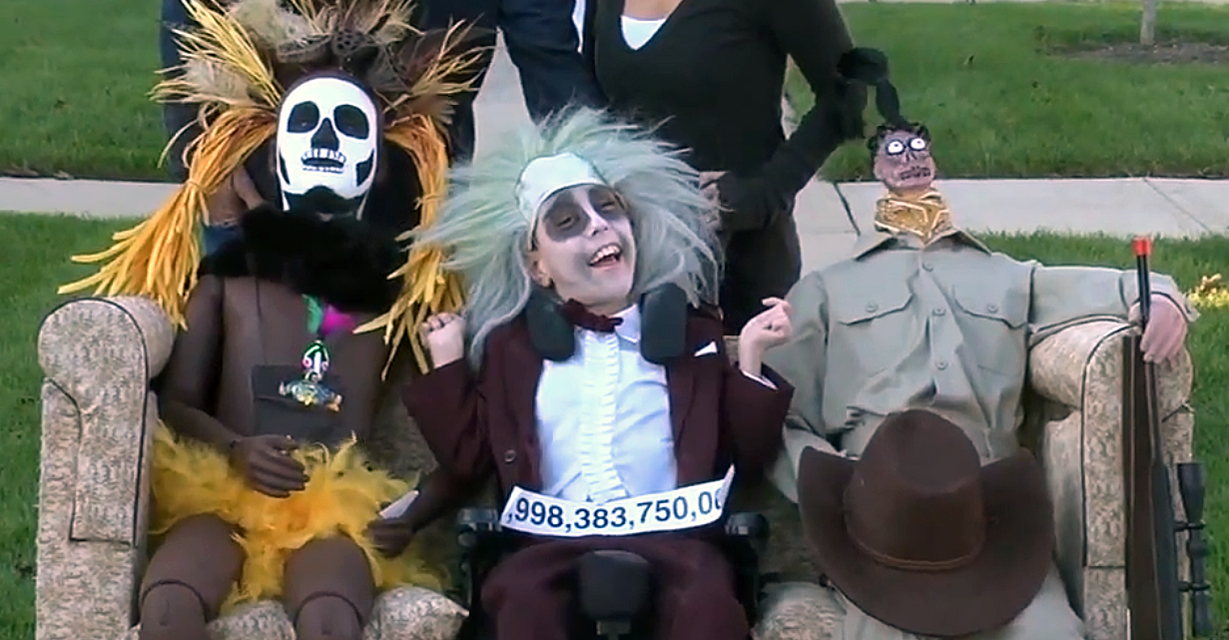 One of the fun parts of Halloween – aside from collecting all that candy – is figuring out what to dress as, especially when you're a kid. As an adult, some of that magic fades. Who wants to wear a scary mask when you just have to keep taking it off to drink your beer? But when you have kids the magic often comes back.
Kids give you an excuse to dress up again, or, at the very least, to help your children realize their best Halloween dreams. That's what one father does for his son every year, and his reasons go far beyond simple candy-hunting.
Anthony Alfano is a 9-year-old boy with cerebral palsy. But every Halloween, his dad makes sure that Anthony is simply the kid with the best costume in his hometown of Melrose Park, Illinois, if not the whole state!
"He's always seen as Anthony the boy that can't do nothing… I just want to make him not be seen that way. Halloween costume is like the best disguise," Anthony's dad, Tony, told ABC11.
His father builds Anthony's costumes from scratch, helping transform him into Mini-Me, a goalie for the Chicago Blackhawks, even a snow globe, Dad has a track record of delivering for his son. And this year the duo nailed their best outfit yet.
Remember the waiting room scene at the end of Beetlejuice? I do, because I just showed that Halloween classic to my son last weekend. The scene features Michael Keaton's decrepit Beetlejuice sitting in between a witch doctor and a man with a shrunken head. This Halloween, Anthony Alfano is Beetlejuice, and thanks to his old wheelchair and his dad's ingenuity and crafting skills, he's flanked by the other two guys in that classic scene.
"He has like a stigma for having special needs. So this is a way that they look at him and they see this like bright, happy kid and it makes them feel good; in return puts a smile on his face when he gets all the attention," added Deanna Alfana, Anthony's mom, who helps put the finishing touches on the costumes after Tony builds them.
Last year, they transformed Anthony into the Wheel of Fortune, complete with a spinning wheel, catching national attention. "We got to go and see and meet Pat and Vanna and watch two live tapings and Anthony was ecstatic," said Deanna.
The two love building the costumes for their son.
"It's kind of like we've built this platform for other families," she explained, "it feels like this was kind of like our purpose to bring Anthony into people's lives and homes and to brighten their day and put a smile on their face."
As for whether dad has peaked with his recreation of the Tim Burton movie? Not so fast.
"No. Not yet. I don't think so. I think… there's room for more," Tony said, before admitting that his son "motivates [him] to do what I have to do as a dad."
There's nothing spooky about that.