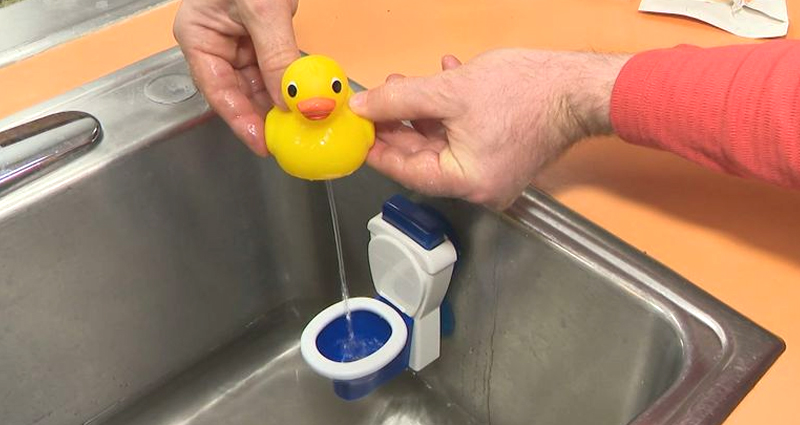 Credit: WSBT22 News
A fair amount of parenting is spent trying to find easier ways to get your kids to do things. Easier ways to get your kids to go to be, easier ways to get your kids to eat dinner, easier ways to discipline your kids, etc. But convincing young children to do what you want them to do is not easy, no matter how many experts try to get you to follow their advice.
Sometimes you have to think outside the box and use your creativity to take matters into your own hands.
That's what one dad did when he was trying to teach his daughter to use the potty, and now, twenty years later, he is introducing that solution to the rest of the parenting world in the hopes that it helps make one of the most harrowing parts of raising young kids a little easier to bear.
Fred Longeneck of South Bend, Indiana invented a fun toy to help kids learn about and want to use the toilet instead of a diaper. He calls it "Potty Duck" and he thought of the idea back when his daughter was two, and he was trying to coax her into using the potty.
"It started with my 2 -year-old daughter we were playing with a leaking bath toy and I enlarged the hole in the base and we pretended to make it pee," Longenecker told WSBT in Indiana. "Two days later we are in the living room. she stands up and says I want to go like – and names the squirt toy. I'm like oh my, she learned."
He worked with a pediatrician friend to create the Potty Duck, which comes with its own toy toilet so that kids can fill the duck with water and then squeeze the water out right into the duck's tiny potty. And it's catching on!
"At the beginning we wondered, are other children going to catch on like this? But it is proven. My pediatrician partner originally, the first year she was just using it with her patients but now we are hearing stories from families across the country," Longenecker explained.
One of the keys to teaching little kids anything is making it a little fun, and it seems like Longenecker has done just that, turning the classic rubby duckie into a valuable teaching tool.
It's available on Amazon here for $19.99.

Just a heads up, if you buy stuff using the provided links, The Dad may collect a small commission.