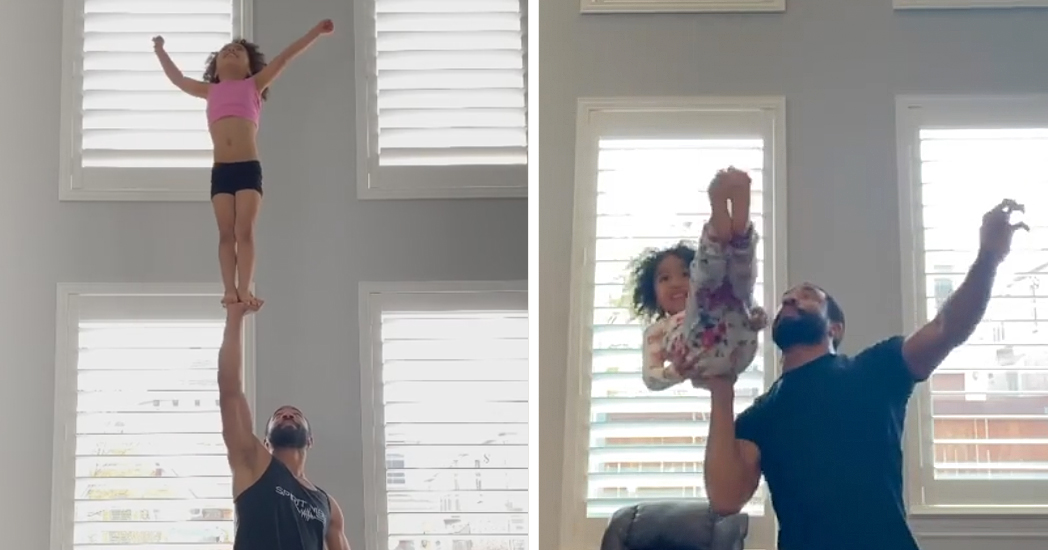 Credit: Instagram/rolandp90x
Enthusiasm is vital now more than ever. In these trying times, it's good to know that there are people still leading the cheers, rallying the pep, and reminding us all to be aggressive, b-e aggressive.
Roland Pollard of Dallas, Texas is a former cheerleader who ingrained a love for the sport in his 4-year-old daughter, Jayden. Together, the two are putting their time inside to good use by showcasing their jaw-dropping routines on Instagram.
View this post on Instagram
"When I found out I was having a daughter, this is exactly what I imagined," Pollard said in an interview. "We do the routines for fun and share them with the world because I feel like not enough people give dads credit. I have never dropped her! She trusts me with her life, and that definitely adds to our bond."
In one particularly intense video, Roland tosses Jayden up to execute an impressive 12-second handstand.
View this post on Instagram
In another jaw-dropping test of balance, the duo… well… let's just say the "high five, lil mama" at the end here is completely justified.
View this post on Instagram
We're floored, to say the least.
"Thank you all for watching these videos of me passing down knowledge to my daughter," Roland writes in the caption. "She loves when I read her all of the comments and they make her feel like a little Star."
Follow the Pollards on Instagram here to watch Jayden on her dad continue bringing the cheer!