Dad and Daughter Are the Belles of the Ball in Matching Princess Dresses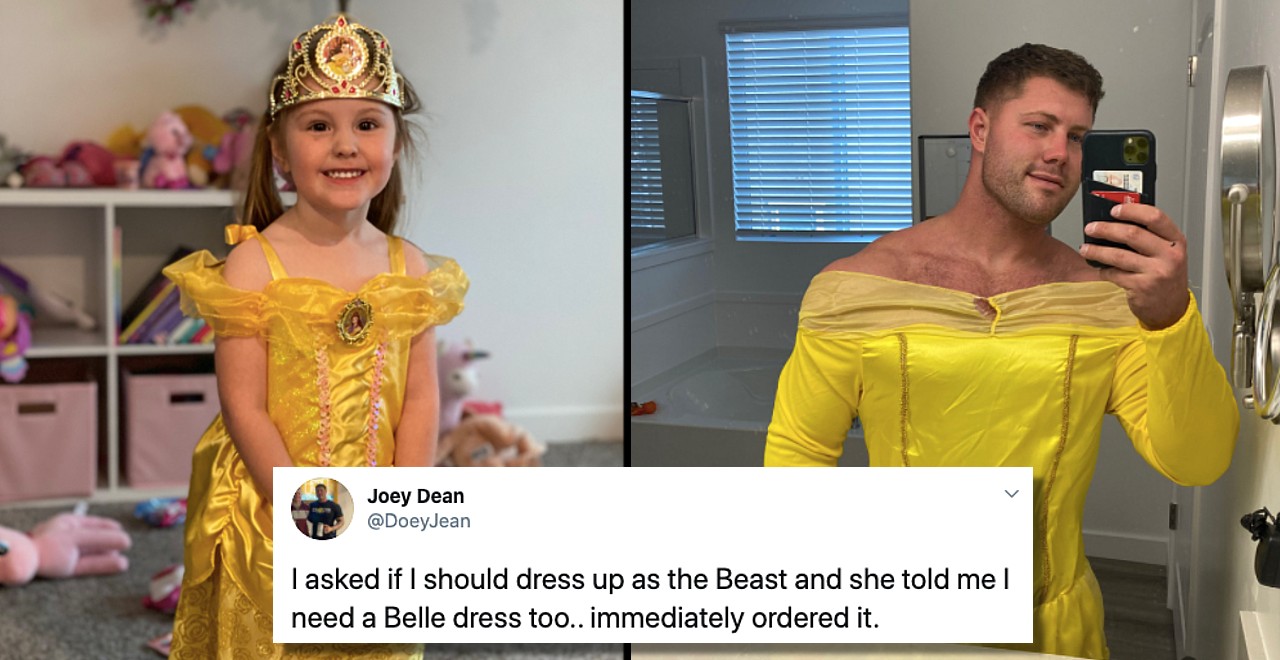 While adults are better at things like working the oven and doing basic math (usually), kids are unquestionably the experts when it comes to make-believe. When play is involved, we turn to our kids to lead the way. Playing with kids is like improv – your only job is to "yes, and…" until they get bored and move on to the next activity. If your kid picks up a banana and starts making ringing noises, you pick up your own banana and you freaking answer it. Yes, we want to encourage them to explore, experiment, and learn. But we also just want to play. There aren't as many outlets for unimpeded creativity when you're an adult, so when we get the opportunity, diving in head-first reminds us how satisfying it is not to worry about anything but having fun.
When Joey Dean was playing with his 3-year-old daughter Charlee, he took "yes, and…" to the next level. Fortunately for us, he took to Twitter to show all of us just how far he'll go to make his daughter smile. The caption of Dean's photos read, "I asked if I should dress up as the Beast and she told me I need a Belle dress too.. immediately ordered it."
I asked if I should dress up as the Beast and she told me I need a Belle dress too.. immediately ordered it. pic.twitter.com/o9zZKff30z

— Joey Dean (@DoeyJean) September 23, 2020
Yes, rather than dismissing Charlee's creativity as an offhand comment, Dean ordered his very own Belle dress, one fit for an adult male. Honestly, Belle's gown has never looked better than on this dad-daughter duo.
Dean told The Dad, "I'd do anything to make her happy and something as fun and silly as that would never be a no."
Dean and Charlee not only got to play in their matching dresses, but they also had a photoshoot to capture their extremely fancy day. And of course, to add to the collection of pictures that Dean, like any dad, will inevitably show proudly at every one of Charlee's celebrations and milestones for the next 20 years. Graduation parties, birthday celebrations, the first time a new friend comes over – no event is too small to whip out the Dad Album.
Though the dress was a sweet gesture showing Dean's enormous love for his daughter, it's far from the first and far from the biggest thing this doting dad has done for his little girl. After they separated, Charlee and her mom moved to Utah while Dean was living in North Carolina – but this dedicated dad wasn't satisfied with seeing his daughter so infrequently.
"I moved back to Utah in 2019 for her and enjoy every second with her," Dean explained. "She's the absolute light of my life and I'd do anything to make her happy."