Dad Designs T-Shirt That Incorporates Back Massages Into Playtime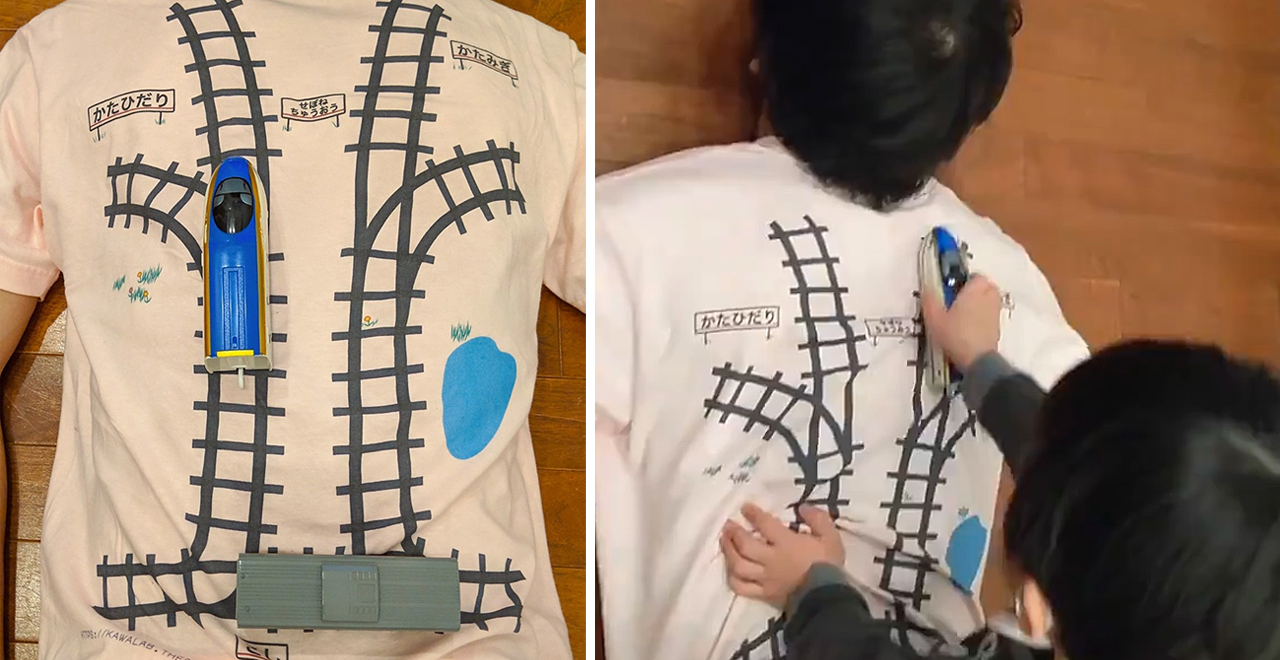 When you have kids, your stress level explodes, and rest and relaxation aren't easy to come by. You have bills to pay, mouths to feed, people to raise. Self-care can sometimes get lost in the shuffle. But it's important to find ways to incorporate it, whether it's going to the gym, sneaking some time to yourself, or tricking your kids into giving you a massage.
That's what one creative, crafty dad did when he invented a t-shirt that incorporates a nice back rub into his kids' playtime.
Ken Kawamoto is a software engineer for Google, so he's no stranger to coming up with inventive solutions to tricky problems. He may have outdone himself with his latest solution, a t-shirt that tricks his children into giving him a back massage.
"I often do work on my laptop while lying down on the floor. One time, in an act of boredom, my child started playing with his toy train on my back, which surprisingly felt very refreshing since my back was really strained," Ken told Bored Panda. "I then came up with this idea to get him to run the train along the particularly massage-needy parts of my back."
So he designed a t-shirt with train tracks drawn onto it, with each track leading his kids' toy trains over the key areas one targets when getting a rubdown. They're even labeled, so he can direct his kids to the proper spots: Right Shoulder, Left Shoulder, Spine, and Lower Back.
"[My son] seems to enjoy using me as rails (and the added sense of accomplishment from giving me a back massage). He's always enjoyed using me as a toy," Ken explained.
以前作った「寝転がってるだけで子供がマッサージしたくなるTシャツ」をきれいに作り直して出品した:https://t.co/o4QXllvo8h 背中にプラレール幅対応のレールが描いてあるので、子供が大喜びでプラレールを走らせてくれます。気持ちいいです。 pic.twitter.com/5wZ8poE5hJ

— Ken Kawamoto(ガリのほう) (@kenkawakenkenke) March 3, 2019
For a deeper massage Ken suggests your little ones wear train socks.
寝転がっているだけで子供がマッサージしてくれるTシャツ(https://t.co/o4QXllvo8h)はこういう電車の靴下(https://t.co/zonPvJsJnX)を用意しておくと最高の足踏みマッサージもしてもらえるのでおすすめです。 pic.twitter.com/Kzrjy0kXvM

— Ken Kawamoto(ガリのほう) (@kenkawakenkenke) March 16, 2019
His tweet of the shirt, complete with a video of his son using it, has ovr 60,000 likes and more than 31,000 retweets. Parents know a genius idea when they see one.
You can buy the shirt for $22 right here.