Dad Dons Daisy Dukes to Teach Daughter About Dress Code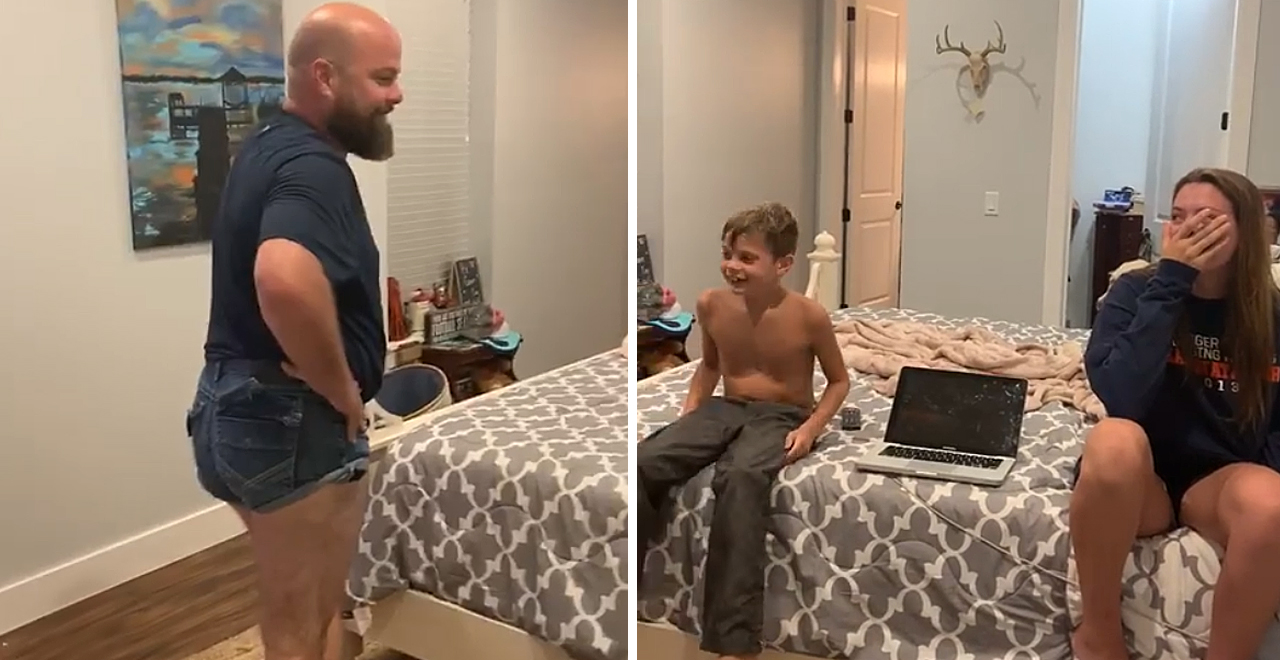 As your kids get older and start gaining independence, parenting gets a lot trickier.
Suddenly, these creatures who relied on you for every possible thing, who thought you were the smartest person in the world, suddenly they start thinking for themselves. Suddenly, they no longer take your word for things. It forces you to find new ways to impart necessary lessons.
Your kids burgeoning independence has all sorts of ramifications, most of which I loathe to discuss because my oldest kid won't be a teenager for another four years and there are some realities I'm not ready to confront. But one of the issues many parents face is teaching their kids to dress for certain occasions.
One quick-thinking dad found an ingenious way to let his daughter know her clothes weren't quite kosher for school.
Jason Hilley, an Orlando dad of two, has gone viral for a video he posted on Facebook in which he tries to convince his 14-year-old daughter, Kendall, that her "Daisy Duke" shorts are inappropriate by squeezing his own hairy thighs into a pair.
The 75-second video – in which Jason tells his daughter he's "picking her up from school, with these on" as she laughs in response – has exploded online, with 194,000 likes, almost 850,000 shares, and 92,000 comments.
Jason calls the video "Parenting 101," clearly proud of the clever way he decided to teach his daughter a little something about modesty. The idea came to him after he'd lent his daughter his debit card to buy some shorts that were less skimpy than a pair he'd recently seen her in, but when he saw her wearing the new shorts later, he was confused.
"I asked, 'Why aren't you wearing your new shorts? And she goes, 'These are my new shorts!'" Jason told TODAY Parents.
So he grabbed a pair of his jeans and chopped them down to the size of hers, and took a video showcasing his glorious gams.
"We joke around a lot, but Kendall knows when my jokes are serious," Jason explained. "Kids will be kids and try to push the limits. That's when I step in and try to correct the behavior with a little bit of humor. You don't have to yell and scream and punish to get a point across."
Kudos to Dad for finding a creative way to do just that.