Dad Dresses Son as Leprechaun for St. Patrick's Day, Mischief Ensues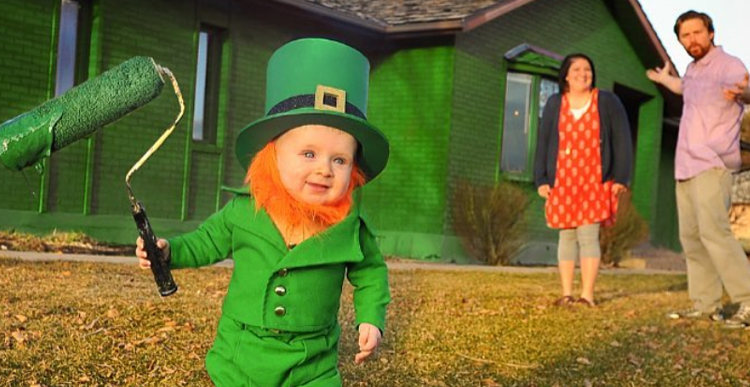 St. Patrick's Day is full of traditions. Various cities throw parades in honor of the holiday, Irish mothers everywhere cook a meal of cornbeef and cabbage for dinner, and everyone else spends the day drinking green beer and car-bombs. At least, those of us without kids.
Those of us with kids are forced to start other traditions. For the past few years, 'leprechaun traps' have become a thing in my house, with my wife creating elaborate ruses to help make my kids believe a tiny little Irish leprechaun was in our house looking for his pot of gold. But one family goes even further.
They turn their actual child into a leprechaun!
And the mischief is immediate.
For three years running, Alan Lawrence of Utah has been dressing his adorable little boy in a super-legit leprechaun outfit, complete with a flaming red beard and his very own pot of gold. He shares the photos on his blog, ThatDadBlog.com, as well as across social media..
"I am pretty meticulous about keeping the magic looking as real as possible," Lawrence told TODAY.com back in 2016. His wife made the leprechaun suit, and Lawrence uses his skills as a director, web designer, and photographer to stage his hilarious photo shoots.
Lawrence started dressing his son Rockwell up for the holiday when he was just 6-months-old, and 2019 marks the third straight year of the tradition.
As you can see, the little leprechaun often gets up to no good, but he looks so darn cute doing it!
Lawrence doesn't limit his photo shoots to St. Patrick's Day, as you can see by this video of his son in a variety of fun costumes.