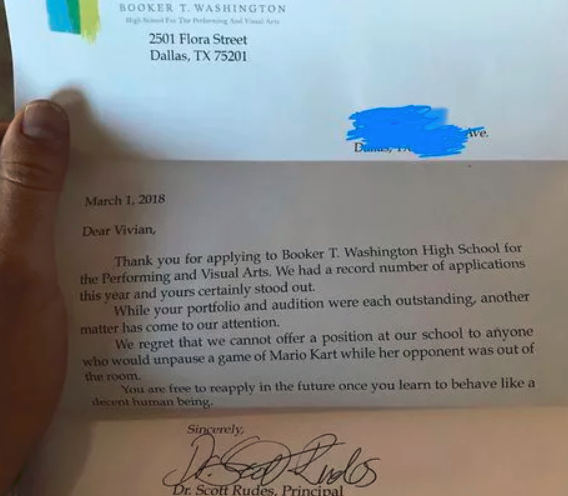 Credit: YouTube
Dad jokes ain't got nothing on dad pranks
Dads get a bad rap for their sense of humor, and the corny dad joke definitely deserves ridicule. But the effective dad prank deserves praise, because no one pulls one over on their kids with the commitment and sangfroid of a creative father.
Just ask one teenager who was waiting years for an acceptance letter only to have dad get some well-deserved revenge.
An aspiring artist, 13-year-old Vivian has been building her portfolio for years, hoping it would be enough to gain her admission to Booker T. Washington high school outside of Dallas, a visual arts magnet school. Surely she was waiting on pins and needles for an acceptance letter, but unfortunately for her, her father got to it first. And he had a score to settle.
It seems father and daughter have a Mario Kart rivalry, and Dad took exception to his teen's unscrupulous methods of securing victory. Apparently she has, on at least one occasion, restarted a paused race while her father was out of the room! So as she awaiting word from her Booker T. Washington High, he was waiting to pounce, with a fake letter from her dream school.
He crafted a fake rejection letter, and added a very specific reason for her failure to make the cut.
At first glance, Vivian was merely upset that she'd been rejected, but Dad made her read the letter aloud, and she clearly had a sense something was up even before she reached the crucial paragraph in which her MarioKart methods were called into question. She burst out laughing, and her father handed her the actual letter from the school, an acceptance letter that healed all wounds.
See the full video here, and marvel at dad's composure.