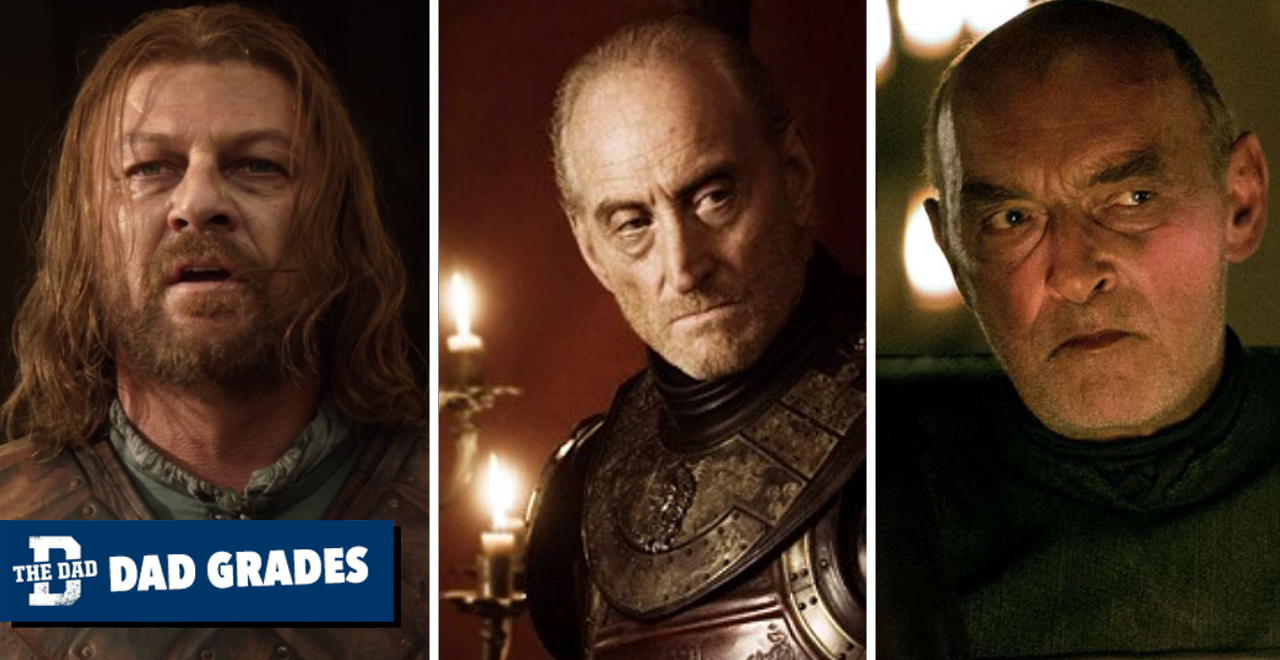 Credit: Warner Bros
Need to quickly catch up before the eighth and final season of Game of Thrones gets underway? Well, good luck with that. Way too many characters. But if you're looking for the three best and three worst poppas in Westeros, we've got you covered.
BEST DADS
Ned Stark
Children: Robb, Sansa, Arya, Bran, Rickon
Fatherly Advice: "The only time a man can be brave is when he is afraid."
Verdict: You knew ol' Eddard would top of this list long before the page finished loading. Mr. Stark was essentially the moral compass of Westeros, having raised five of the few people on that continent who didn't grow up to be barbaric monsters. He was always eager to pass down wisdom, a champion of honor and loyalty in an age of betrayal. Well-deserving of a "#1 DAD" goblet. A+
Jaime Lannister
Children: Joffrey, Myrcella, Tommen
Fatherly Advice:
"How can you still count yourself a knight, when you have forsaken every vow you ever swore?"
Verdict:
Okay. So. We know Cersei is his sister. And yes, we know Joffrey, the Damien of Westeros, did, in fact, swim out of this man's urethra. The thing is, Jaime never really got the chance to properly nurture Joffrey. We'd like to think, had Cersei not been forced into an unhappy marriage, Jaime could've given Joffrey the fatherly affection he so clearly yearned for. Put aside the whole "dating his twin sister" thing and you've got yourself a
B+
uncle-dad.
Mace Tyrell
Children: Loras, Margaery
Fatherly Advice: "Is there anything as pointless as a king without a kingdom?"
Verdict: The head of House Tyrell is often regarded as a bit of an idiot, even by his own mother. He's not a particularly good general, but he's able to summon lots of kindness through that vulnerability. He's the closest thing this bleak era of dragon panic and human sacrifice had to an easy-going, goofy dad. Also "Mace Tyrell" is easily the smoothest name on the show. B
WORST DADS
Tywin Lannister
Children:
Cersei, Jaime, Tyrion
Coldest Quote:
"A lion doesn't concern itself with the opinion of sheep."
Verdict: 
We can't even go into detail about all the despicable things Tywin Lannister has done to his children. This dude is a monster. Total disregard for the well-being of his three kids, with an especially disheartening, calculated disdain for his son Tyrion. Truly the "dad who pushes his kids into sports but only to further his own personal interests" of Westeros.
F
Robert Baratheon
Children:
Mya Stone, Bella, Gendry, Edric Storm, Barra, Joffrey(-ish), Myrcella(-ish), Tommen(-ish), countless others even he doesn't know about
Coldest Quote:
"I swear to you, I was never so alive as when I was winning this throne, or so dead as now that I've won it."
Verdict:
This guy has like a thousand kids, one of which turned out to be a demon. The Baratheon household is a textbook example of how an unhappy marriage can affect a child. Jaime Lannister may be the biological father of Joffrey, but Robert here withheld the nurturing that might've kept that little shit from becoming Satan incarnate upon reaching puberty. We're not ones to advocate for child-leashes, but good lord, bro. Control your kid. Perhaps Ned Stark's head would still be attached to his body had you two went out back and tossed the ol' pigskin once in a while.
D-
Randyll Tarly
Children: Samwell, Talla, Dickon
Coldest Quote: "The gods made men to fight."
Verdict: Mr. Tarly is a vicious, cold-blooded, highly effective war general.  His gentler son Sam doesn't care for fighting, much more interested in scholarly pursuits at the Citadel. Randyll gives Sam an ultimatum: join the Night's Watch, a brotherhood of men who look after the Wall, OR be put to death via hunting "accident." Again, Sports Dad written all over this shit. We will award bonus points, as Randyll Tarly, despite the spelling, is easily the dad-est name on the show. D-
Check out the previous edition when we graded Frank Costanza from Seinfeld.