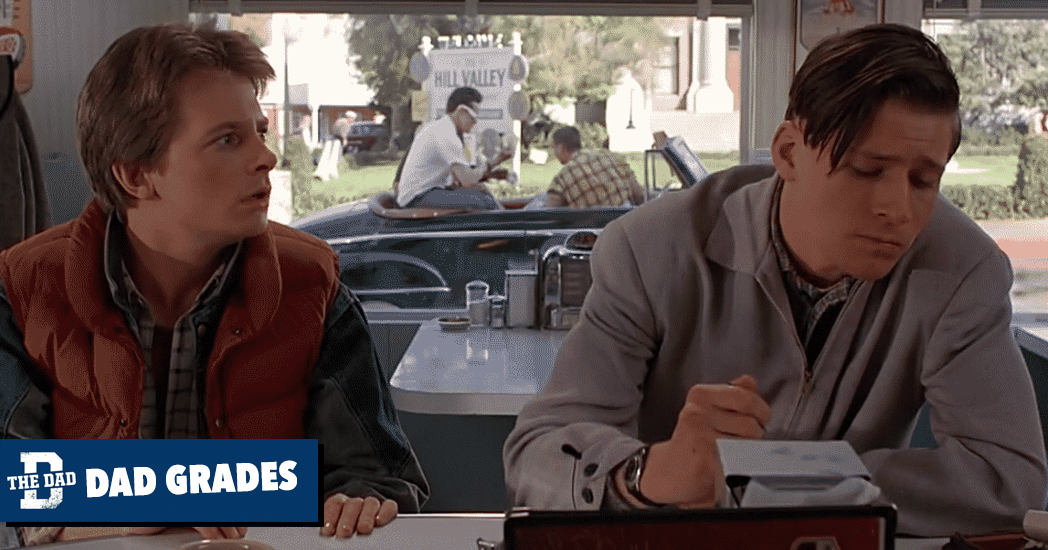 Credit: Universal
The question crosses all of our minds at some point: what were our dads like in high school? Would we have been friends with him? Or perhaps enemies? Could we, should the situation to present itself, play Cupid with our parents, while simultaneously rebuffing advances from our moms? In this edition of Dad Grades, we take a look at George McFly from Back to the Future.
Because this movie deals with time travel, there are three versions of George McFly we must take into consideration.
Loser 1985 George
1955 George
And last but not least, Cool 1985 George.
STRENGTHS
It's established in the first act of the movie that Loser 1985 George is a total dud; his misery the prime objective of a lifelong bully named Biff Tannen.

So it's not easy to wring the strengths out of a character whose whole "thing" is weakness. Double so for 1955 George, seen here helping a classmate with a reading assignment.
So where then does his strength lie? Why, none other than Timeline #2, of course, set in motion by the punch heard 'round Hill Valley.
It's hard to say how George's newfound confidence played out over those next three decades. We only get a glimpse of Cool 1985 George in the movie's epilogue, when Marty realizes he butterfly-effected himself hotter parents.
His high school bully now relegated to a lifetime of indentured servitude, we finally get to see George's one strength: he is a published author. Pretty cool thing to be able to say about your dad, in our book.
(Speaking of which, we too have a book.)
WEAKNESSES
George and his wife, high school sweetheart Lorraine, have three grown kids: Dave, Linda, and Marty, seen here disappearing from existence.
George's relationship with the three seems… fatigued? His involvement in their lives feels as if it's all dismissed as routine: apologize to Marty for being a pushover, bid farewell to Dave as he leaves for his shift at Burger King, entertain Linda's boy troubles, laugh at The Honeymooners.
Seriously, George's family is so lethargic that not even a cake celebrating a family member's release from prison can curb the monotony of dinner time.
Come on, dude. It's 1985. Calvin and Hobbes just made its debut. Freddie Mercury just crushed it at Live Aid. Seriously, how can your family be this glum now that New Coke is available?
VERDICT
This one's tough. In the history of Dad Grades, we've never had a father-son duo who are, for most of the story, in the same grade. We've also never had to critique three versions of one dad in the context of two timelines. It sounds impossible but, as a wise man once said:
"If you put your mind to it, you can accomplish anything."
– George McFly, not realizing he's just
repeating advice his son gave to him 
after accidentally traveling back in time
1955 GEORGE FINAL GRADE: C+
LOSER 1985 GEORGE FINAL GRADE: N/A
COOL 1985 GEORGE FINAL GRADE: B
Check out our previous edition when we graded Dr. Evil from the Austin Powers flicks.