Dad Grades – Hank Hill From King of the Hill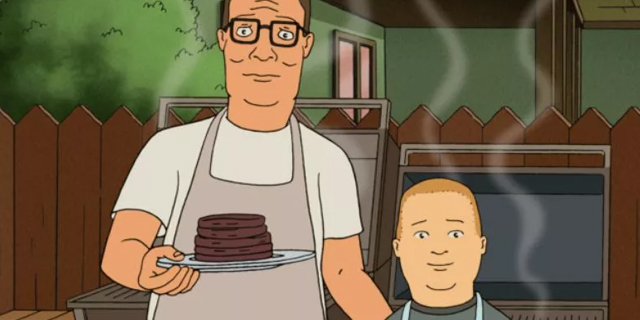 In this edition of Dad Grades, we will take a closer look at the parenting skills of the propane peddling patriarch of King of the Hill, Hank Hill. Does his aptitude as gas grill salesman translate to fatherhood? Let's take a look.
DAD STRENGTHS
Hank Hill embodies one particular quality that sets some fathers apart from the rest: an enthusiasm for lawn upkeep. While keeping a presentable yard may seem like a laborious chore to most, Hank finds an unlikely form of therapy in it.
This is in the Dad 101 syllabus. Your lawn is the window into your home life, if you don't count your actual house windows. Providing a landscaper didn't do it, a vibrant, green, well-maintained yard is indicative of proficiency in fatherhood. Some yards just scream "now there's a dad who can also properly grill a steak."
Given Hank is in the gas business you can bet that he's a proponent of propane while BBQing. The topic of propane vs charcoal is a contentious one among dads. But it appears as though Hank has been caught on camera using charcoal. In other words, Hank is handy across multiple disciplines of grilling.
DAD WEAKNESSES
Make no mistake: Hank is a great dad. A good provider, eager to take a fatherly knee and dole out life advice to his boy.
But the relationship with his only son, 12-year-old Bobby, is a tough one to crack. The very first episode features Hank having great difficulty saying "I love you" to his son; a side effect of the relationship with his own verbally abusive dad. Their father-son dynamic can best be summed up by this quote.
While Hank shows quiet affection for his kid in other, traditionally masculine ways, we here at The Dad advocate hugging and highly encourage telling those little rapscallions you brought into this world that you love them.
We're also big fans of accepting your kids for who they are.
Hank's most famous catchphrase is, of course, "That boy ain't right." This is typically in regards to Bobby's non-propane-related career goals, his budding femininity, and a lack of athletic ability. Get with the times, old man. Bobby can be whatever Bobby he wants to.
VERDICT
Hank Hill is worthy of any #1 Dad mug in Arlen, Texas. While we wish he'd be more accepting of his son's less than traditional ways, we cannot deny that he is a loving, devoted father. He shows the same ardor for being a dad that he does for propane and propane accessories. And oh holy shit does this man love his propane and propane accessories.
FINAL DAD GRADE: B
Check out what Red Forman from That 70's Show scored on our previous edition of Dad Grades.