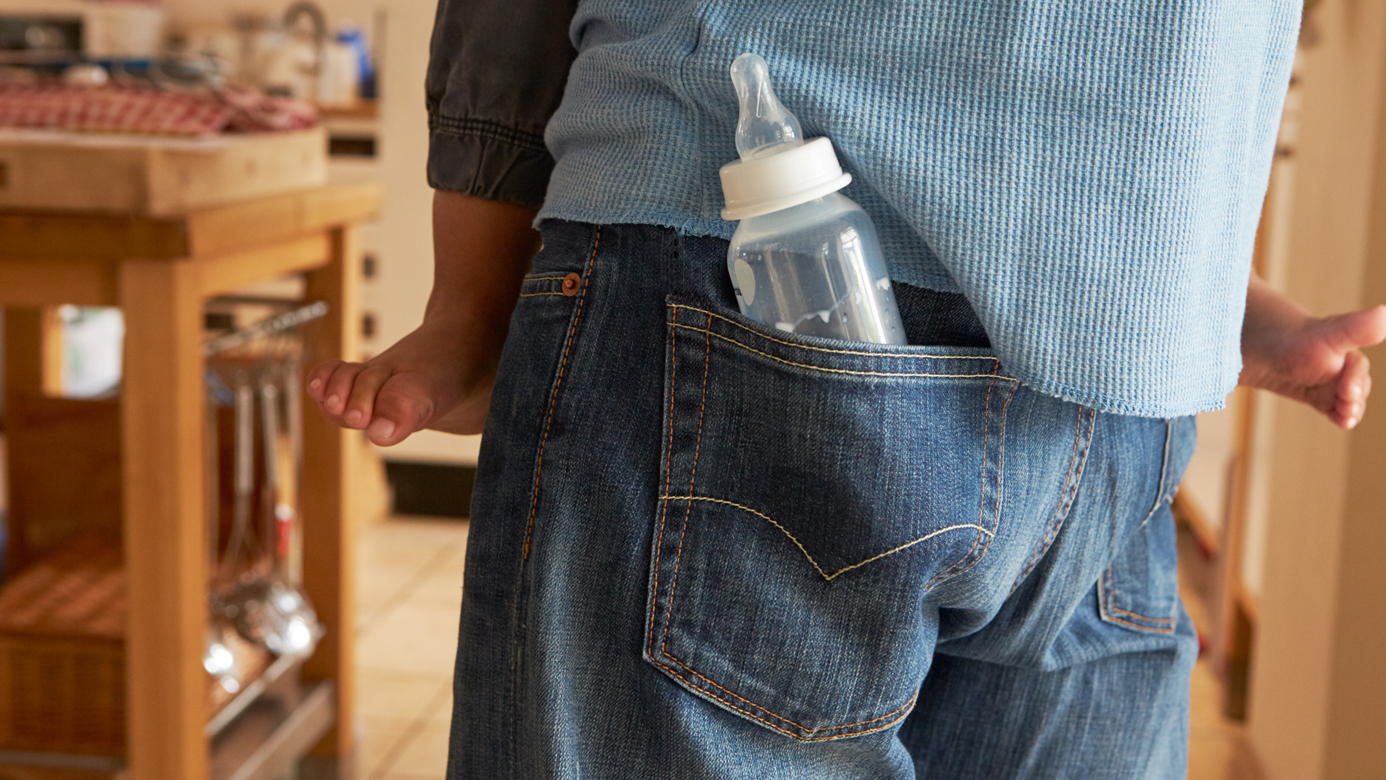 Credit: Getty/omgimages
What's next, socks and sandals?
A few years ago, the Dad bod became a media sensation. For some reason, men who'd taken care of themselves before they had kids but had let things go a bit upon entering fatherhood became the hot new thing. Suddenly, an easily attainable beer belly overtook the fairy tale six-pack as the physique of the moment, and lazy, beer-drinking men everywhere rejoiced.
Now it seems the same thing is happening for fashion, at least according to a piece in the Wall Street Journal that claims that "dad style" is now in fashion.
Sure it is.
According to the WSJ, "'dad style' was all over the runways for spring." Having inexplicably seen The Devil Wears Prada multiple times, I think that means that we'll all be able to buy 'dad style' at affordable stores in about three years or so? Unless, of course, you're already a dad. Because in that case, the odds are quite good that you already own the staples of dad style.
Comfy jeans, running shoes, baggy shirts, windbreakers. These are the staples of dad style as put forth by the newspaper, and I bet you have at least some of them. Hopefully, you have at least some of them, because accompanying the Journal's article on the emergence of this trend are advertisements for high-end versions of those very items, most of which are absurdly expensive. A rugby shirt for $128? 28 bucks for a pair of socks? $90 t-shirts?
Thankfully, in the copy surrounding the thinly veiled ads, the piece lays out the tenets of good and bad dad style, allowing the confident father to avoid breaking the bank by merely reworking his wardrobe according to the primary attributes embodied in dad fashion.
The good is "defined by quality, subtlety, fit" whereas bad dad style features "squareness, stodginess, sloppiness." That sounds kind of like basic guidelines for any kind of wardrobe, and it hardly needs to run you hundreds of dollars to achieve. Again, you surely have plenty of pieces of clothing that fit the bill already.
I think the people who put that article together are missing a major aspect of "dad style," and that's the fact that dads are the ones wearing it. We're dads, which, by definition, means we have children, which means we have no money! Capisce?
Raising kids is exhausting, sloppy work, and while looking good is definitely a priority, it's not the top priority. The entire point of the "dad style" and "dad bod" trends is that when your life is overtaken by caring for your kids, comfort and convenience take pole position over fashion and fitness.
Anyone who's constantly yelling about turning lights off and not letting the AC out isn't about to spend almost $100 on a t-shirt. Dad style may be trendy, but it's not a wardrobe. It's a mindset.