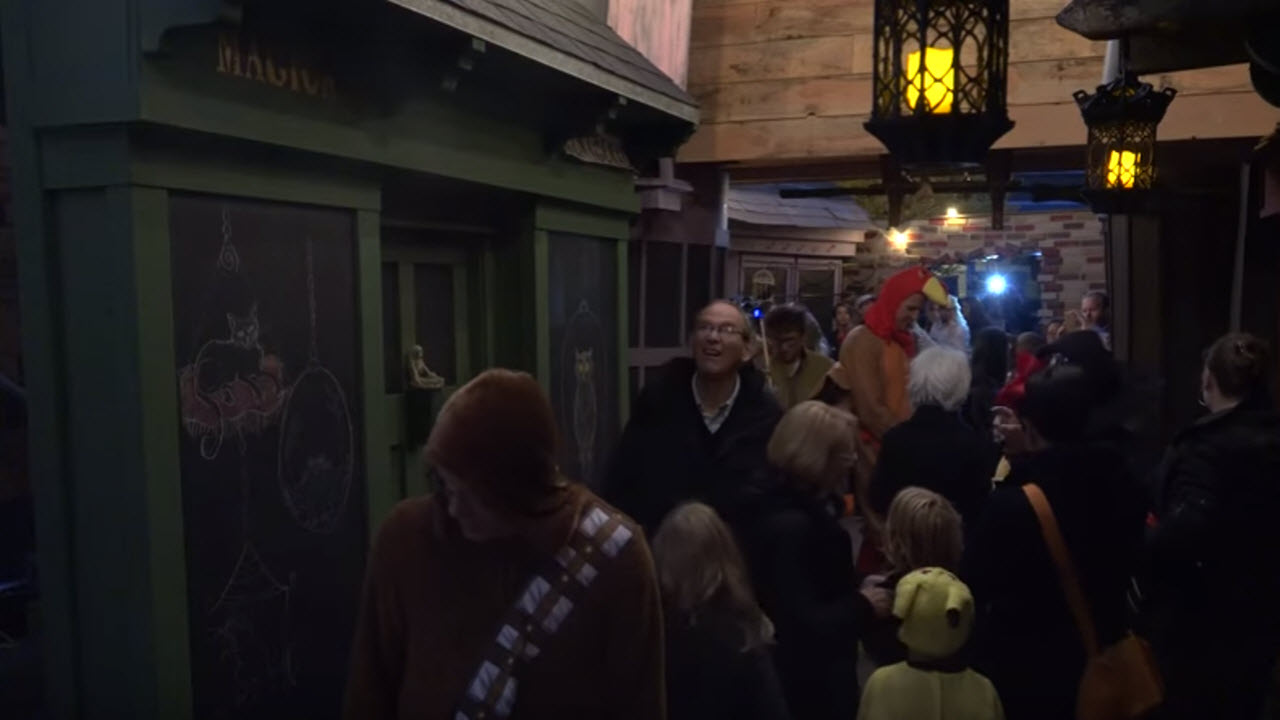 Dad goes full wizard with replication of beloved Potter landmark
A Seattle-area dad has two daughters who are obsessed with Harry Potter. So he did what any dad would do if he had major DIY skills, thousands of dollars, and a lot of free time: he built a replica of Diagon Alley from scratch in his driveway.
And I thought my Snape Halloween costume was good!
It took quitting his job, spending a small fortune, and working for weeks, but Jon Chambers' driveway Diagon Alley was ready for trick or treaters on Halloween. And boy did they love it, with over 2500 people passing through the alley that night alone.
GeekWire interviewed the hero dad who doesn't even need magic to make the rest of us muggles look terrible.
As Jon says in the video, he did it for selfish reasons. He was a Harry Potter fan before his daughters were born and he'd been looking for a reason to quit his job! Wow. That dude has some big brass snitches.
https://www.instagram.com/p/BapbM8GBlIO
He also has a lot of experience doing stuff like this, having worked as creative director at mobile app company Ubermind and, until he bailed to make his daughters' dreams come true, was director of design and a developer at OpenCar, the Kirkland, Wash.-based traffic analytics company.
https://www.instagram.com/p/Ba_DSgrhycs/
The project was something of a group effort, with some 30 friends and family banding together to help Jon complete the Alley after he posted an update on Facebook about gathering supplies for it. He also does his own 3D printing at home because the closest thing we muggles have to magic is technology.
https://www.instagram.com/p/BbC5F1XBMtU/
The project has attracted enough people – he posted a screenshot of two-day visitor tally on November 1, during which he raised $2500 dollars for charity – that Jon created a website with hours and information for anyone who wants to visit.
Diagon Alley isn't going anywhere, as Chambers arranges for some Christmas-themed events – complete with a Dumbledore Santa – to help raise money for Pancreatic Cancer Research. Besides, I doubt his daughters will let him take it down anytime soon.
https://www.instagram.com/p/BbFSjLlBvIc
Not that Jon is interested in getting rid of it, or done making magic. He's already considering another fun project. "I've thought it would be cool to do a Millennium Falcon. On the roof."
Who needs the force when your dad is a creative Jedi?