Dad Shares Daughter's Christmas List, Which Only Totals $10,000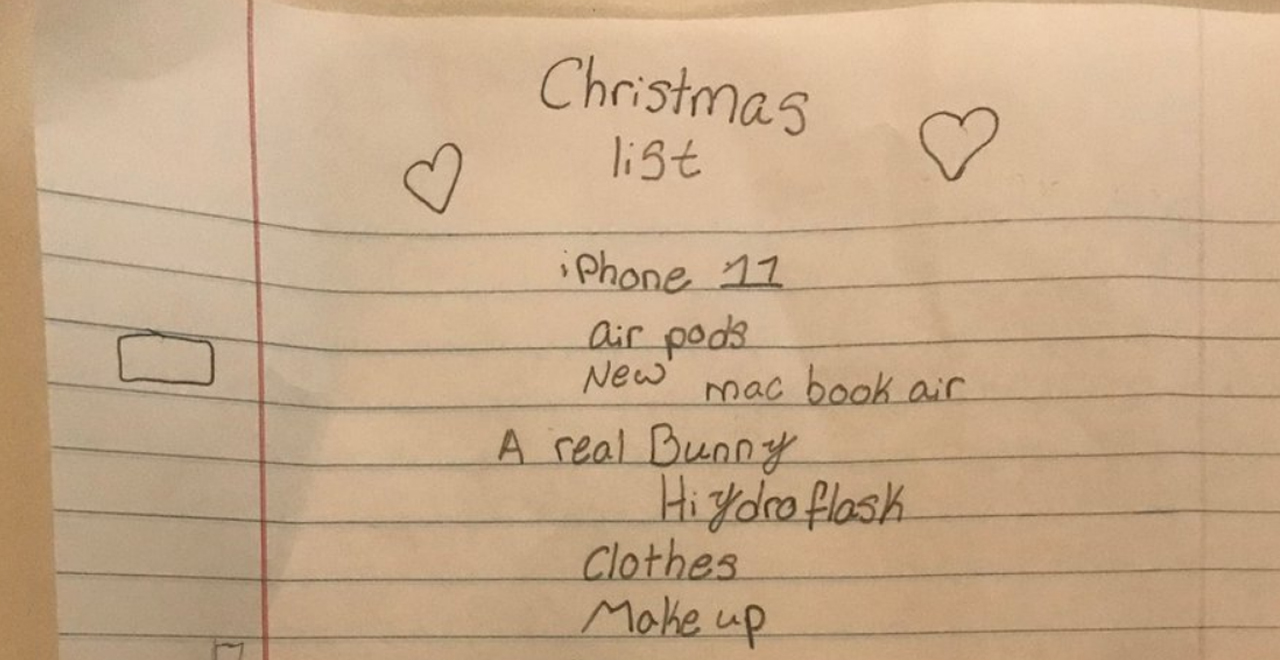 A time-honored holiday tradition among parents is roasting their kid's Christmas lists. There comes a time for kids when they are starting to outgrow the adorable Christmas phase when their eyes light up at every sighting of Santa or a Reindeer, and transition into a more transactional phase, where they see Christmas as little more than a personal toy ATM. And that's when Christmas Lists usually break into the realm of ridiculous.
One dad shared his 10-year-old daughter's list on social media and it went viral for its total cost. If "Santa" was going to come through and deliver on every outlandish request on her list, it would cost a cool $10,000.
Admittedly, we've all been versions of this girl. How long can we tell kids to "aim for the moon, because even if you miss, you'll end up among the stars" (scientifically inaccurate, btw) without expecting them to apply it everywhere? For this girl, missing the moon still means ending up with a brand new iPhone.
My 10 year old daughter must be out of her mind with this Christmas list 😒😒😒 pic.twitter.com/Qqsje79rda

— @A_Johnson412 (@a_johnson412) November 13, 2019
Also among her wishes were a brand new Macbook, some more big-ticket items from Gucci, Chanel, and Apple, and a pet bunny. I think my favorite entry on the entire list though is the "$4,000." She just straight-up asks for cash, after meticulously listing out everything she could possibly want. And that seems like such a specific number, too. Maybe she's thinking "OK if Santa can't find an alarm clock, I will accept several thousand dollars in currency instead."
And sure, most of us haven't broken five-figures with our wish lists, but we have all had that one item that was probably a step too far for "Santa." Every year, one of my daughters' wishes for a pony, without even once considering the logistics of how that could work in the suburbs. Nobody is walking their horse down the sidewalk.
While it's fun to see a three-year-old's Christmas wish come true, it's also equally important to reign those pre-teens in, and get them used to the crushing disappointments of the real world.