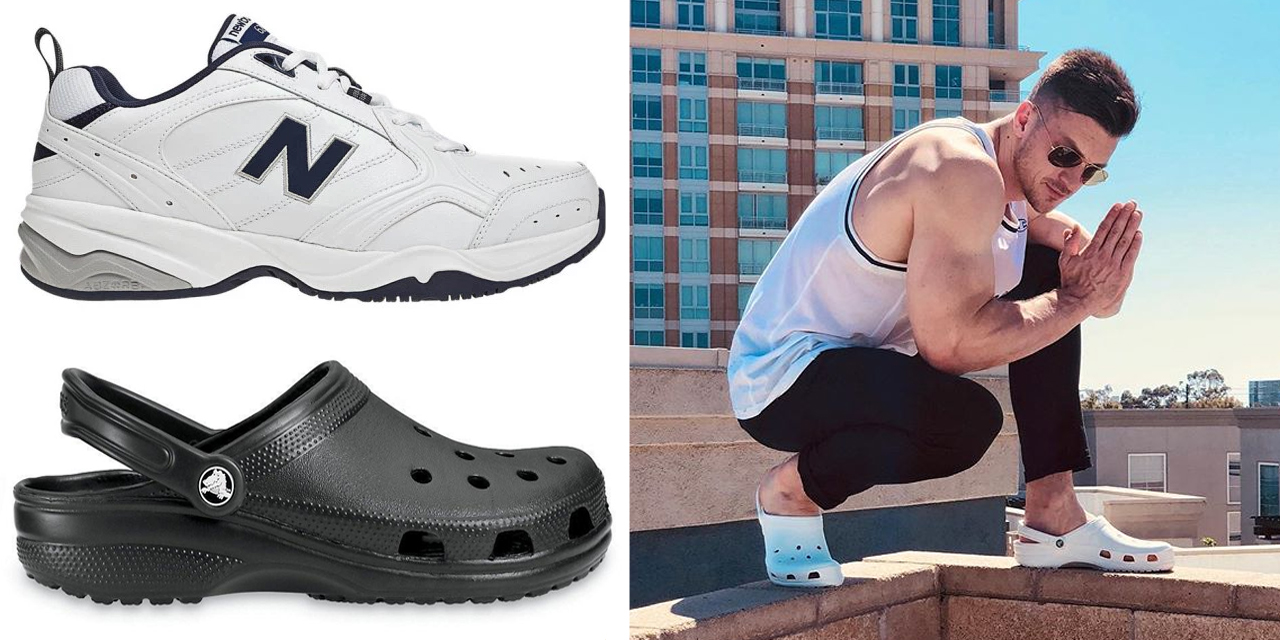 Credit: New Balance/Crocs Instagram/Crocs
Remember those ugly, chunky, white sneakers your dad used to wear?
Maybe you don't need to search your memory, maybe you can look down at your feet right now. Dad sneakers are a thing, and they aren't meant to be stylish. They are meant to be comfortable and convenient. They are meant to offer arch support and keep your feet from getting sore. They are not meant to get snapped for Instagram.
But that's what's happening. Dad sneakers are one of several pieces of "dad fashion" that are currently in style. So show your old man some respect and give yourself a pat on the back.
An article in USA Today tracked the return of dad sneaker style over the summer, when someone noticed an uptick of both internet activity around certain key phrases and actual physical inventory.
"Just within this year, chunky sneakers have seen a 238 percent uptick in stock in the last three months compared to three months prior to that," said Katie Smith, retail analysis & insights director for Edited, told the newspaper.
Apparently it was a summer thing. According to Google Trends, usage of the phrases "dad sneakers" and "dad shoes" saw peak usage over the summer months, and even Pinterest, not exactly a haven for dads, saw searches for "dad sneakers" rise 730 percent over the course of 2018. What is going on?
It seems that a couple of sneaker companies may have kickstarted the trend, or at least that's what Jane Buckingham, founder and CEO of trend forecasting and consulting company Trendera, speculates. Nike celebrated the 35th anniversary of their 1982 Air Force 1 with a high-profile collab between rapper Travis Scott and Louis Vuitton, inspiring luxury brands like Balenciaga to follow suit, and then Adidas released the Kanye West-designed Yeezy Wave Runner 700.
And everyone seems to be getting in on the action. Even supermodels, like Bella Hadid, who literally looks like she's wearing yachts on her feet.
The trend clearly isn't as authentic as it could be as I have yet to see any pairs with a grass stain pattern.
You think that's crazy? Can I interest you in something in a Croc? Because apparently Crocs are in now too! The company has been involved in a number of collaborations with street wear brands that resonate with today's youth.
They even joined forces with Post Malone (from what I gather through dad-level research – he's a very popular artist with young people) to create a pair that sold out in 10 minutes.
And Crocs and socks? turns out that's cool now.
Yes, dad style has officially become a thing and it's not just footwear. Dad fashion was named one of 2018's hottest trends in Lyst's annual Year in Fashion report. Big sneakers, loose cardigans and hideous shirts have seen their online searches explode with a 439 percent increase since the beginning of the year. What is happening?
We should probably just embrace it and give credit where credit is due. Us. Because if there's one thing dads know from, it's comfort.
Different fashion may go in and out of style, but comfort never does.