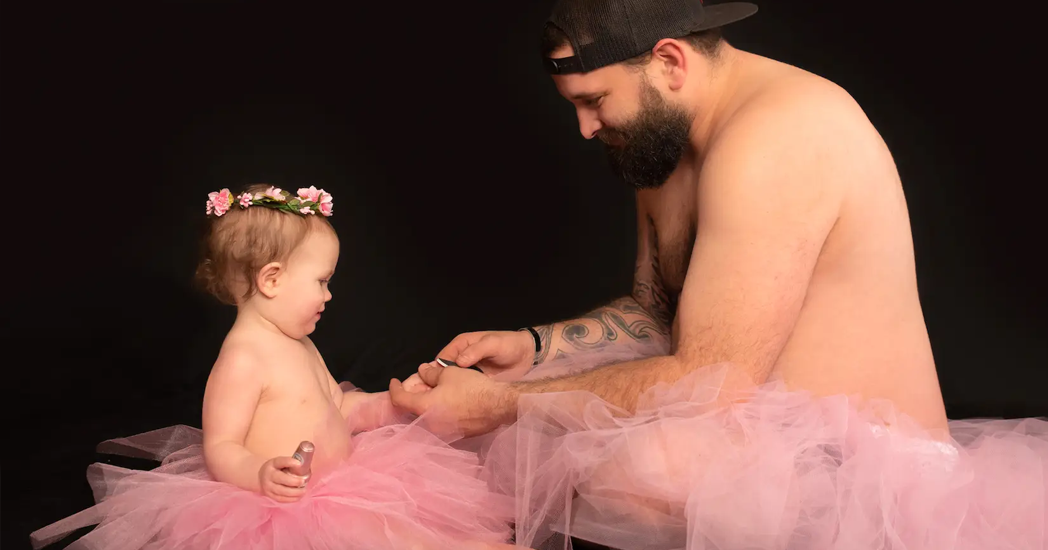 Credit: Jenn Floyd Photography
"It's okay for a manly-man to put on a tutu and play with his daughter," says 32-year-old Texan, Casey Fields.
Casey, a self-professed manly man, and single dad to a 1-year-old girl named Lyla did precisely that. And folks, the results were positively heartwarming.
When
Jenn Floyd Photography
asked for models on their Facebook page, a friend of Casey's had no choice but to tag him in the comments.
"What the heck," Casey said. "I'll do it."
Being a single father to a young girl can be intimidating. Bereft of a mother's firsthand insight, some men feel societal pressures brought on by conventional gender roles. Other men put on a tutu.
"I just put on a tutu and started interacting with Lyla and kind of forgot I was wearing it at all," he says.
The photoshoot went viral, garnering over 50,000 shares on Facebook.
"She is my world," Casey told Insider. "I consider myself a manly-man, but with her I lose all that and just be her dad."
Casey's favorite photo from the shoot is the one in which she paws lovingly at his face. "That's kind of our thing," he says. "She loves my beard."
We applaud Casey and his eagerness to put a smile on his daughter's face. Bravo, sir.