Damian Lillard's 3 Was the Best Thing That Happened in Sports This Week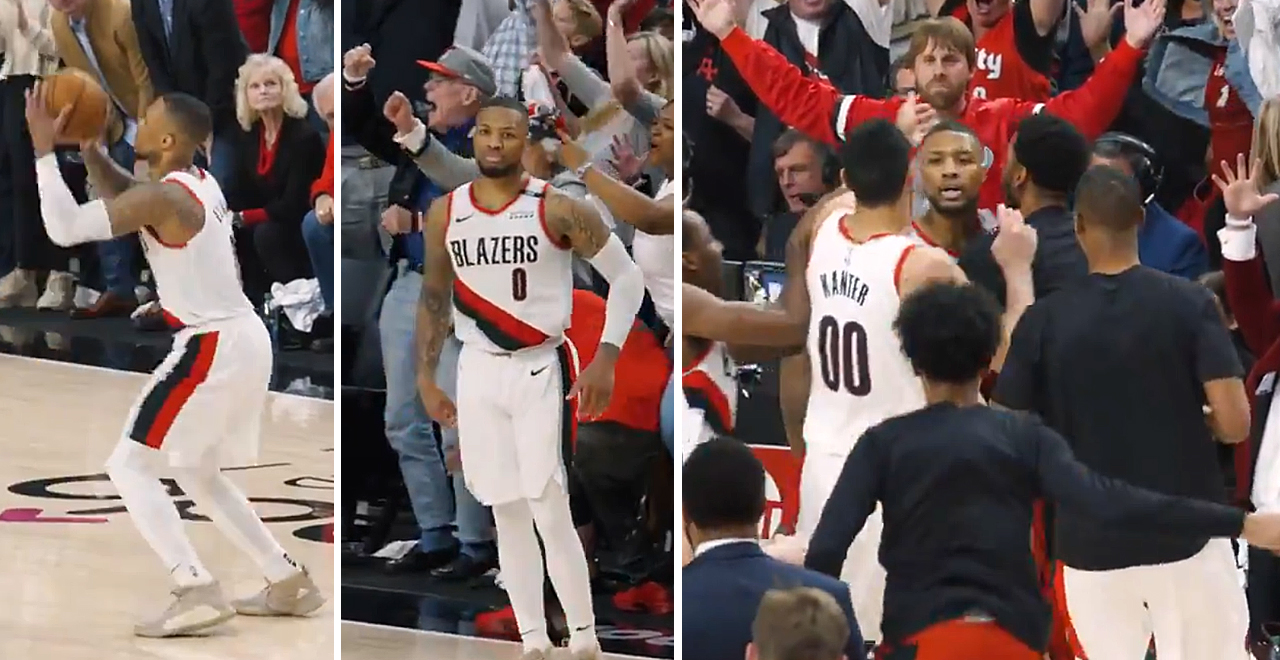 Damien Lillard's shot was everything that's great about sports. A superstar waiting for a true signature moment to hit that next level, with the ball in his hands in a tie-game, looking for a series-clinching win as the clocked ran out. He launched a truly absurd three-pointer and of course, he made it.
Dame. Called. Game. ???? pic.twitter.com/8Z0skeDbZE

— Trail Blazers (@trailblazers) April 24, 2019
There is so much to love about that shot. His savage reaction (the simple wave to the opposing bench before getting mobbed by his teammates), the pure glee on the faces of the fans after it went in, and hearing Paul George whine in the postgame press conference about how bad of a shot it was.
— Damian Lillard (@Dame_Lillard) April 24, 2019
Tampa Bay catcher uses 'dad strength' to hit his first home run of the season. On Friday, Mike Zunino became a father. On Monday, in his first game back, he said he was hoping for some 'dad strength' to help him hit a home run. He got it when he broke a 3-3 tie with a two-run home run late in the game. Zunino called it one of the most special moments of his career.
So this is what they mean by dad strength? #RaysUp pic.twitter.com/ECs1VLHj5Y

— Tampa Bay Rays (@RaysBaseball) April 23, 2019
I think the most I got from my 'dad strength' three days after my daughter's birth was just the ability to perform basic tasks as a zombie. My biggest highlight was taking a cab to get Shake Shack instead of eating hospital food.
The NFL Draft was this weekend and it's the perfect event to casually "follow" on Twitter. As a televised sporting event? Borderline unwatchable, especially since there are seemingly hours between picks. Granted, it's always nice to see Mel Kiper Jr. let out of his box for the year. I also greatly enjoy watching fans boo Roger Goodell, who is maybe the most useless commissioner in sports history.
While much of the coverage gravitates towards the last man standing in the green room, waiting to be picked, I think my favorite common storyline is the "off-the-grid" guy. Every year, it seems like at least one player makes news because his draft day plan is to not watch the draft. But it's not enough to simply avoid the programming and spend the night with family at a restaurant, they have to spend it camping or fishing all day. They just shun society completely. I don't know how jazzed I'd be as a GM if the player I picked was so thrilled about it he had to pretend to be a hermit.
One great dad moment from the first round of the playoffs happened in a game between the Nets and 76ers. After a skirmish broke out near under the hoop, one dad acted fast in making sure his kid was out of harm's way.
Nets dad getting his son out of the way of the Nets-Sixers brawl is the real MVP pic.twitter.com/qydnPYnUMP

— gifdsports (@gifdsports) April 20, 2019
It probably would've been better if Jared Dudley's dad was down there too because that could've helped him avoid being ejected. As it was, a slick piece of parenting to keep your kid safe during a fracas. Tyreek Hill could learn a thing or two from this guy.
By the way, hockey is still great. The NHL playoffs had a tremendous first round that was capped by the Carolina Hurricanes eliminating the defending-champion Washington Capitals in a double OT game 7 win. Playoff hockey rules. It's like the opposite of watching the NFL Draft.
A touching tribute to a son from a Hall of Fame Dad. Vladimir Guerrero was an outstanding player (as evidenced by his place in Cooperstown) during his career and now his son is ready to make his major league debut. Vladimir Guerrero Jr. is widely considered one of the best prospects in baseball and his dad tweeted a touching congratulatory photo after he was called up to the Toronto Blue Jays.
My son! The country that saw you as a child will now see you turn into a big one.

Working hard everything can be done. I'm proud of you!

Love you! pic.twitter.com/WJyLBVKWoR

— Vladimir Guerrero (@VladGuerrero27) April 25, 2019
And then Jr showed up for his first day of work in his father's jersey.
He has arrived. Ya llegó. @vladdyjr27 @VladGuerrero27 #VladDay #VladdyJr pic.twitter.com/pkKroNvshO

— Marly Rivera (@MarlyRiveraESPN) April 26, 2019
Finally, the Matrix came out 20 years, but it's nice to see super fans recreating some of their favorite moments.
The Matrix (1999) pic.twitter.com/3uGwMdLmha

— MLB (@MLB) April 17, 2019