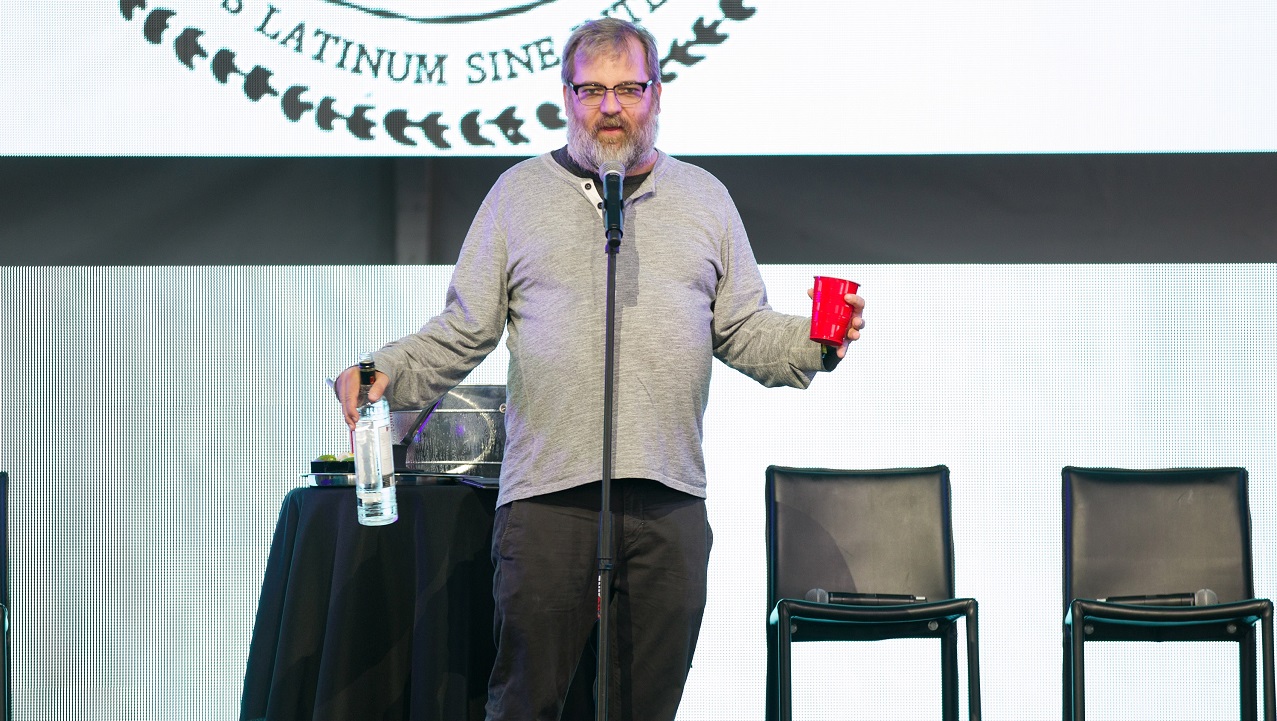 Credit: Getty Images/Miikka Skaffari
The creator of Community and Rick and Morty got serious
Community and Rick and Morty are two of my favorite TV shows of the century.
They're hilarious and whip-smart, and they were both created (in the case of Rick and Morty, co-created) by Dan Harmon. Because of those shows, and his traveling Harmontown podcast, the writer and showrunner has a cult following of fans, and the other night, one of them asked him a question on Twitter.
It wasn't a joke, and Harmon didn't treat it as one. Instead, he took the woman seriously, and delivered some seriously helpful advice about depression.
@danharmon do you have advice for dealing with depression

— gary?? (@sweetrollx) November 28, 2017
Harmon has been outspoken about his own battles with alcoholism and depression – in his documentary Harmontown and on his podcast – and it turns out that opening up about those struggles is one of his primary pieces of advice.
https://twitter.com/jetpack/status/935405103997059073
https://twitter.com/jetpack/status/935405912247779328
https://twitter.com/jetpack/status/935407256648130560
https://twitter.com/jetpack/status/935406608779173888
She was starstruck, amazed he responded at all, and incredibly grateful for his comments.
sorry I'm kinda star struck rn so I'm having a hard time articulating anything other than thank you so goddamn much for all of this. Probably better than my therapist could've said it. (And my boyfriend: "TELL HIM THANK YOU AND THAT WE SUBSCRIBE TO HARMONTOWN")

— gary?? (@sweetrollx) November 28, 2017
Harmon's ability to straightforwardly and succinctly tackle the topic is impressive, and his advice seems sound. Particularly the reassurance that feelings are real…
https://twitter.com/jetpack/status/936357514462969856
https://twitter.com/jetpack/status/935896859528318984
The aforementioned documentary shows Harmon taking his podcast on the road and then hanging out afterwards to chat with the audience, and on Twitter he reaches an even bigger one. And many of them were just as grateful for his advice as the original poster.
Thank you for this. You did more for anxiety/depression sufferers than any pill or therapist. Own our feelings, quit hiding behind the fake smile. You're an amazing guy for taking the question so seriously.

— samantha williams (@punkinmimi) November 30, 2017
The woman who asked the initial question was happy it had reached so many. Twitter FTW!
This whole thread's got me crying. Thank you. ❤️

— Stone Cold Jane Austen (@Magzdilla2early) November 30, 2017
Social media isn't always a cesspool… but it usually is. Which might be why Harmon announced he was taking a break from Twitter the day after this exchange.
https://twitter.com/danharmon/status/936301286248538112