Dad Shares Heartwarming Connection His Daughter Made With Postal Workers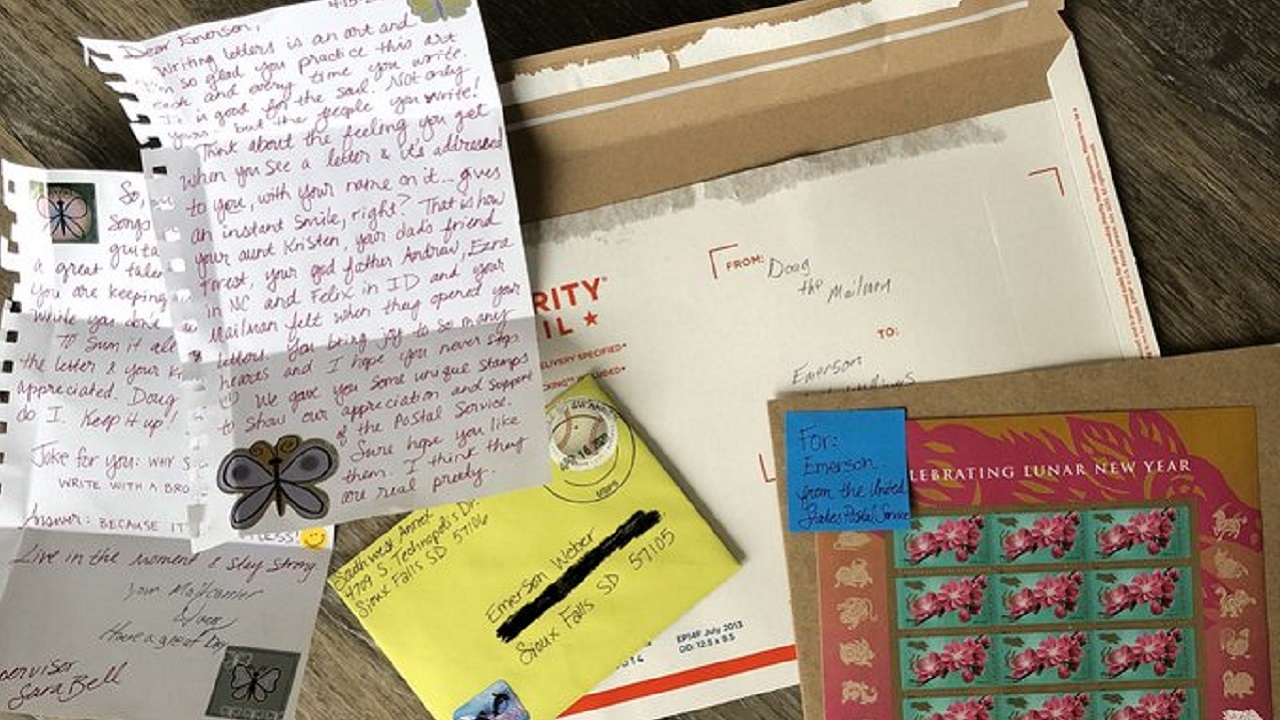 Pen pals used to be a thing. When I was in elementary school, the prospect of monthly or semi-monthly communication with a kid my age somewhere across the country was an exciting, exotic thing. That was before the internet and social media flattened the earth and rendered old-fashion letter writing and slow-burn correspondence essentially irrelevant.
Now, the COVID-19 quarantine may be bringing back! It definitely has for one little girl, whose dad went on Twitter to share a heartwarming tale about his daughter's devotion to letter writing and her subsequent relationship with the United States Postal Service.
Emerson, my 11 year old, is on a bit of a wild ride with the @USPS and our local mail carrier, Doug.

And, I think there's a deeper message to it all.

First, the backstory…

— Hugh Weber (@hughweber) May 2, 2020
Hugh's daughter Emma has been writing letters for a while now, not just during the quarantine.
Em has a serious letter writing habit. She maintains active correspondence with over a dozen of her favorite people. And, if you've been the lucky recipient of one of Em's hand decorated letters and envelopes, then you have a pretty good idea of the joy they bring. pic.twitter.com/82FnWRsD5B

— Hugh Weber (@hughweber) May 2, 2020
She writes elaborate letters with jokes, drawings, devotions to Taylor Swift, etc. These letters are a big part of her life, and she wanted to recognize the people that help deliver them for her: the postal service. So she wrote one to her mailman.
Em wrote, "I'm Emerson. You may know me as the person that lives here that writes a lot of letters & decorated the envelopes. Well, I wanted to thank you for taking my letters and delivering them. You are very important to me. I make people happy with my letters, but you do too."

— Hugh Weber (@hughweber) May 2, 2020
Emma is only 11, and her dad has yet to get her a phone, so letters are all she's got!
She continued, "The reason you are very important in my life is because I don't have a phone so how else am I supposed to stay in touch with my friends? You make it possible!"

— Hugh Weber (@hughweber) May 2, 2020
The mailman took the letter to his supervisor, and together they responded with a special care package for the little girl.
She put it in the box, smiled when he took it & that was enough.

The next day a package arrived with some stamps & two letters.

Doug had shared Em's letter with his supervisor, Sara, and they both wanted to share how touched they were by her note. pic.twitter.com/bdpRxl1QeK

— Hugh Weber (@hughweber) May 4, 2020
And then it spread.
This is when things get interesting. The next week, we got a letter address to "Mr and Mrs Weber." It seems that Sara had shared Em's note as a "Token of Thanks" in the internal newsletter for the Western US and there were some postal folks that wanted to thank her. pic.twitter.com/ImnnZRUx5p

— Hugh Weber (@hughweber) May 4, 2020
Mailman Doug returned with all the letters Emma could have ever dreamed of receiving.
Today, we saw Doug getting out of the truck with two BOXES of letters from around the country. We snapped a quick photo through the door as he and Emerson met for the first time. It was a beautiful moment on silent reciprocity. pic.twitter.com/WjpOJmxoNf

— Hugh Weber (@hughweber) May 4, 2020
Postal workers responded in droves, thanking Emma, sending stamps to encourage her to start collecting and responding to her vulnerability and openness with personal touches of their own.
One wrote,
"I can't tell you how much it means to read your letter…"

Another,
"I have a son in Kuwait and if you have a second to send him a letter he would love it."

And another,
"I know you can't write back to all of us, but maybe I can drop you a line from time to time?"

— Hugh Weber (@hughweber) May 4, 2020
And Emma wrote them back.
With dozens of new pen pals, Em did what she does best.

She wrote the dad.
She wrote his son.
She assured the secret swifties not to be embarrassed because her dad likes TSwift, too.
She acknowledged that there WERE a lot of letter but that she had time.
She sees them all. pic.twitter.com/FOs6ghIJLz

— Hugh Weber (@hughweber) May 4, 2020
Hugh wraps up his touching thread by explaining the example his daughter set for him.
I'm not sharing this because I'm a proud dad.

I'm sharing it because it is relatively easy, if we take the time, to give others the one thing they need to be well – human connection.

I have a friend that says we all just want to be seen, known and loved.

Em does this boldly.

— Hugh Weber (@hughweber) May 4, 2020
It's #MentalHealthAwareness month and I want to be bold and brave like Em.

We're all in a moment of physical isolation that is amplifying a real epidemic of loneliness, anxiety and depression.

I've been feeling it personally since long before we locked our front door.

— Hugh Weber (@hughweber) May 4, 2020
Send a letter.
Make a call.
Practice self care.
Take a step of boldness.
For yourself or for others.

And, thank your mail carrier (from an appropriate distance.) They are working extremely hard to keep us all connected.

— Hugh Weber (@hughweber) May 4, 2020