Daughters Give Dad a Teddy Bear With a Very Special Voice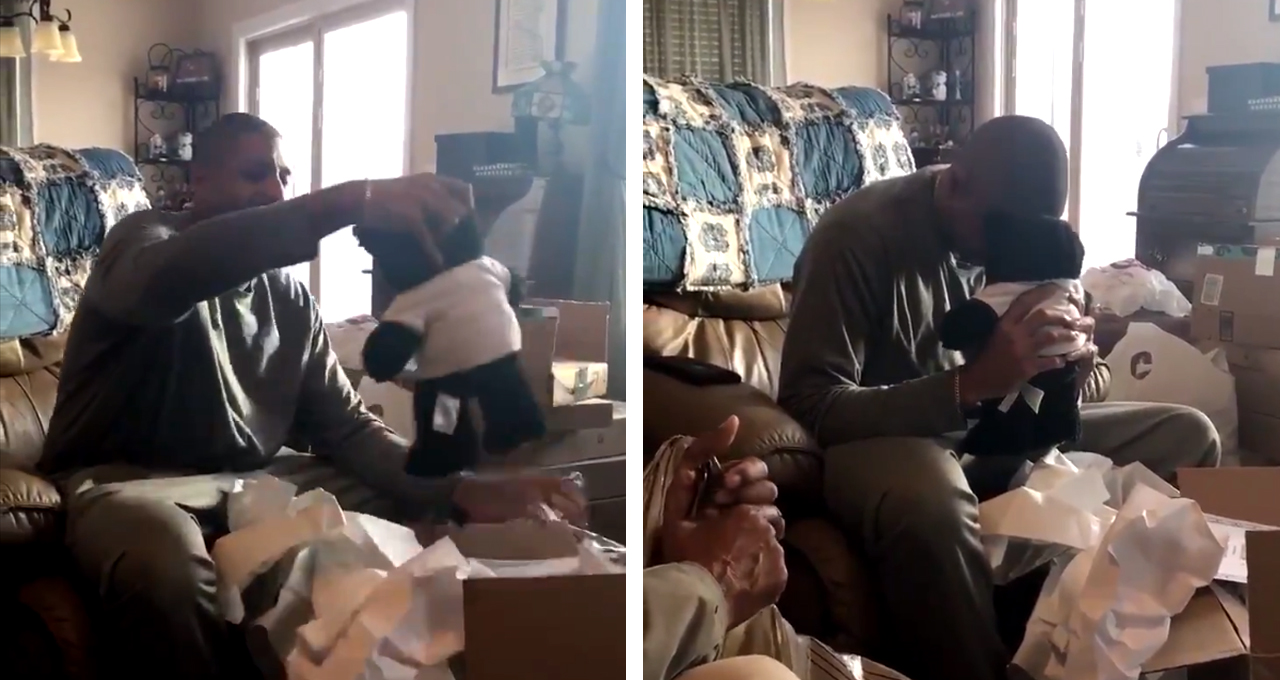 When it comes to the holidays, most parents are too consumed with making things special for their kids, and getting them the things they want, to worry about what their kids might get for them. When I was a kid, my parents used to ask for absurd things, like for me and my brothers to get along. They knew I didn't have any money and they didn't expect anything from me. But sometimes kids come through, not with expensive gifts, but meaningful ones.
A couple of daughters did just that for their dad this Christmas, when they delivered an incredibly special gift to him last month.
Melia lives in North Carolina, and she explained in a tweet that her dad refuses to get an iPhone for a very sentimental reason: his android phone contains a final voicemail from his mother, who passed away, and he doesn't want to lose it. The voicemail can't transfer to an iPhone, so Melia's dad can't make the change.
So Melia and her sister decided to help him out. They were able to transfer the voicemail recording – into a stuffed bear. They gave the teddy bear to their dad on Christmas and shared the video on Twitter.
my dad refuses to get an iphone because a voicemail from his mom that passed away won't transfer from an android, so me and my sister put it in a bear. merry christmas dad pic.twitter.com/m1yOOawWO9

— melia (@meliatinnin) December 25, 2018
It's a heartbreaking, but lovely, video. The tweet has been liked more than half a million times on Twitter, and retweeted 112,000 times. Melia's dad's love for his mother – and his daughters' love for him – really shines through, and it inspired other users to share their own examples of ways they've hung onto messages from family members who are no longer with us.
They shared images of voicemails:
I understand. pic.twitter.com/GF4NFozHuL

— A different Nick ???????????? (@SpeakThenThink) December 26, 2018
And text messages:
I still refuse to clear my FB messenger history because my grandfathers last messages to me. Hits super hard that it says "can't reply to message" even though I know he wouldn't. pic.twitter.com/oiTQ2c4vIR

— pitty_patty76 (@tpatt76) December 26, 2018
There's even an example of someone else who used a teddy bear to preserve a loved one's voice:
My little brother died in the beginning of October, for Christmas I got my parents a build a bear in a police uniform (he was a cop) with his voice❤️???? pic.twitter.com/KRzXPImhAB

— ✨????????????????????????????????✨ (@britmgarcia) December 24, 2018
Losing a family member is never easy, but the holidays often make it more difficult. Hopefully Melia's dad got some comfort from their creative gift.