Death, Taxes and Marvel Movies: Disney Releases Schedule Through 2027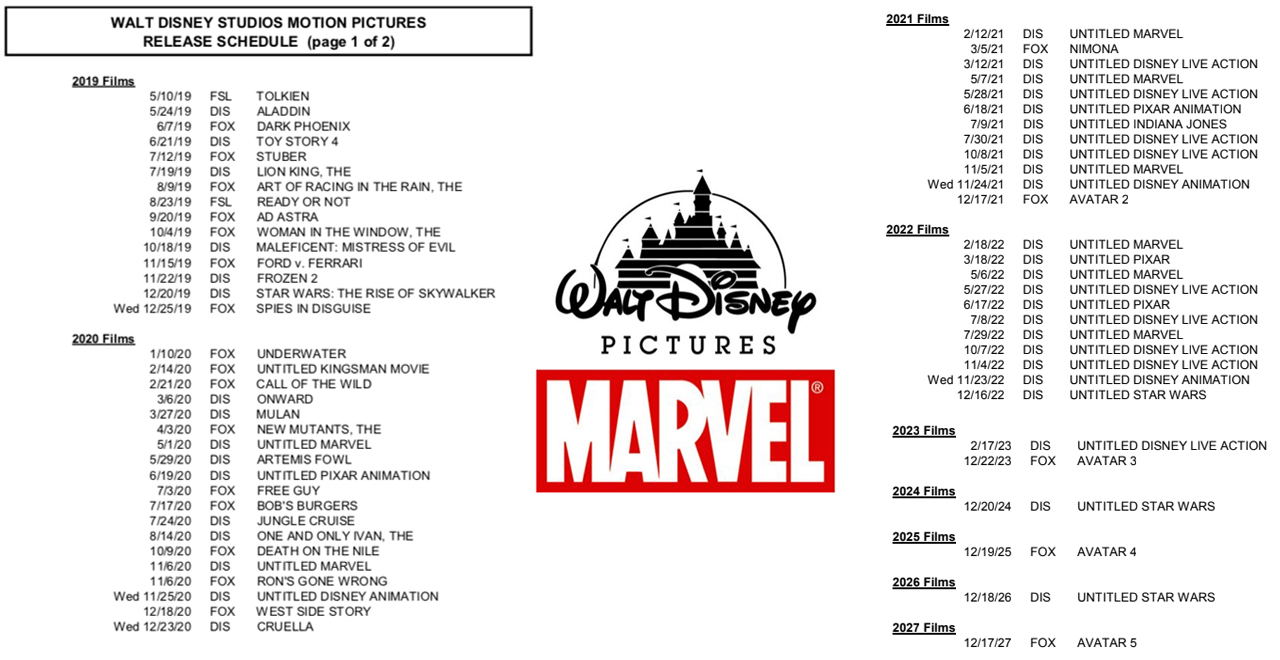 Got any plans for the next 10 years or so? Because you might want to keep your calendar cleared. Disney recently announced its entire movie slate through 2027, and there are a whole bunch of flicks you're probably gonna want to see.
And a few you may be shaking your head about.
Adam B. Vary, a senior film writer for Buzzfeed News, shared an image of the slate on Twitter last week. Most of the movies are untitled projects, but that doesn't matter much, because they're all franchise-related, so while you might not know exactly what you're getting, you know it includes plenty of Marvel movies and Star Wars installments.
Disney just announced its new release slate, with integrated Fox titles. STAR WARS movies will alternate with AVATAR movies starting in 2021. NEW MUTANTS is pushed *again*, to April 2020, and ARTEMIS FOWL moves to May 2020. pic.twitter.com/IT4bpVuwWu

— Adam B. Vary (@adambvary) May 7, 2019
The list begins with the rest of their 2019 offerings, some of which you've probably already heard of, like the J.R.R. Tolkiin biopic, which just came out, Toy Story 4, the live-action Lion King, Frozen 2, The Rise of Skywalker. It starts getting more interesting next year. Did you know there's gonna be a "Bob's Burgers" movie? How about another Kingsman? The Rock's Jungle Cruise and Spielberg's West Side Story remake are there too, but so are untitled Pixar and Marvel projects.
After that, the deluge. Of Disney live-action remakes, untitled Marvel movies, even another ill-considered Indiana Jones (no offense to my man, but won't Harrison Ford be 300 in 2021?), and the first of three Avatar sequels for some reason. Then 2022 is more of the same, with a new Star Wars thrown in at the end. The listings get more sparse as things progress further into the next decade, with the rest of the new Avatars and a few new Star Wars entries rounding things out.
Is it depressing to see nothing but sequels, remakes, and franchise flicks on the slate? A little bit. Am I excited to see what Marvel's next phase has in store? 100%. And where will Star Wars go once the Skywalker cycle closes out at the end of this year?
We won't have all that long to wait to find all that out, although these dates are far from set in stone. You might have noticed The New Mutants on the list for next April. That thing has been delayed multiple times. Nothing is for certain, except the fact that you're going to be spending a lot of money at the multiplex.
In the meantime, you can watch Disney's existing library on Disney+ for $6.99/month.