Crafty Delaware Brewery Releases 'OK, Boomer' Beer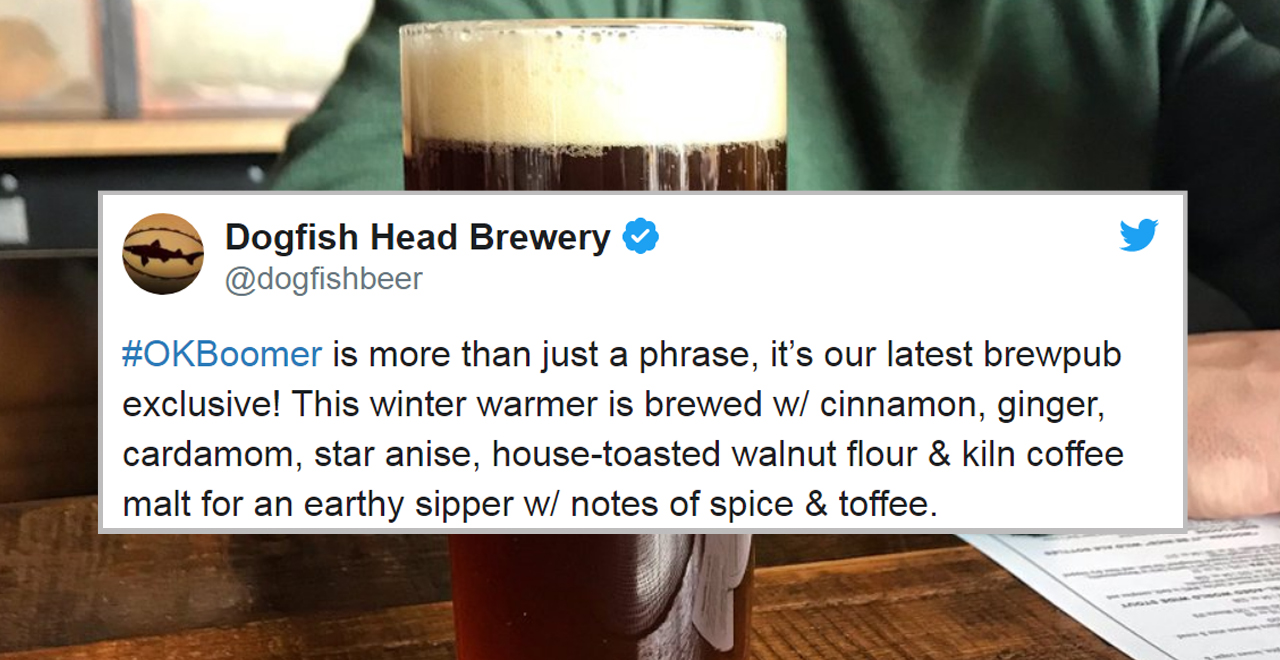 The holidays are no time for politics. But when you're around family and friends that you don't always see that often, the topic has a way of turning up. Especially in 2019. If it does happen, you're probably going to want a drink. And maybe your drink can also serve as a peace offering!
Or a not-so-subtle dig. You make the call!
This year it's easier than ever to do both thanks to Dogfish Head's new OK Boomer beer! The only problem is you have to live near their Rehoboth, Delaware brewery.
That's the only place you can get OK Boomer, a 7% ABV "winter warmer beer concept" brewed with a spice blend that includes cinnamon, ginger, cardamom, and star anise, along with house-toasted walnut flour and kiln coffee malt.
#OKBoomer is more than just a phrase, it's our latest brewpub exclusive! This winter warmer is brewed w/ cinnamon, ginger, cardamom, star anise, house-toasted walnut flour & kiln coffee malt for an earthy sipper w/ notes of spice & toffee. https://t.co/62xoiAMHUv #freshfromthepub pic.twitter.com/xvFrjCA1wf

— Dogfish Head Brewery (@dogfishbeer) December 6, 2019
According to the Dogfish website, the story of 'OK, Boomer.' "begins with the story of Old Man Winter – a colloquialism of the winter season derived from a mash-up of ancient Greek mythology and old-world pagan beliefs. The term 'OK, Boomer.' could be viewed as a Gen Z evolution of the Old Man Winter concept, like 'Out with the old and in with new!' while still kinda sorta respecting our elders."
Kinda-sorta is right because there's always a chance that the boomer to whom this beer is gifted won't take to kindly to it. But if that happens, just remind them that it's a solid 7% ABV, and it's from Dogfish. It's hard to go wrong.
So gift it at your own risk (you have to get it at the brewery but you can take a growler to go), but if the phrase rubs them the wrong way, the beer should help smooth things over.