Miami Dolphins Converting Stadium Into Drive-In Movie Theater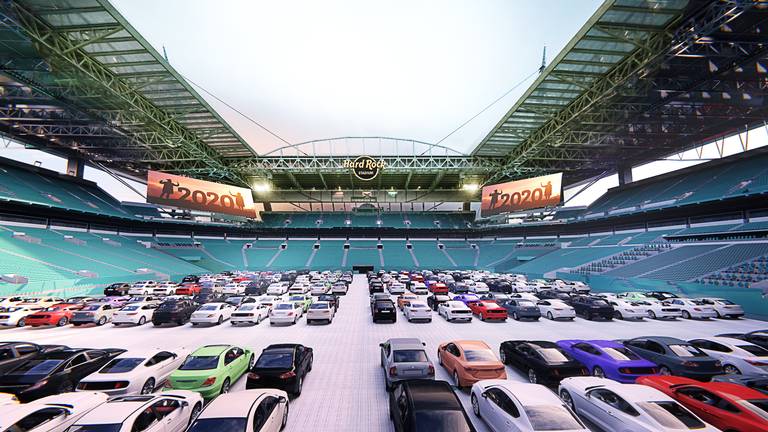 Drive-in movie theaters are a hot commodity these days.
Staples of yesteryear, those parking lots where people gathered in their cars to watch a movie, together, but apart, have largely vanished from the country. By the time I was a kid in the mid-80s, the one drive-in theater that existed in my town was mostly known for hosting a local flea market, and I didn't actually attend a drive-in movie until a few years ago, on vacation.
Nowadays, with real movie theaters being shuttered to help flatten the curve and limit the spread of the coronavirus, drive-in movies are seeing something of a resurgence. It's a way for people to get outside (in their cars) and be social (while socially distancing), which is a bit of a rarity itself during the quarantine. The problem is, the facilities don't exist anymore. Yet.
The Miami Dolphins, one of the most storied franchises in the history of the NFL, boasting both the league's only undefeated season (17-0!) and its best quarterback of all-time (Marino baby!), are helping change that, at least in the short term. They're converting their dormant stadium into a drive-in movie theater.
The NFL's off-season has been suspended, and the regular season is in doubt as sports leagues across the world try to figure out the most responsible ways to resume play without endangering their players and fans. This means Hard Rock Stadium, where the Dolphins play, is currently not being used. Which makes it a perfect place to put on a movie!
"We've spent several weeks planning this to be able to provide people with a safe option to go out and enjoy movies, classic Dolphins content, concerts, and celebrate 2020 graduates," said Miami Dolphins and Hard Rock Stadium Vice Chairman and CEO Tom Garfinkel in a press release. "It's a fundamental human need to physically experience and celebrate events and experiences together, and we're trying to provide options for everyone where they can be safely socially distant and socially present at the same time."
The Miami Herald reported that the Dolphins are using their stadium to show movies in two different ways that are suited to social distancing. The two "Outdoor Theaters" will include an open-air theater and a drive-in theater, via which they'll present classic movies and "classic Miami Dolphins content," the majority of which will surely be from the 70s and 80s and also will include some future footage from the 2020s when Tua suits up and we go undefeated again FINS UP!
The stadium will house 230 cars, you can order food and drink, and restrooms will be open. Regardless of who you root for, it sounds like a really cool idea, and probably the most fun Dolfans will have in their football stadium in quite some time. No schedule is available just yet, but you can sign up for alerts at hardrockstadium.com/theater.