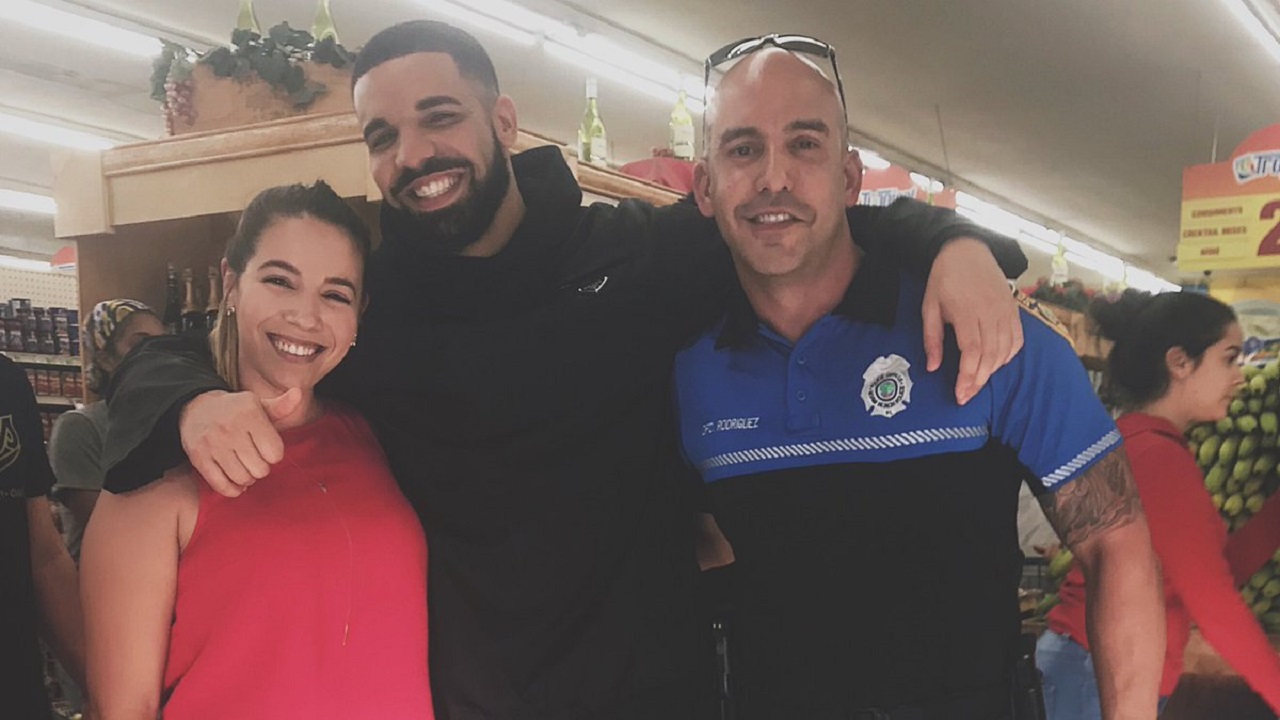 Credit: Twitter/Ernesto Rodriguez
They probably would have settled for a selfie, bro
It's always nice when a pop star uses their wealth and fame to do some good, and it's even nicer when the good that they do makes for good social media content. Drake, the megastar rapper, killed to birds with one stone when he decided to buy every the groceries of every customer inside a Miami supermarket.
Dude ended up dropping $50k on milk and eggs!
On his visit to Miami to film a video for his latest hit song, "God's Plan," Drake wasn't messing around. Before even heading over to Sabor Tropical supermarket, he gave a Miami school a $25,000 donation and handed a University of Miami student another $50,000 for her tuition. Then he decided he needed some Twinkies or something so he headed to the grocery store and made every customer's week.
Complex has the details on the rapper's week of good Samaratinism.
According to Complex, there's some speculation that Drake's string of good deeds – which included donations of toys, gift cards, and another $50,000 for Lotus Village, Miami's only homeless shelter for women and children – is nothing but a publicity stunt tied to the "God's Plan" music video he's filming while in town.
Not that anyone really cares, least of all the people who benefited from the star's supermarket sweep.
https://twitter.com/ffullytorqued/status/961017091435397120
Based on the photos from the store, they didn't miss an opportunity to snag a selfie with the singer either.
Thx for showing Miami Beach some love @Drake! #GodsPlan pic.twitter.com/tvOS7MkYkc

— Ernesto Rodriguez (@ERodriguez782) February 6, 2018
Of course not everyone was pleased, but only because they didn't happen to be shopping at the time!
@Drake was at sabor tropical today. I keep being at the wrong place at the wrong time! Someone please tell me where he's going to be next 😭

— Jessenia Morales (@Jesseniaxd) February 8, 2018
The fact that drake went and bought everyone's groceries at the grocery store in Miami just to give back to the community 🤤😫😫 I can't even get the man I don't have to buy me a Starbucks lol as if he couldn't get more perfect 😍😍😍😫😫😫

— Natalie Ayala (@nizzlebabyxoxo) February 7, 2018
This guy has a plan for the next time Drake swoops in.
So @Drake walked into a supermarket and just paid for EVERYONE's shopping?! 100% this would be me if I was there 😂 @jezwelham pic.twitter.com/A6jDiQkfHd

— Capital XTRA (@CapitalXTRA) February 8, 2018
Regardless of his motivations, no one can deny that his string of charitable acts was incredibly generous. Not that we should be surprised. Dude's Canadian.