NHL Player Uses Drone to Send Toilet Paper to Isolated Teammate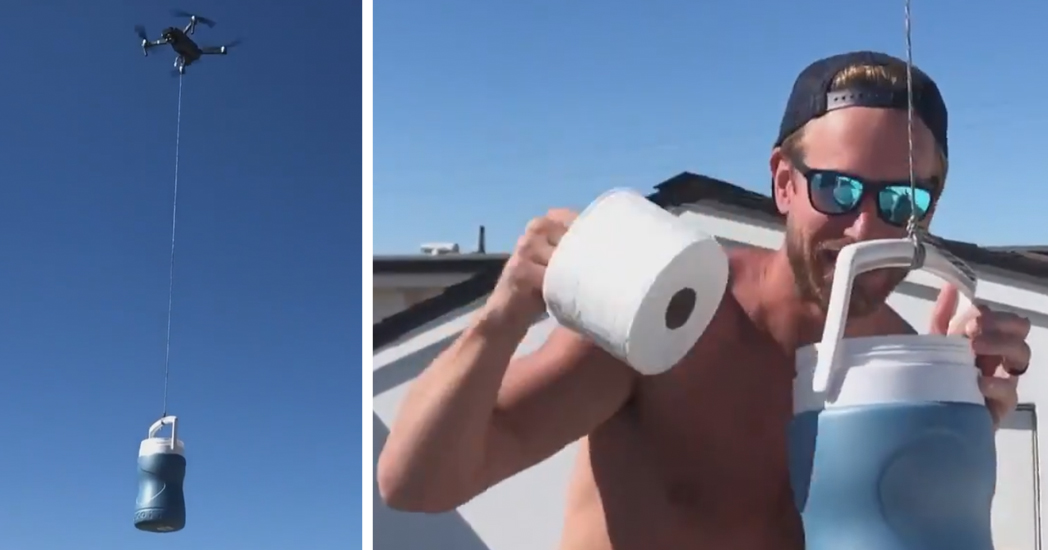 This country once ran on gold, then on oil, all supplanted in the last decade by data. But the new prized commodity in this nation is toilet paper. After the COVID-19 outbreak came to our shores, people responded by going straight to the grocery store and buying every roll of toilet paper or TP-adjacent product they could find.
Because of the widespread shortage, it falls on friends to be there for you when you need someone to spare a square. And Jeff Carter of the L.A. Kings probably knows this better than anyone. His teammate, Alex Iafallo, hooked him up. But he didn't just drop off a roll, he went to extreme lengths and had it delivered…by drone.
Teammates helping teammates while social distancing 👌

Alex Iafallo with a drone deliver to @JeffCarter_77 🧻

📸 @Megan_Carter_ pic.twitter.com/ijO8jLCpsO

— LA Kings (@LAKings) March 23, 2020
This is where we are as a country, which is both illuminating and also kind of scary. It's terrifying you can't just automatically get toilet paper when you need it. But it's cool we live in an age when a friend can deliver without even leaving his home.
Camaraderie in hockey is different than in other sports. NBA players may be better on Tik Tok, but I don't see any of them using their robots to save their teammates from a crappy situation.
#SocialDistancingGoals