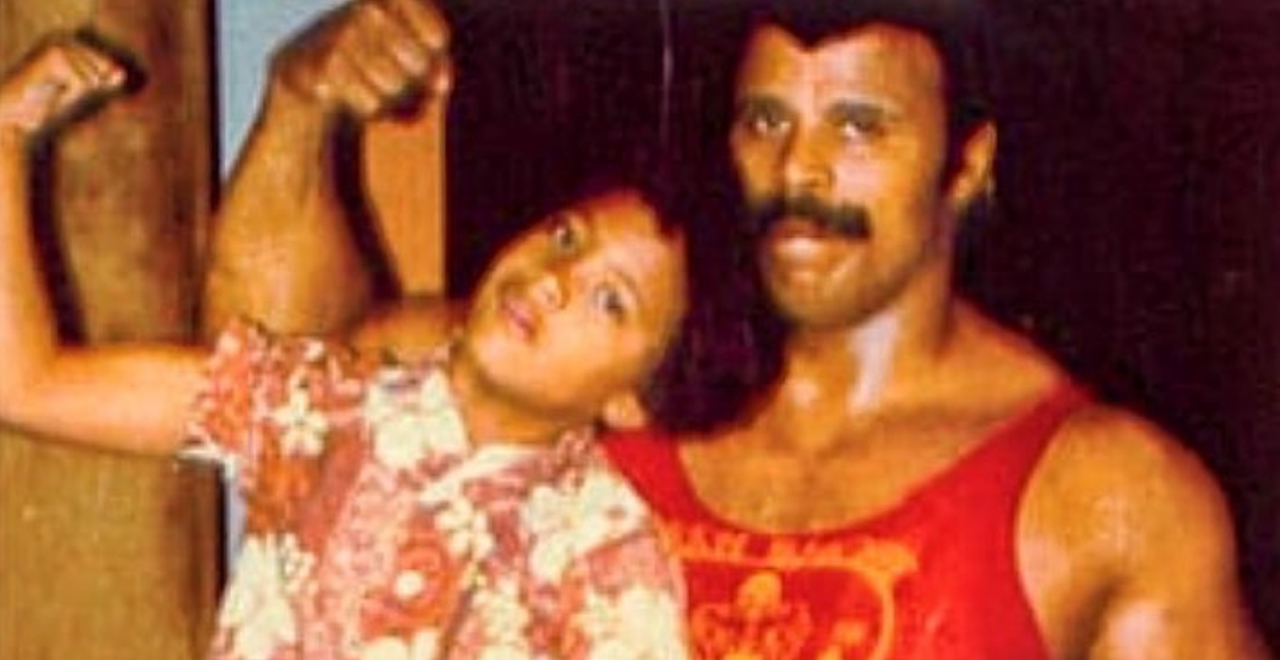 Credit: Instagram/therock
Rocky Johnson, the famous professional wrestler, and dad to the biggest movie star in the world, Dwayne "The Rock" Johnson, passed away earlier this week at the age of 75.
Johnson began wrestling in the 1960s but didn't make his mark until becoming a star in the WWF in the 80s. The WWE released a statement expressing sadness over the news and extending condolences to the Johnson family.
The statement talks about the impact the "physically imposing and wildly charismatic" Johnson had on the then-WWF. As one half of the "Soul Patrol", Johnson was the first black tag team champion in WWF history.
While Johnson retired in the early 90s, most fans will appreciate the role he played in the development of his son, Dwayne, who would go on to become one of the biggest WWE stars of all time.
The Rock actually got to induct his father, along with his grandfather, into the WWE Hall of Fame more than a decade ago, in a poignant moment. The tribute the WWE put together shows the importance the elder Rock was to the wrestling world and the impact he made.
While Dwayne hasn't made any public statements yet, he wasn't shy about talking about the role his dad played in his life, and how he inspired him with what he had to overcome.
In an Instagram post from 2018, The Rock said "Little boys by nature, look up to and idolize their old man. They want to be just like em, do whatever they do and are always looking for their approval…It's made me who I am today. Grateful to the original Rock."
Many in the wrestling world took to social media to pay their respects to the icon.
I am so sorry to hear of the passing of the great Rocky Johnson. Always a gentleman, I always enjoyed talking with him. My deepest condolences to his family, friends, and the fans who loved him. A very sad day for wrestling.#RIPRockyJohnson pic.twitter.com/4agKbOzAry

— Mick Foley (@RealMickFoley) January 15, 2020
Sending my condolences to @TheRock and the rest of the Johnson family for the passing of Rocky Johnson. Thank you for raising such an amazing son and thank you for all you did to earn your spot in the WWE Hall of Fame. #RIPRockyJohnson 🙏🏻 pic.twitter.com/U9dkHvJA2U

— Brock Lesnar Guy (@BrockLesnarGuy) January 16, 2020
One of the men I looked up to and one of the best to ever do it. God rest his soul. #RIPRockyJohnson pic.twitter.com/VaTD5NsnjP

— Booker T. Huffman (@BookerT5x) January 15, 2020
So sorry for the loss of Rocky Johnson. A great man, a great friend and I will always remember he was one of only a few that was kind and helpful when I first broke in. RIP Rocky. I love you my brother HH

— Hulk Hogan (@HulkHogan) January 16, 2020
I'm deeply saddened by the loss of WWE Hall of Famer Rocky Johnson, an incredible talent who forged an indelible legacy. My thoughts are with @TheRock and his family. pic.twitter.com/Y2gIgL9J2f

— Vince McMahon (@VinceMcMahon) January 16, 2020