Dwyane Wade on Son's Pride March: We 'Support Each Other'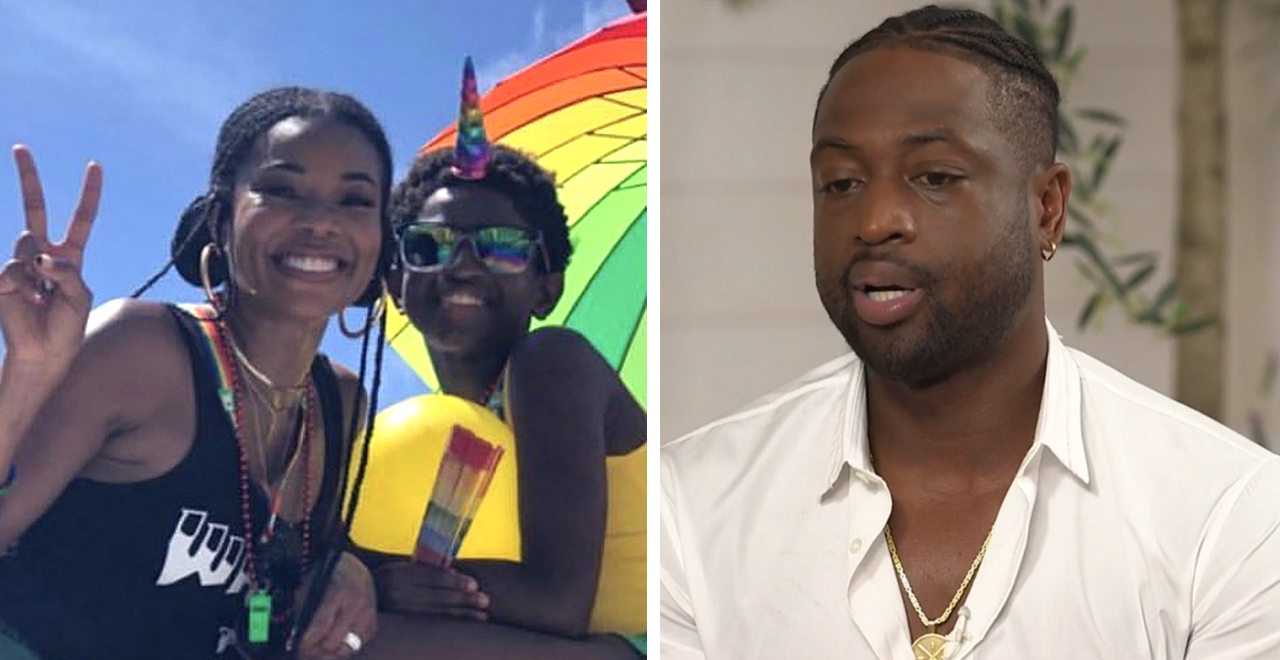 It's always disappointing when you find out one of your heroes, one of your role models, maybe a celebrity or a movie star or a favorite player isn't as cool or as good of a person as you'd hoped. Never meet your heroes, they say.
But it's equally as gratifying when one of those people turns out to live up to expectations, or even exceeds them. That's what Miami Heat legend, three-time NBA champion, one-time Finals MVP, and future Hall of Famer Dwyane Wade is doing as a father.
Back in April, Dwyane Wade and his wife Gabrielle Union used their Instagram accounts to share some pictures of them celebrating Miami's Pride festival. Wade's now 12-year-old son from a former relationship, Zion, was marching in the city's pride parade. Wade himself was unable to attend due to his presence at a Heat game, he posted some of the photos his wife took with his stepson to his Instagram stories.
Dwayne Wade and Gabby Union supporting young Zion at Miami Pride is so beautiful, I could cry. I can't imagine having had this type of support as a kid (or even young adult). Amazing example of living in and showing unconditional love ???? pic.twitter.com/2cT8Ow6kik

— Câmi Thomas (@CamiCruzThomas) April 7, 2019
The photos caught some flack from the online community, which Wade recently addressed in an interview with Variety.
Dwyane Wade was surprised that his love for his son resulted in some backlash on social media https://t.co/yk4kuCE3nA pic.twitter.com/KAWEmQjEGZ

— Variety (@Variety) June 18, 2019
"I'm doing what I feel is right for my family and that's to support my kids, the same way if it's a sport, and if they come home with great grades, it's to pick them up and let them know they can do anything in this world," Dwyane told the magazine.
"I'm from the inner city of Chicago and I wasn't told that. I wasn't told I could be anybody and do anything. It's my job to be that role model, to be that voice in my kids' lives, to let them know that you can conquer the world and that you have the support of your father, you have the support of your family every step of the way. So go and be your amazing self, and we're gonna sit back and love you and support you no matter what."
Pretty great response, and a strong understanding of what it means to be a supportive father and parent. It's a sad sign of the times that people have an issue with Wade's unconditional love for his children.
He added, "This is my job as a father, and I'm very uneasy about accolades that come from supporting my kids or obviously the negativity that comes with it. I'm doing what every parent should do."
He 100% is, and here's hoping the example he's setting rubs off on some of the nearly 14 million people following him on Instagram.
You can watch an extended version of the interview here.