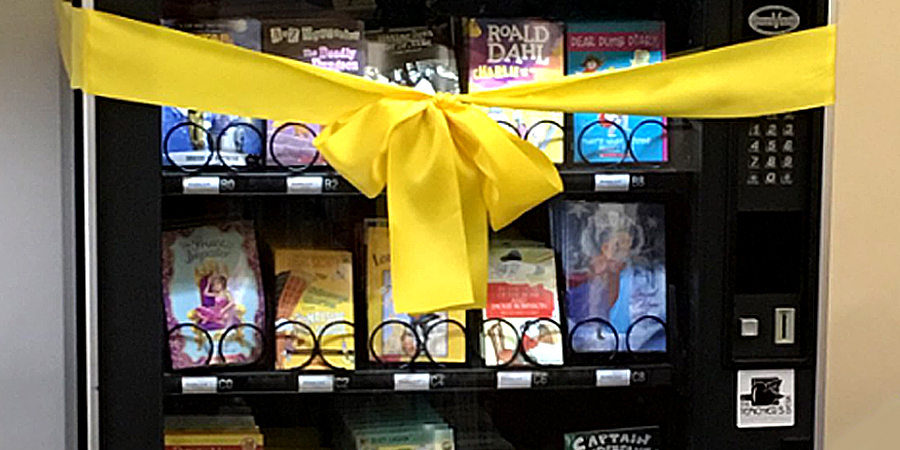 Credit: Twitter/writeforapples
You know what they say: reading is fundamental. It's one of the primary building blocks of a good education, and it can also be one of the trickiest things to convince young kids to do. In a world full of iPhones, iPads, Fortnite, and Pokemon Go!, picking up a book isn't always the trendy option.
One public school in Buffalo is doing what it can to motivate kids to read up by installing a brand new vending machine that dispenses books to kids who've earned tokens.
After getting the idea during a conversation with a friend in another school district, the vice principal of Arthur O. Eve School of Distinction #61 installed the vending machine in his school's library.
"I said that I need to do something special. I need to make sure that it's going to be applicable to the needs of the children here in Buffalo, New York," vice principal Robinson told Buffalo's 2 On Your Side. After convincing his principal, Parette Walker, the two set a goal of $3000 to purchase the machine.
They were able to raise the funds over the course of a year, and the vending machine was recently unveiled, wrapped in a big yellow bow.
How cool … the first book vending machine in one of our Buffalo Public schools. Kids earn tokens and get a free book! Hey, authors, anyone want to help keep it filled? #kidsneedbooks pic.twitter.com/pk4NYrH5lp

— Dee Romito (@writeforapples) November 27, 2018
The books within the vending machine were intentionally selected to highlight different cultures, so something like Pippi Longstocking sits next to Hidden Figures.
"Students in urban communities need to learn about other cultures and other communities in other countries," Robinson said.
To earn the tokens needed to use the vending machine, students from kindergarten through fourth grade are motivated to visit the library and check out books.
"One of the biggest issues we have in this district is literacy. If our children can read, they can survive," Buffalo School Board member Sharon Belton-Cottman told WBFO.