Elon Musk's SpaceX Finally Completes Successful Launch, Twitter Cheers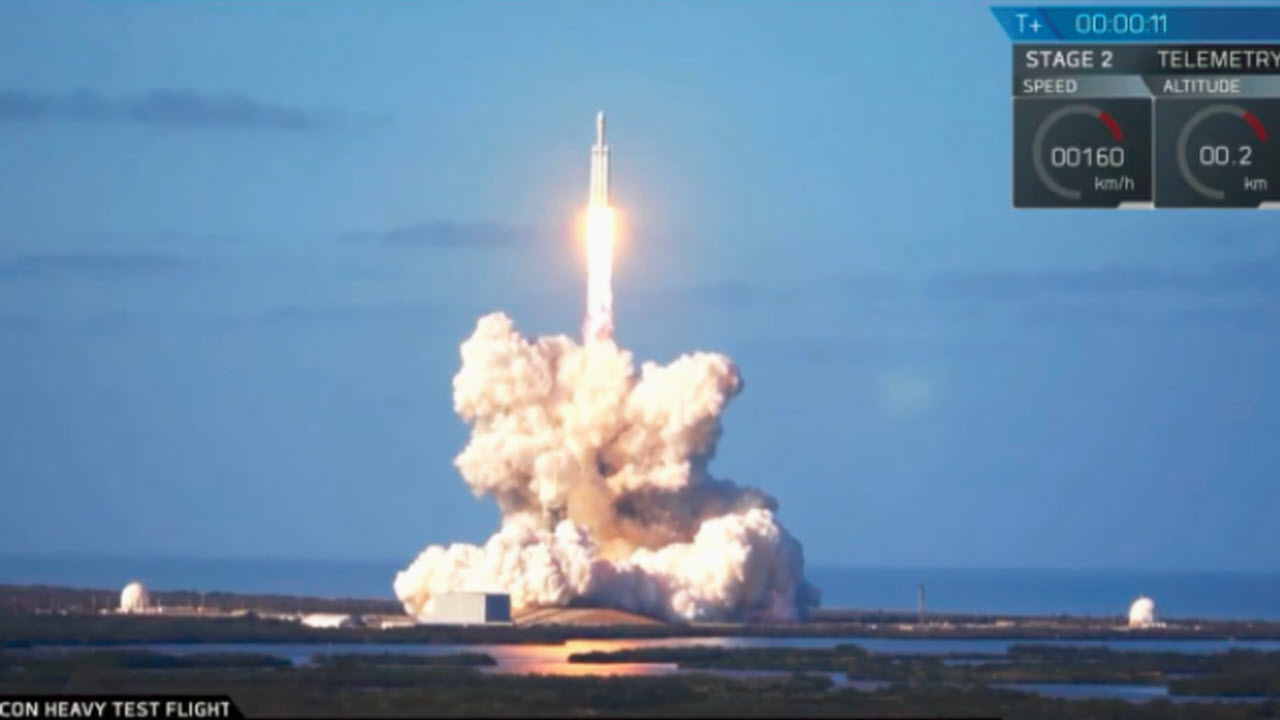 And it was pretty amazing to watch
On Tuesday afternoon, SpaceX successfully launched the Falcon Heavy into orbit from the Kennedy Space Center off the coast of Florida. After having been in the works for seven years, the rocket, considered one of the most powerful in the world with its 27 engines, finally took flight.
And the footage was pretty amazing. And that's even before you consider the fact that Musk sent his Tesla Roadster up with it!
In a scene reminiscent of the space shuttles launches of your youth, thousands of spectators gathered to watch the Falcon Heavy blast off into the skies, and the show didn't disappoint.
SpaceX successfully relands #FalconHeavy boosters #tictocnews pic.twitter.com/YNt88urMI4

— TicToc by Bloomberg (@tictoc) February 6, 2018
Providing an extra dose of goofy excitement was the fact that atop the Falcon Heavy was SpaceX's founder Elon Musk's red Tesla roadster, complete with someone behind the steering wheel. Don't worry, it was just a dummy, appropriately christened "Starman" after the David Bowie song. He even brought along a soundtrack, the Duke's perfectly appropriate Space Oddity.
After Starman reached the actual stars, he was the subject of some of the most amusing images from the event.
Utterly amazing and hilarious all at the same time #falconheavy #spacex pic.twitter.com/71VhuCX3sV

— Aarav ???? (@_aarava) February 6, 2018
Includng some footage from Musk's own Twitter account:
View from SpaceX Launch Control. Apparently, there is a car in orbit around Earth. pic.twitter.com/QljN2VnL1O

— Elon Musk (@elonmusk) February 6, 2018
One of the coolest parts of the launch was the rocket's boosters returning to earth after the Falcon Heavy reached orbit.
Now that's what you call a landing https://t.co/m0NeswinwM #FalconHeavy pic.twitter.com/Cr5KIwFp5R

— WIRED Science (@WIREDScience) February 6, 2018
Twitter put aside the snark for an afternoon and expressed the same excitement and awe we were all feeling over this new step in space exploration, after something of a fallow period.
Wow, wow, wow!! Congratulations SpaceX!! Looks like a completely nominal 1st FH launch. #SpaceX

— Leroy Chiao (@AstroDude) February 6, 2018
What a beautiful moment in history. Congrats @elonmusk and @SpaceX team.

— Amber Osborne (@MissDestructo) February 6, 2018
Thank you Elon Musk for reminding us that while everything is basically terrible right now, science is still great. And bravo for including David Bowie's A Space Oddity on the SpaceX ride. That launch was freaking amazing. Yay!

— Joy Reid (@JoyAnnReid) February 6, 2018
Even the president chimed in:
Congratulations @ElonMusk and @SpaceX on the successful #FalconHeavy launch. This achievement, along with @NASA's commercial and international partners, continues to show American ingenuity at its best! pic.twitter.com/eZfLSpyJPK

— Donald J. Trump (@realDonaldTrump) February 7, 2018
Make Space Great Again!