ESPN Needs to Air 'The Ocho' Permanently to Fill the Sports Vacuum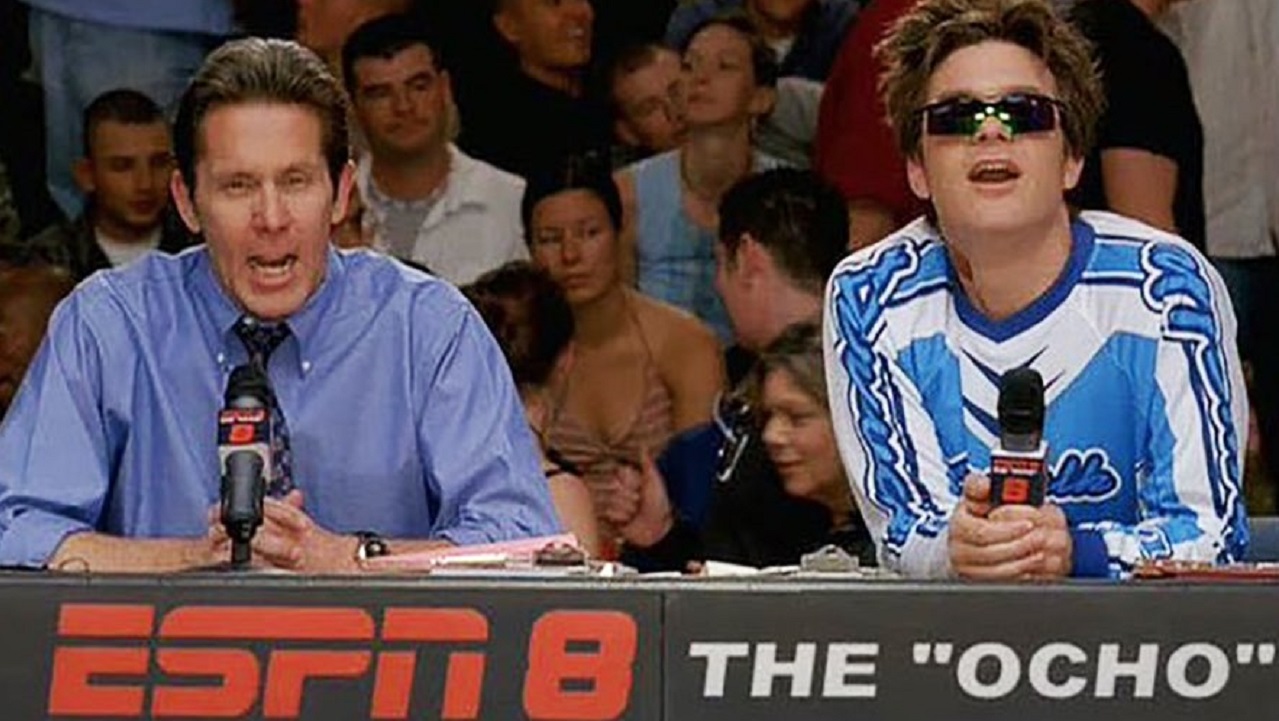 Every day, we tell you about some new piece of content for kids to enjoy, to help children survive the unprecedented isolation brought on by the COVID-19 pandemic. But what about the parents? Won't somebody think about the parents?
Sure, having extra content for kids to stream is helpful for parents too, and we have plenty of platforms via which to binge and chill all spring. But there's one void that simply can't be filled by Netflix documentaries and Office reruns: sports.
Right about now we'd be watching March Madness, tracking the NBA during the home stretch of the season, and preparing for baseball to start. Instead, we're left with old highlights and broadcasts of old games and even Wrestlemania.
On Sunday, ESPN did what it could to ease your sports-deprived pain by bringing back ESPN Ocho for a full day of programming.
Ocho was dreamt up by the people behind the Vince Vaughn and Ben Stiller movie Dodgeball: A True Underdog Story, which came out back in 2004.
ESPN 2 will the have "The Ocho" on all today. Anyone who's seen dodgeball knows what I'm talking about 😂 pic.twitter.com/8d25AUJ1rr

— Lawson (@LawsonMaddison) March 22, 2020
It was a fictional eighth ESPN channel focused on some less legitimate sporting events and competitions. ESPN leaned into the joke once before, on August 8th, 2017 – the 8th day of the 8th month – and last Sunday, March 22nd, they ran it back.
But we need more.
The collection of competitions included some ridiculous, not-quite-professional stuff, like cornhole, ultimate frisbee, a Goldern Tee tournament, slippery stairs:
Slippery Stairs needs to be in the Olympics 😂#TheOcho pic.twitter.com/DKfRsYFy1n

— ESPN (@espn) March 23, 2020
and even Tetris!
A wild comeback to secure the Tetris championship 😮🎮#TheOcho | @ESPN_Esports pic.twitter.com/T1E6uLY8Qh

— SportsNation (@SportsNation) March 22, 2020
Here's a look at the broadcast line-up:
Today ESPN2 is turning into #TheOcho again. For your #StayHome viewing pleasure… pic.twitter.com/FlVTATuUDW

— Phil Ciallela (@PhilCiallela) March 22, 2020
There was stone-skipping:
C L U T C H#TheOcho pic.twitter.com/0JxB9M48qw

— ESPN (@espn) March 22, 2020
And sign spinning and sport stacking. There's even an electricians championship, which yielded some shockingly entertaining footage:
This is ELECTRIC 🔌💡 #TheOcho pic.twitter.com/0WfxtmUWMz

— ESPN (@espn) March 22, 2020
Pretty funny stuff. It's always nice to be reminded that ESPN has a sense of humor beyond SportsCenter catchphrases and Kenny Maine. Hopefully, you were able to tune in on Sunday to catch your favorite non-sport sporting event.
ESPN Ocho might have to become a full-time channel soon. With the Olympics now postponed along with every other major sports league, we'll be needing it more than ever!