Evander Kane Loses Baby in Utero, Hockey Community Rallies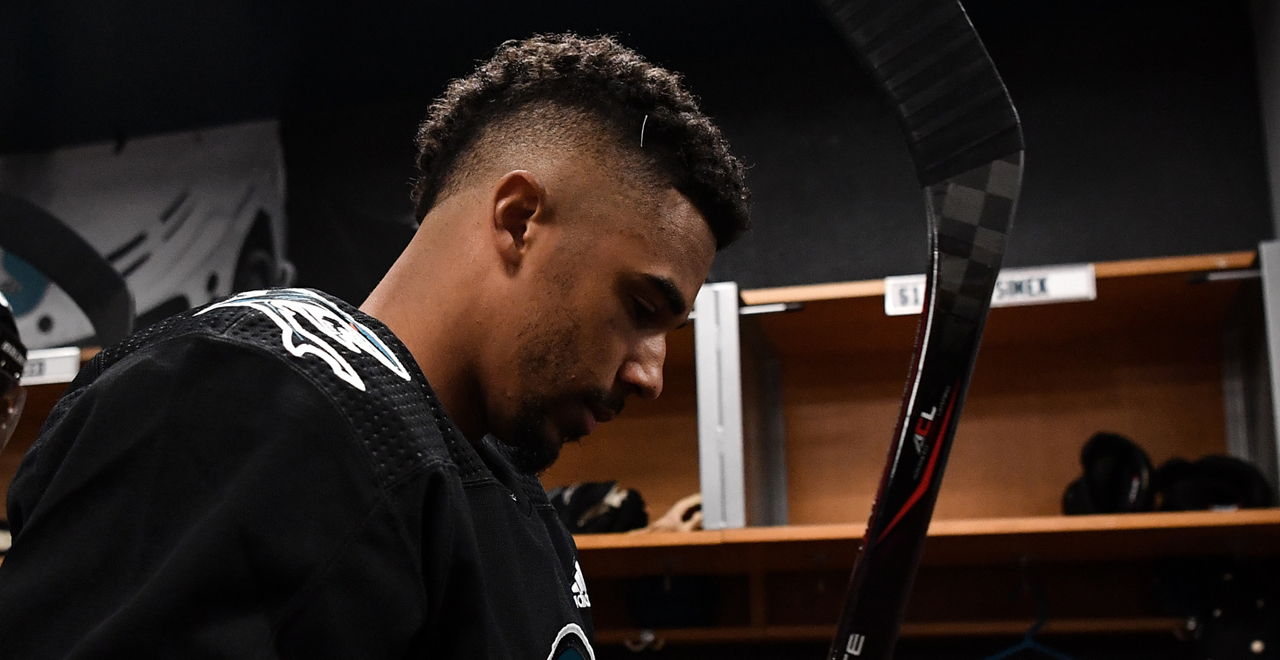 Learning that you're going to have a baby is one of the most joyful moments a person can have, and the next nine months or so are among the most exciting you'll ever experience. You spend that time rearranging your home and your head-space to accommodate the little person that is going to upend just about every aspect of your existence.
When something goes wrong and you are robbed of that experience, it can be absolutely devastating. It helps to have family and friends around to comfort you.
That's what happened when hockey player Evander Kane announced that his wife had lost the daughter they were expecting. Earlier this month, Baby Eva passed away mid-pregnancy, at just 26 weeks. Kane took to Twitter to share the news with San Jose Sharks fans, many of whom had been wondering why he hadn't been on the ice lately.
The player's statement thanked the community for reaching out in the aftermath of their loss.
"I would like to thank everyone who has reached to to my wife and I during this extremely difficult time," he wrote. "Over the weekend, our daughter, Eva, at 26 weeks, passed away. As expecting parents, this past week has broken us.
A message from my family and I pic.twitter.com/q8sPXQkWh8

— Evander Kane (@evanderkane_9) March 14, 2019
Evander's statement was met with condolences from people throughout the NHL community, including the league itself, and his team.
Our thoughts go out to you and your family ♥️ https://t.co/sfEDw2pqy0

— x – San Jose Sharks (@SanJoseSharks) March 14, 2019
Other players offered sympathy as well, including both Evander's teammates and players on rival clubs.
We were deeply saddened by the news of Eva's passing. Our heartfelt condolences to you and your family..The Savard's ❤️

— Marc Savard (@MSavvy91) March 14, 2019
We send our thoughts to you and your family in this difficult time.

— Jim Slater (@slaterjim) March 14, 2019
The LA Kings mascot sent well wishes.
So sorry for your loss. Condolences to you and your family ????

— Bailey LA Kings (@BaileyLAKings) March 14, 2019
And fans.
So very sorry for your loss, Evander. My first born daughter Ava was born unexpectedly at 25 weeks and lived for 8 days. She'd be 10 now and the heartache never goes away. Hope you can find peace in your love and support for each other. You'll always be Eva's Daddy. Much ❤️.

— Nancy Pierce (@npierce33) March 14, 2019
Very heartbreaking. Sorry for your loss EK, the pain is a Very tough one. I lost a daughter like that too. You're not alone. We all love you. ❤️god bless you and your family.

— Anthony Loxx (@MisfitActual408) March 14, 2019
Evander missed a handful of games for the Sharks, having departed in late February and taking two weeks to be with his wife as they dealt with the tragedy. The player was clearly relishing the chance to be a dad and was heartbroken to have his unborn daughter taken from him before he was able to become one.
"Words cannot express how excited we were to welcome our baby girl into the world and watch her grow," Kane wrote. "Eva, you have been the absolute biggest blessing of our lives and we are so grateful for all the joy you brought us in such a short amount of time."