Everything Dads Want To Watch This Month On Netflix, Amazon, HBO & Hulu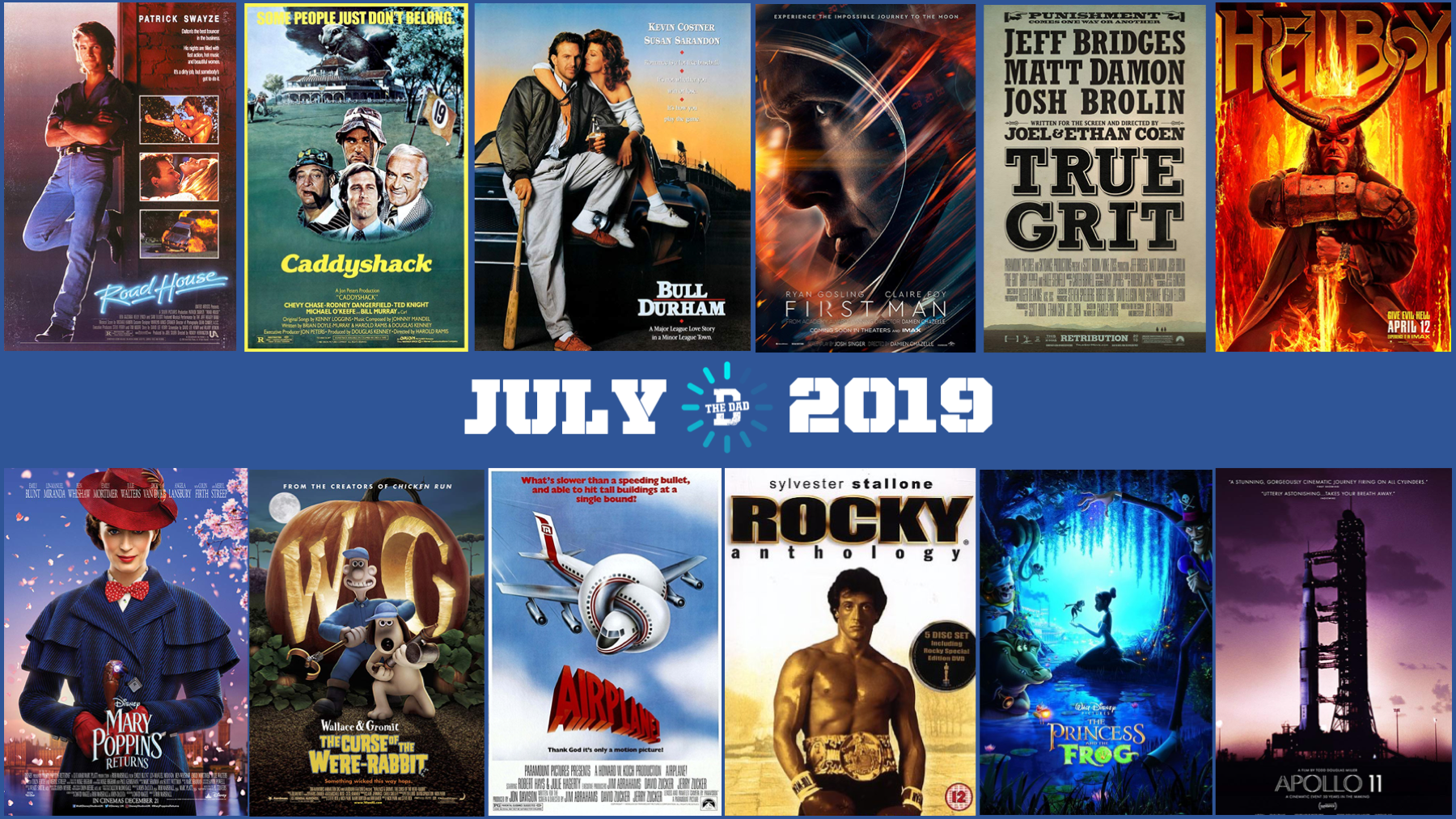 Look, either you're someone who is already excited that Stranger Things 3 is here, or you're not. Either way, it feels like you don't really need us to tell you about it. Instead, we're sticking to our wheelhouse and sharing picks for the best new streaming releases that dads need to know about. So if you're stumped for family film night, hopeless at choosing a date flick, or just jonesing for a good rock-em sock-em dad movie, we've got you covered. Here's what's now – or soon to be – streaming on Netflix, Amazon, Hulu and HBO. Some are new, some are old, but all of them are better than scrolling for an hour saying "well what do you wanna watch, dear?"
Family Night Movies: 
Kid-friendly movies that won't bore you out of your freaking mind.
A Little Princess (Hulu, July 1)
This is a don't-judge-a-movie-by-the-poster situation. While the VHS cover your wife remembers from the Blockbuster days looks like a half-assed hallmark movie, this Alfonso Cuarón (Harry Potter & The Prisoner of Azkaban) classic is fantastic. An adventure about the love between a father and daughter, you will find yourself wrapped up in the story as much as your kids, no joke. There's only a teeny tiny bit of colonialism to cringe through, but everyone's favorite Onion Night, Liam Cunningham, plays the dad!
Wallace & Gromit: Curse of the Were-Rabbit (HBO, July 1)
You can't go wrong with Wallace and Gromit, and this is the only theatrical length release in the series. This time the clay-namic duo are pest control agents fighting a scourge of vegetable stealing rabbits, when a brainwashing device thing turns Wallace into a giant rabbit monster.  This won the Oscar for best animated film of 2005, and is a nice change up from the sing along fairy tale style kids movie.
Mary Poppins Returns (Netflix, July 9)
Despite being made almost 50 years later, this sequel feels totally true to the spirit of the original. I thought for sure it'd be a soulless money grab, but Emily Blunt nails it, and Lin Manuel Miranda's music is enjoyable, while not infectious; so you probably won't have to keep listening to it in the car forever! Although, no joke, "The Cover Is Not The Book' is a. Show. Stopper.
The Princess and the Frog (Netflix, July 16th)
On the other side of this Princess scale is one of the the most criminally underrated Disney movies. This was the last of the traditionally animated Disney flicks, which will take you back to the golden era of 90s Disney, but still feels fresh enough to be entertaining for everyone. Also, the music in this is one thousand times less annoying than whatever the Frozen II song is probably going to be. 5 Stars.
The Epic Tale of Captain Underpants Season 3 (Netflix, July 19th)
This is not a recommendation. This is fair warning that on July 19th your TV needs to be mysteriously broken.
Date Night Movies: 
Kids staying with the grandparents for the night? Here's your fix for grown up flicks.
Bull Durham (Hulu, July 1)
in 2003, Sports Illustrated called this the greatest sports movie ever made, and while there have been some good ones since, it remains one of the funniest. I mean, it's not Major League funny, but it's got more jokes than all these new romcoms about millennials who hate weddings, but have to go to a bunch of weddings.
Frankenstein's Monster's Monster, Frankenstein (Netflix, July 16)
This David Harbour (Stranger Things) mockumentary follows the rising star searching for the truth about his father's legacy in what looks like a mix between Documentary Now and how Orsen Wells actually was.
I mean…what?
Hellboy (Amazon, July 23)
And on that David Harbour note, the awful Hellboy movie he made, like last month is already available! You probably made the right call skipping it in theaters, but Prime is perfect for catching up on ridiculous movies without the cineplex pricing. If you and yours like playing your own version of MST3K at home, or would rather just make out on the couch for a couple hours instead of actually watching something, look no further than this popcorn disaster.
Movies To Show Your Kids But Not Tell Their Mother
Look, I'm not saying these movies are appropriate for children, and am in no way advocating that you show them to your kid. Especially if they're younger than a preteen.  I'm just saying when our dads showed us these movies when we were preteens, those were like, landmark movie watching experiences that blew our freaking minds, right?
Caddyshack (Netflix, July 1)
Ah, the good ole' days when Chevy Chase being an asshole was funny, and Bill Murray being weird wasn't just for hipsters. Caddyshack 2 is of course, not necessary, but they threw that in there too if you're bored or sick one day.
Roadhouse (Netflix, July 1)
Long before the John Wick series introduced a world where every single person was a secret assassin living by a code of conduct, Patrick Swayze suggested that all bar bouncers operated like roaming samurai, living by a code of honor. This Wal-Mart bargain bin staple is filled to the brim with sex and violence, so again, The Dad does not earnestly recommend showing it to your kids. But i mean, like, c'mon.
Airplane! (Hulu, July 1)
Surely you're aware that this is the funniest movie ever made?
Dad Movies
What's that? You have the freedom to sit down and watch something just for you? Reveal your secret, oh wise one. But first, here are some movies perfect to bask in before you fall asleep on the couch.
Rocky 1-5 (Hulu, July 1)
Look, you may think the first Rocky movie is the only one that's any good, and you may be "correct" in that "analysis" of these "films." But there is legit a robot in Rocky IV, and it rules, and if you say you don't like that one, you are a dirty liar.
True Grit (2015) (Amazon, July 14)
"Fill your hand you son of a bitch!" is the greatest line of dialogue ever written, and getting to see Jeff Bridges' take on Rooster Cogburn is very satisfying. Don't get me wrong, nothing beats the John Wayne classic, but the Coen Brothers did a pretty bang-up job of trying. Plus, Matt Damon is a better actor than Glen Cambell. By like, a lot.
Apollo 11 (Hulu, July 20th) & First Man (HBO July 20)
If I learned anything from my own father, it's the one dad move to rule them all: take control of the remote, put on a documentary about outer space or WWII, and then immediately fall asleep. Well, good luck nodding off during either of this year's moon landing movies, because they're both awesome.  Apollo 11 is composed of never-before-seen footage and audio recordings from mankind's greatest achievement; no documentary style talking heads here, this is designed to let you relive the Apollo mission as though you are there when it happened. Then, while First Man isn't quite a documentary, director Damien Chazelle (Whiplash, La La Land) really outdid himself, and the final half hour might as well have been filmed on the moon itself.
Oh, and speaking of space movies and my own dad, you can see them both when the groundbreaking miniseries, From The Earth To The Moon returns to HBO on July 15th. He played the guy who figured out the windows for the Lunar Lander, and in true dad-fashion, reminds me that he "basically saved the space program" every chance he gets.
So there you go. Now there's no excuse to just stream The Office again. Happy streaming!