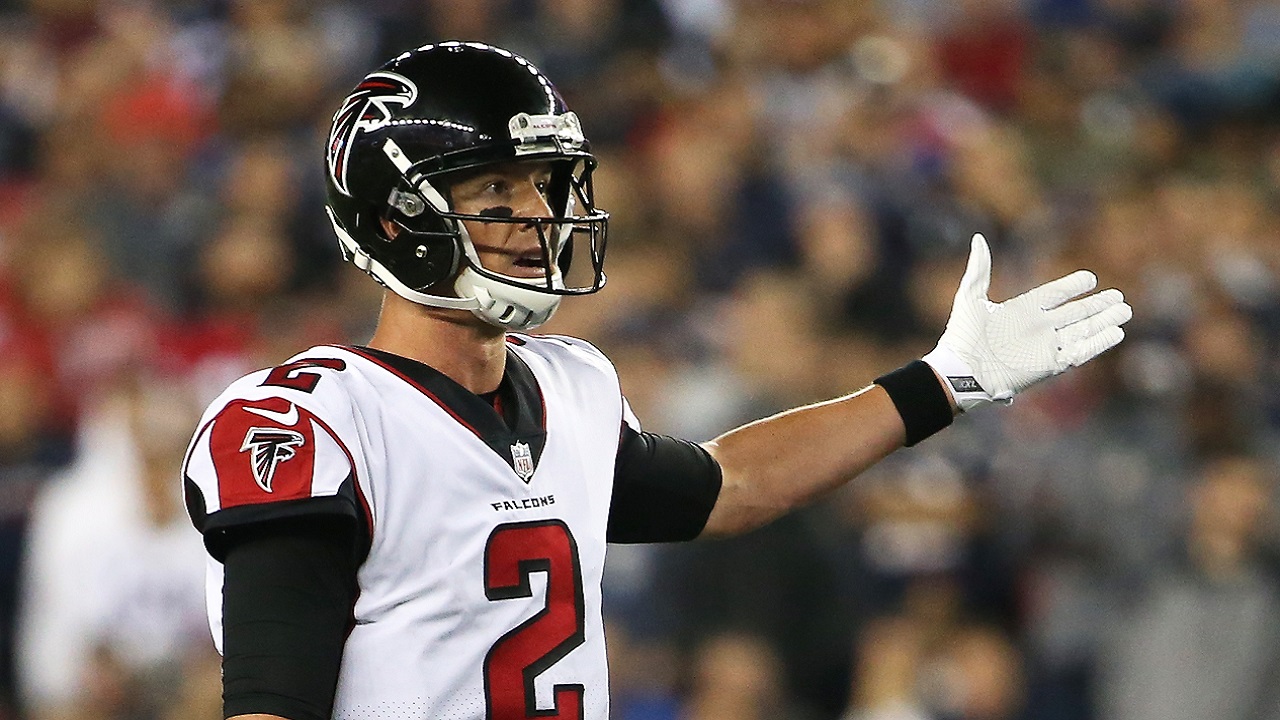 Credit: Photo by Adam Glanzman/Getty Images
The quarterback can't escape last year's Super Bowl
Finding out you're becoming a parent is a big deal. It's a joyous occasion, a monumental moment in your life that sets you off on a journey that will forever alter your priorities, put things in a totally different perspective, and fill your heart with indescribable happiness and love.
Unless you're the quarterback of the team that blew a huge lead in last year's Super Bowl and you make the mistake of sharing your pregnancy announcement with the heartless sociopaths on Twitter with a short memory and long PhotoShop skills.
Atlanta Falcons quarterback Matt Ryan found that our the hard way when he posted a photo announcing the impending arrival of twins.
Happy to announce that we're having twins! pic.twitter.com/ZH8RCzrOzN

— Matt Ryan (@M_Ryan02) November 21, 2017
The quarterback made the mistake of including a balloon of the number two in his photo, and that was all the opening one savage Twitter user – and Patriots fan – needed.
— Liam (@LiamNBA) November 21, 2017
HOLY SHIT. I have no words to express the brutality of that own. I certainly can't say it any better than Twitter did.
dear god, this is brutal

— George Morahan (@gmorahan) November 21, 2017
Of course, why use words when there are gifs?
https://twitter.com/jetpack/status/933095983679811586
It doesn't make me happy – as a Dolphins fan I was strongly rooting against the Patriots, and Matty Ice and I even attended the same college! – but the heat of that burn is undeniable.
I generally hate 28-3 jokes but thats pretty funny. Well done

— Life isn't finding yourself, its creating yourself (@adampollack1) November 21, 2017
I can't with the internet. Just when you think the horse has been beaten to death, someone does some shit like this. I'm DYING. https://t.co/QygZiRLUaA

— David F. Farris (@DavidFFarris) November 21, 2017
That game crushed me. Like many of you, I watched in horror as the Patriots somehow mounted a comeback after being down 28-3 (hence the edited photo, if you've gotten this far without getting the joke) and the Falcons inexplicably rushed their snaps, botched multiple drives, and let Trump's America's Team record their sixth Super Bowl victory. I cant imagine how hard it's been for the Falcons' quarterback to come to terms with the loss.
The news that he's becoming a father – to twins, no less! – should help ease his pain, except now even that has been taken from him, thanks to the relentless savagery of the internet.
Congratulations to the Ryan family. Also, on behalf of the internet, I'm sorry. Unfortunately for you, not everyone is.
https://twitter.com/lindseyyok/status/933104220777189376