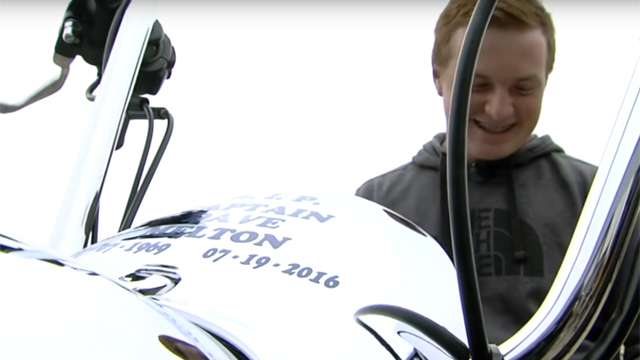 Credit: YouTube/News4Tucson
It's never easy to lose a loved one, especially when that loved one is your father. Nothing ever really heals those wounds, but some things can help, like the passage of time, the support of friends, and, sometimes, a meaningful gift.
That's exactly what one son received from some thoughtful friends of his dad.
Police captain Dave Melton was killed in the line of duty two years ago, leaving behind his son David.
Captain Melton's love of motorcycles was well-known among his friends, who included the owners of Hellraiser's Fabrication & Cycles near Kansas City. The people at Hellraiser's decided to do something special to honor their friend and surprise his. They decided to restore Dave Melton's favorite motorcycle.
Last week, the crew at Hellraiser's surprised David Melton with a fully-restored version of his father's favorite bike, complete with personal touches and tributes to the late Captain Melton.
Dave was overwhelmed by the gesture.
"This is the bike he's always wanted, so it's basically a tribute to him in that way already, but even more with everything that's been done to it," he told KSN, smiling wide.
The son saw the gift as both a tribute to his dad and an indication of how much people in Kansas City respect those in law enforcement.
As to what his father would think about the special bike?
"He'd probably be speechless," David said.
Watch the video: