Quarantined Family Films Shot-By-Shot Recreation of Journey Video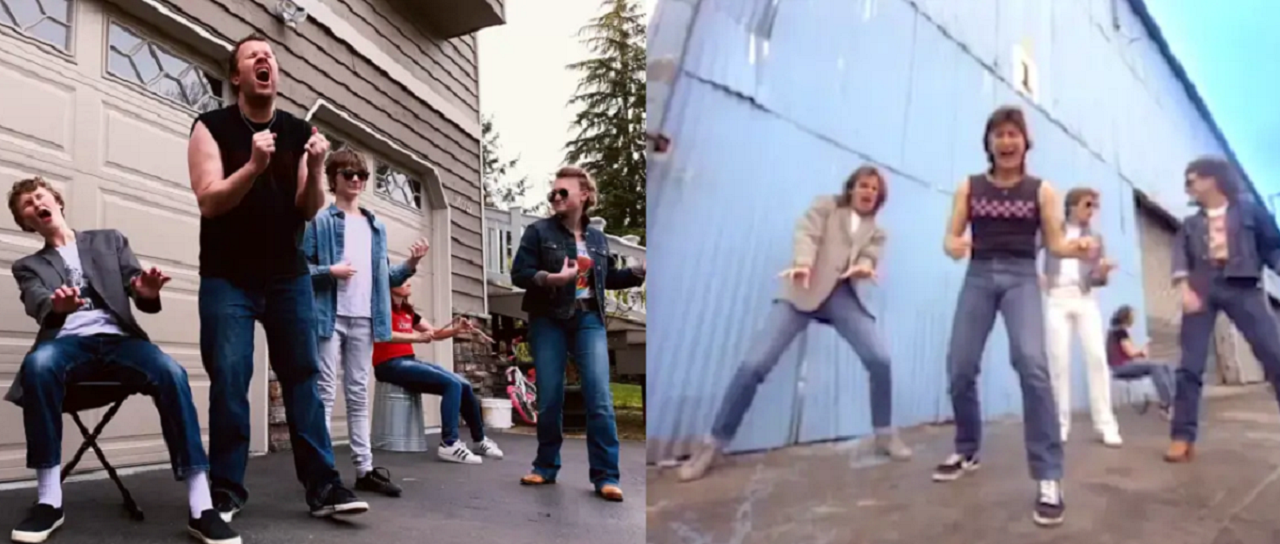 Sometimes, the internet delivers.
Most of the time, when we think of classic music videos, we think of miniature movies, like Michael Jackson's Thriller, or crazy imagery, like Jamiroquai's Virtual Insanity, or maybe something stripped down and unique, like Beyonce's Single Ladies. Sometimes, though, music videos are memorable because they're not good. Or because they're a striking emblem of a specific era. Or both!
One such video is Journey's Separate Ways, which is a bizarre, as-80s-as-the-80s-ever-got, three minutes of awkward poses, strange choices, and lots and lots of aggressive air keyboard. I'm not the only one who finds the video hilarious (full disclosure: I like the song!), as evidenced by one family's hilarious, and faithful, shot-for-shot remake. They are the heroes we need.
The Heller family, from Maple Valley, Washington, was bored AF during the quarantine and so parents Steven and Jana drafted their four kids into remaking the video. Steven posted the video of himself, his wife, and their kids, Lily, 15, Jackson, 14, Asher, 12, and Violet, 9, on Vimeo, with a caption revealing it was Jana's idea:
"Solitary confinement does strange things to the best of us and this quarantine was really having an effect. My wife texted me and said, 'we need to remake a music video.' I thought that sounded like a lot of work, but her persistence paid off and here we are. Enjoy!"
The side-by-side comparison puts a finer point on the strangeness of the original video, with extreme close-ups, anguished gesturing, and lots of tough-guy poses.
"We wanted to be able to 10 years from now, say, 'Remember when we were stuck in our home and we did this crazy thing and it was so much fun?'" Steven said.
Mission accomplished! And the video has nearly one million views on Vimeo!
Watch this thing and try not to laugh and be impressed at the same time. And then laugh again: