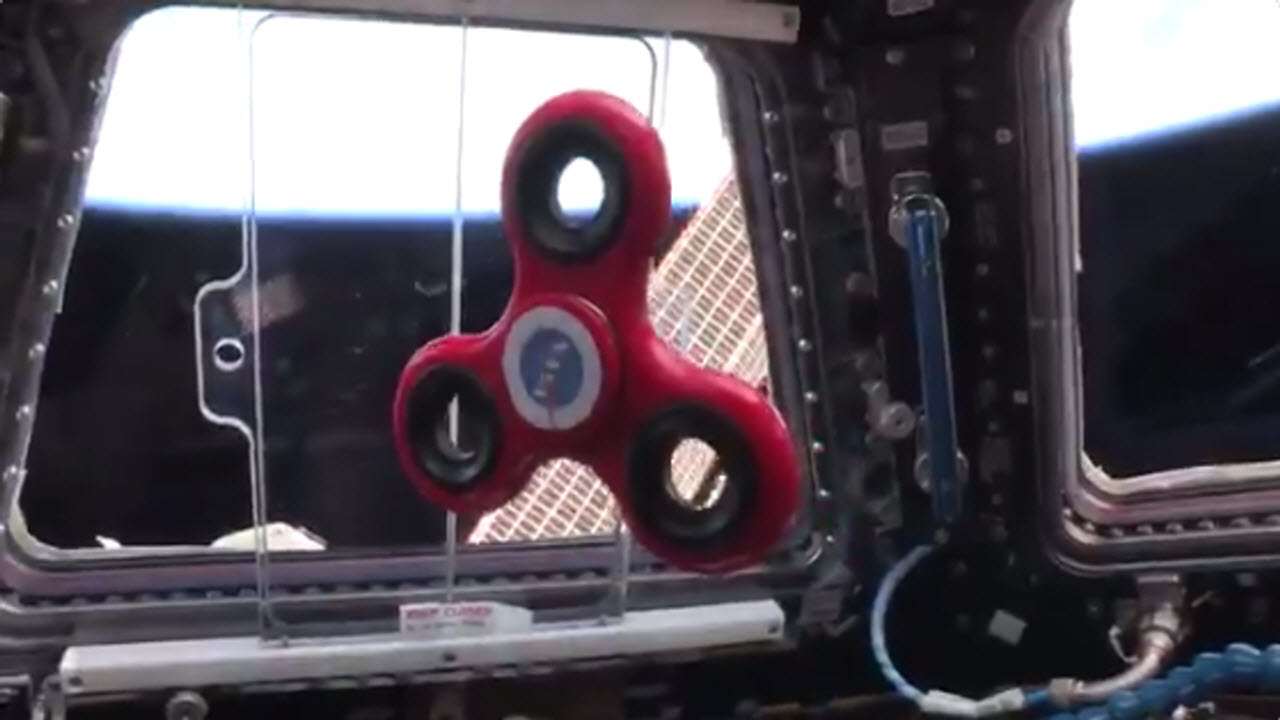 Fidget spinners break the final frontier
If you have kids, odds are you also have fidget spinners. I have like ten of those things lying around my house; they're like Gremlins the way the multiply.
They're basically taking over the world, and now they've made it out to space.
Astronauts love showing off in outer space. Usually it's by doing gynmastics, or squirting Tang. But thanks to 2017's hottest toy craze (are fidget spinners still hot? I feel like it's over. Let me as my seven-yea– okay he's actually spinning one right now never mind), the y have a brand new prop.
And it's BLOWING PEOPLE'S MINDS.
A fidget spinner in space! How long does it spin? I'm not sure, but it's a great way to experiment with Newton's laws of motion! pic.twitter.com/5xIJDs2544

— Randy Bresnik (@AstroKomrade) October 13, 2017
The NASA astronauts shared a video on Twitter which mostly shows the spacemen performing their usual tricks: floating around in zero gravity, doing somersaults, aging at a slower pace than the rest of us because they're outside the earth's atmosphere, et cetera et cetera.
But the fidget spinner provides a new – WAIT FOR IT – twist.
Those toys your kids won't stop fighting over? In space, they're even cooler! They simply won't stop spinning. Unless it's not spinning at all, and the astronauts are.
With no gravity, the fidget spinner is stationary but YOU spin https://t.co/wVMlXvufSE

— Tim Hanrahan (@TimJHanrahan) October 13, 2017
Obviously, kids love the video…
The human somersaulting had my son like 'meh' but the fidget spinner blew his mind.

— Gary 'not a cat' Baker (@ChemGary) October 14, 2017
But even adults are digging it!
https://twitter.com/missrrosenberg/status/918932990444691458
Twitter is typically pretty cynical about this stuff, especially when it comes to a toy trend that most of us have been sick of for months already. But even social media skeptics can't help but get wide-eyed when it comes to space shenanigans!
Every kid wants to be an astronaut again. Thank you! https://t.co/D3t3jht8oU

— Dee Lanier (@deelanier) October 15, 2017
This is the only kind of fidget spinner content I want to see. https://t.co/EEEtWpCwwJ

— Heather #AcePride #BLM (@MyLaundryStinks) October 15, 2017
Fidget spinners in space have truly raised the bar.
What a time to be alive.

— Jet「確かめなくても間違いないことは」「君に出逢えてホントにホントによかった」 (@Jet0o) October 13, 2017
Jeremy was unimpressed about landing on the moon, but spinning a fidget in zero gravity?
Safe to say we've reached our peak as a race

— Jeremy (@jerlange) October 14, 2017
Let's not lose sight of the real breakthrough here.
We haven't been back to the moon, but we've brought our memes to space. https://t.co/UKBut4mZcr

— ℹ️❤️🖥 aka Compy-chan (@ilovecomputers) October 15, 2017
Finally, in space, everyone can hear you meme.